Trump's Latest Travel Restrictions Are 'Still a Muslim Ban'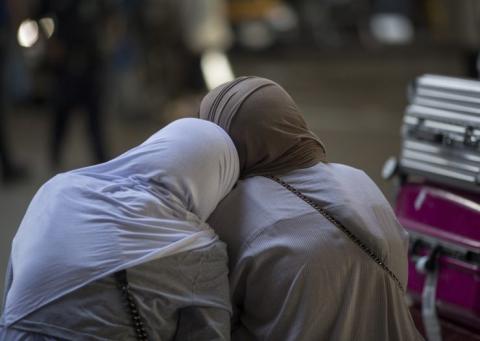 Sudan falling off the latest list and the addition of two countries that do not have a majority-Muslim population—North Korea and Venezuela—is seen an attempt to counteract the backlash Trump faced for issuing travel restrictions on the basis of religion., David McNew/Getty Images
President Trump has added three nations to the five previously named to his Muslim travel ban list—Chad, North Korea, and Venezuela. The expansion of the travel ban came Sunday night as the executive order he signed in March expired.
Starting October 18, the new order indefinitely bars citizens of these nations, as well as those from Iran, Libya, Somalia, Syria, and Yemen, to travel to the United States, and is more far-reaching than the last iteration, the New York Times reported. Those already in the U.S. with valid visas will not be affected.
Sudan falling off the latest list and the addition of two countries that do not have a majority-Muslim population—North Korea and Venezuela—is seen an attempt to counteract the backlash Trump faced for issuing travel restrictions on the basis of religion.
Courts have ruled against Trump's efforts to ban travelers from Muslim-majority nations and the U.S. Supreme Court is set to hear arguments in October on the last order.
Civil rights groups, which condemned the travel bans as unconstitutional and an effort to deliver on a campaign promise to prevent Muslims from entering the country, criticized the president's latest effort.
"Six of President Trump's targeted countries are Muslim. The fact that Trump has added North Korea—with few visitors to the U.S.—and a few government officials from Venezuela doesn't obfuscate the real fact that the administration's order is still a Muslim ban," said Anthony D. Romero, the executive director of the American Civil Liberties Union, which challenged the previous ban, along with some partner organizations.
"No matter how many times the administration tries to repackage and sell it, President Trump's Muslim travel ban remains hateful, discriminatory, and xenophobic," Vanita Gupta, president and CEO of The Leadership Conference on Civil and Human Rights, said in a statement. "While Trump continues to try and fulfill his campaign promise to ban Muslims, this latest version will continue to harm families and degrade our values."
"The vast majority of the executive order is completely unchanged," said Johnathan Smith, legal director of Muslim Advocates, a national advocacy group. "The administration is once again making cosmetic adjustments to the Muslim ban in hopes that it will pass the barest possible definition of anything else; but they've failed again."
Council on American-Islamic Relations National Executive Director Nihad Awad said in a statement that Trump's agenda and political goals have remained unchanged despite tweaking his administration's Muslim ban. 
"Ten months after his election, instead of promoting the values that lifted up this nation, Donald Trump is still trying to divide Americans," Awad said. "These hard truths must now be faced by all Americans, who—as individuals—need to decide if they are on the side of traditional American aspirations of religious and racial inclusion, or if they envision a 'Trump' America in which members of only one group dominate and reap the benefits of citizenship."
Trump's Muslim Ban 3.0 Is Still Unconstitutional
Truthout, Marjorie Cohn, September 27, 2017
http://www.truth-out.org/news/item/42079-trump-s-muslim-ban-3-0-is-stil…
After federal courts struck down Donald Trump's first two Muslim bans, his functionaries crafted a third one. In an attempt to withstand judicial scrutiny by convincing the courts it is not really aimed at Muslims, Trump's new travel ban (Muslim Ban 3.0) cosmetically adds two countries -- Venezuela and North Korea -- that do not have Muslim-majority populations. Nevertheless, the new ban suffers from the same constitutional infirmities as the first and second Muslim bans.
Trump's second ban, which had included slight changes from his first one, was issued on March 6 and expired on September 24. It restricted travel to the United States by nationals from Iran, Libya, Syria, Yemen, Somalia and Sudan.
The new ban, issued by Trump in a "proclamation" on September 24, restricts travel by most citizens of Iran, Libya, Syria, Yemen, Somalia, Chad and North Korea. It bars everyone from Syria and North Korea from obtaining visas. Nationals from the other six countries will be subjected to varying additional security checks. Iranian students are exempted from the ban. It also forbids Venezuelan government officials and their families from traveling to the US.
This newest iteration, like its predecessors, violates the First Amendment's Establishment Clause by prohibiting nationals from eight countries, including six with Muslim majorities, from traveling to the United States.
During the presidential campaign, Trump clearly stated his goal of a "total and complete shutdown of Muslims entering the United States." That goal apparently continues to motivate his latest mean-spirited and unnecessary travel ban.
Muslim Ban 3.0 discriminates against people from all eight countries on the basis of national origin, which violates the International Covenant on Civil and Political Rights (ICCPR), and the International Convention on the Elimination of All Forms of Racial Discrimination (ICERD). The United States has ratified both treaties, making them "the supreme law of the land" under the Constitution's Supremacy Clause.
Trump's new ban purports to specify how each of the eight countries falls short in providing the US with sufficiently detailed information about its nationals or taking adequate precautions to protect US security interests. But it fails to tie nationals of those eight countries to terror attacks in the United States.
In February, the Department of Homeland Security concluded in an internal report that "country of citizenship is unlikely to be a reliable indicator of potential terrorist activity." Indeed, the Cato Institute found that since 1975, no Americans have been killed on US soil by a terrorist from any of the eight countries covered by the new ban.
Becca Heller, director of the International Refugee Assistance Project, stated, "Of [the newly added] countries, Chad is majority Muslim, travel from North Korea is already basically frozen, and the restrictions on Venezuela only affect government officials on certain visas." She added, "You can't get any more transparent than that."
"For the countries previously targeted, the targeting continues," Zahra Billoo of the Council on American-Islamic Relations told reporters. She called the three countries added to the ban "token additions."
Anthony Romero, executive director of the ACLU, concurs. "Six of President Trump's targeted countries are Muslim," he said. "The fact that Trump has added North Korea -- with few visitors to the US -- and a few government officials from Venezuela doesn't obfuscate the real fact that the administration's order is still a Muslim ban." Romero noted, "President Trump's original sin of targeting Muslims cannot be cured by throwing other countries onto his enemies list."
The new ban does not apply to lawful permanent residents, people with valid visas, dual citizens traveling on a passport from an unrestricted country, foreign nationals traveling on a diplomatic visa, those who have been granted political asylum or immigration parole, or people whose deportation would violate the Convention Against Torture.
Unlike Trump's two prior bans, his new ban has no end date but requires periodic reviews. It allows for the granting of waivers on a case-by-case basis if an individual "has previously been admitted to the United States for a continuous period of work, study, or other long-term activity," "has previously established significant contacts with the United States," "seeks to enter the United States to visit or reside with a close family member (e.g., a spouse, child, or parent) who is a United States citizen," or "has been employed by, or on behalf of, the United States Government." There must be a determination that denial would create an "undue hardship," entrance would not "pose a threat to the national security or public safety," and entrance is "in the national interest."
The discretion to grant these waivers is up to a consular officer or the commissioner of US Customs and Border Protection, or the commissioner's designee.
Muslim Ban 3.0 does not apply to refugees, who are currently limited by Trump's first travel ban. New rules governing refugees will reportedly be announced soon.
On June 26, the Supreme Court agreed to decide the legality of the second ban when it reconvenes. Wishing to proceed promptly, the Court calendared oral arguments for October 10. In the meantime, the high court allowed parts of the ban to go into effect. But it specified that the government could not bar individuals who have a "bona fide relationship" with a person or entity in the United States.
Muslim Ban 3.0 violates the Supreme Court's June 26 order by barring even those with a bona fide relationship. But the new ban is scheduled to go into effect on October 15, five days after the date when the Court was scheduled to hear arguments on the legality of the second ban. So, in light of Trump's proclamation of the third ban, the Supreme Court vacated the October 10 court date. The Court ordered the government and those challenging the ban to submit briefs by October 5 arguing whether the issue pending before the high court -- the legality of the second ban -- is now moot in light of the new ban.
Several civil rights and religious organizations recently filed an amicus brief in the Supreme Court, stating that hate crimes against Muslims have almost doubled since the first Muslim ban was instituted.
Moreover, the National Iranian American Council issued a statement about the third ban, saying, "Casting a wider net only validates ... that the Muslim Ban was but the first step in a wider initiative to implement Islamophobic, racist, and xenophobic policies that pander to the desires of Trump's White supremacist base. These are not 'targeted' restrictions but arbitrary ones that do not keep the country safer and soil our national reputation."
Why did Sudan disappear from the list in Muslim Ban 3.0? Because, Ryan Grim and Alex Emmons write in The Intercept, the United Arab Emirates lobbied Washington on behalf of Sudan and in return, Sudan provided mercenaries for the Saudi- and UAE-led coalition fighting in Yemen.
"The travel ban is being weaponized in odd but predictable ways," Grim said.
Sudan is not a beacon of human rights. "Sudanese government forces have purposefully attacked civilians in Darfur, South Kordofan, and the Blue Nile region, according to Human Rights Watch, and the sitting president, Omar al-Bashir, has been charged with multiple counts of genocide by the International Criminal Court, related to his actions in Darfur," according to Grim and Emmons.
When Muslim Ban 3.0 is challenged in court, it should be exposed for what it is, and struck down as violative of the First Amendment, ICCPR and ICERD. 
Copyright, Truthout. May not be reprinted without permission.
Marjorie Cohn is professor emerita at Thomas Jefferson School of Law, former president of the National Lawyers Guild and deputy secretary general of the International Association of Democratic Lawyers. Her books include The United States and Torture: Interrogation, Incarceration, and Abuse; Cowboy Republic: Six Ways the Bush Gang Has Defied the Law and Drones and Targeted Killing: Legal, Moral, and Geopolitical Issues. Visit her website: MarjorieCohn.com. Follow her on Twitter: @MarjorieCohn.
AMP Joins CAIR, 231 Groups, 6 Elected Officials Demanding Trump Administration Rescind 'Muslim Ban 3.0'
American Muslims for Palestine, September 28, 2017
ampalestine.org
(WASHINGTON, D.C., 9/28/2017) – American Muslims for Palestine (AMP) has co-signed a joint letter issued by the Council on American-Islamic Relations (CAIR) on September 27 demanding that the Trump administration rescind its latest "Muslim Ban 3.0" executive order signed on Sunday.
The letter was signed by 238 national and state immigration and civil rights organizations, law offices, educational institutions, elected officials, and faith-based groups and is addressed to President Trump and Acting DHS Secretary Elaine Duke. (See: Presidential Proclamation Enhancing Vetting Capabilities and Processes for Detecting Attempted Entry Into the United States by Terrorists or Other Public-Safety Threats https://www.whitehouse.gov/the-press-office/2017/09/24/enhancing-vetting-capabilities-and-processes-detecting-attempted-entry)
In the joint statement, the coalition said:
We, the undersigned community leaders, elected officials, and community-based, civil society, and civil rights organizations, hereby demand that you promptly rescind your Proclamation Enhancing Vetting Capabilities and Processes for Detecting Attempted Entry into the United States by Terrorists or Other Public-Safety Threats ("EO-3"), your administration's latest attempt to fulfill your campaign promise of an unconstitutional "Muslim Ban."  This order, though more sophisticated than its predecessors, is just as transparently illegal.
"Despite the addition of two non-Muslim majority countries, the intent of the EO-3 is the same as its predecessor, to target the entry of Muslims to the United States. Additionally, we note that Chad, a majority-Muslim country, will also see its citizens restricted from entering the United States.  Moreover, the continued inclusion of countries like Somalia, which Acting Secretary Duke admitted "satisfies the information-sharing requirements" of EO-2, shows that this new order is based in bigotry, not necessity.
"As President Trump's repeated public statements – both as a candidate and President – make clear, EO-3 is driven by nothing more than animus for Islam and those who practice it. This order is an unlawful abridgement of the First Amendment, denying Muslims the right to practice their faith.  Countless visa-holders and applicants are now being asked to choose between their very religion and the ability to enter our country.  Your administration's pattern of anti-Muslim discrimination is unconstitutionally stigmatizing the very practice of Islam, further eroding our cherished commitment to the free exercise of religion.  Moreover, EO-3's disparate impact on and discriminatory intent towards Muslims violates these individuals' rights to equal protection of the laws, pursuant to the Fifth Amendment to the United States Constitution.
 "In addition, EO-3 clearly violates the Immigration and Nationality Act of 1965, 8 U.S.C. § 1152.  In 1965, Congress responded to America's disgraceful history of discriminatory immigration laws with a ban on actions that favor an immigrant's '"race, sex, nationality, place of birth, or place of residence."  More than a half century ago, Congress had the foresight to ban the very discrimination you seek to enact through EO-3, and we will never stop fighting to ensure that the rule of law is respected and that this ban is repealed.
 "If you refuse to rescind this unlawful order, we commit to do all in our power to protect those communities being targeted by EO-3 and to support litigation to defeat this unconstitutional ban.  History will long remember, and we will not quickly forget, this singular assault on America's commitment to freedom of religion."
American Muslims for Palestine is a national organization whose mission is to educate the American public and media about issues relating to Palestine and its rich cultural heritage.