These Wealthy Institutions Are Quietly Financing White Nationalism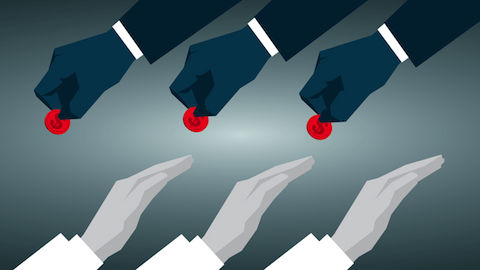 Diana Ofosu
The connection between Breitbart, a far-right website, and the white nationalist movement was hardly a secret. Steve Bannon, who served as Executive Chairman of the publication before and after serving as Trump's chief strategist, called Breitbart "the platform for the alt-right," a euphemism for white nationalists and their sympathizers. These extreme, bigoted viewpoints are frequently reflected in the site's writing, which has included anti-immigrant screeds, sensationalized reporting of "black crime," and other fringe viewpoints and conspiracy theories.
But a recent exposé published by BuzzFeed News revealed in stunning detail Breitbart's deep connection and collaboration with white nationalists.
Emails obtained by BuzzFeed showed that a sympathetic article by Milo Yiannopoulos on the "alt-right" was actually a collection of thoughts Yiannopoulos solicited from avowed racists — including prominent neo-Nazi Andrew "Weev" Auernheimer and white nationalist editor Devin Saucier — and synthesized by a ghost writer. Yiannopoulos then sent the draft back to Saucier — author of "Why I Am (Among Other Things) a White Nationalist" — who provided line-by-line edits. Breitbart's top editors, including Bannon, mostly embraced the product of this collaboration, advising Yiannopoulos only to smooth out some of the most blatantly racist passages. After Yiannapoulos partially complied, Breitbart published it.

Yiannopoulos regularly sent his work to Saucier for feedback, according to the emails. He freely discussed the importance, while collaborating with racists, not to be branded one himself. "I have been struggling with this. I need to stay, if not clean, then clean enough," Yiannopoulos wrote after an acquaintance advised him to avoid being identified as a white supremacist.
Yiannopoulos described Saucier in another email as "my best friend," but in comments to Buzzfeed said he rejected white nationalist ideas.
The man who facilitates this laundering of racist views is Robert Mercer, Breitbart's co-owner and a major benefactor. Mercer made his money as co-CEO of Renaissance Technologies, or "RenTech," a quantitative hedge fund that uses computer algorithms to make investment decisions.
Mercer and his daughter, Rebekah, don't just invest in Breitbart — they use it to push their own views and interests. Yiannopoulos served as a conduit for assignments from the Mercers to a pool of young Breitbart researchers, according to emails reported by BuzzFeed. As Yiannopoulos expanded from the website to live shows at college campuses, an employee of the Mercers' production company, Glittering Steel, organized his tour. The Mercers' private security company would help watch over Yiannopoulos on college campuses, where his presence often antagonized the student body.
In February, Yiannopoulos was forced to leave Breitbart after he appeared to defend pedophilia in an interview. But Yiannopoulos quickly landed on his feet, launching his own media company, MILO Inc. Robert Mercer funded it. Just two weeks after being let go from Breitbart, Yiannopoulos received a wire transfer from "Robert Mercer's accountant" to start his new venture, according to the Buzzfeed story.
Racial revisionist history
Mercer faces his own issues with race. David Magerman, who worked at Renaissance for 20 years, filed a lawsuit this year alleging Mercer harbors bigoted views.
According to Magerman's suit, Mercer told him in a January 2017 phone call that the "United States began to go in the wrong direction after the passage of the Civil Rights Act in the 1960s." Mercer said, according to Magerman's account, that "African-Americans were doing fine" before the Civil Rights Act, which "infantilized" them. Magerman says Mercer told him that "the only remaining racist people in the United States were black." Although Mercer said he does not believe any whites are racist, if they were it "is not something the government should be concerned with." Magerman says he responded that, prior to the Civil Rights Act, "African Americans were required to use separate and inferior schools, water fountains and other everyday services and items." Mercer said, according to Magerman, that these issues "were not important."
The lawsuit also alleges Renaissance excluded African Americans from high-paying positions.
Magerman initially filed his lawsuit in May and voluntarily dismissed it in July. But, in a move that did not attract media attention, he refiled the suit in August. In a phone call with ThinkProgress, Magerman confirmed that he stood behind his account. Mercer has denied Magerman's allegations in court filings and in the press.
The business of hate
Neither Mercer's involvement in Breitbart, nor his support for Yiannopoulos, nor charges of discrimination, have appeared to negatively impact his business. Renaissance Technologies now manages $45 billion in assets, up from $27 billion at the start 2016, according to Forbes. Outside investors pay a hefty fee for the privilege of accessing a Renaissance fund and a good deal of that money ultimately ends up in Mercer's pocket.
The identity of Renaissance's investors has largely remained secret. The company is not obligated to disclose their clients, who are generally required to invest at least $25 million. ThinkProgress, however, has been able to identify numerous investors in Renaissance by identifying institutions that, either voluntarily or by law, disclose how they invest their money. This includes reports from public pension plans, non-profit filings, and university endowment reports.
ThinkProgress identified 10 nonprofits, university endowments, and public retirement funds that currently invest in Renaissance Technologies funds, according to the latest available public report. We contacted all of them to confirm their investment and asked if they had any concerns about investing in funds run by Mercer, who is using the profits to fund Breitbart and Yiannopoulos. (Institutions that did not respond to our inquires could have divested their holdings since the last public accounting.)
Neither Robert Mercer nor a representative from Renaissance Technologies responded to requests for comment.
The Public Schools Employee Retirement System of Missouri
Since 2007, Renaissance Technologies has managed $877 million for the Public Schools Employee Retirement System of Missouri through the hedge fund's Institutional Equity Fund, according to Executive Director Steve Yoakum. The Renaissance investment is a significant portion of the nearly $42 billion retirement fund, which pays for Missouri public school teachers', employees', and their families' retirement, disability, and survivor benefits.
Despite Mercer's role in financing white nationalist activity, Yoakum said the retirement fund has no plans to divest from the quant hedge fund.
"Frankly, the attractiveness, they have done a very good job for us, and it is a strategy that is not very common," said Yoakum. "They have really given us exemplary returns for us since we started."
As for Mercer's reported ties to white nationalism, "those are things that don't interest us," he said. "We don't look at those things when we make those investments." He added that the company's founder, James Simons, is a large Democratic donor. "We look at, how do they invest money, do they invest it well, what are their returns, what are their fees, and the economic aspects."
Columbia University
It is unclear how much money Columbia University's endowment is committed in Renaissance Technologies funds. But a Feb. 28 Wall Street Journal article outlining Harvard University's plan to reverse its endowment's poor returns highlighted that Columbia University's approach included "drug-royalty streams, litigation-finance funds and quantitative hedge funds, such as Renaissance Technologies and the D.E. Shaw Group."
Several Columbia University trustees overseeing the fund did not return calls or declined to comment.
Officials from the university also declined comment, citing university policies against publicly discussing investments.
"I'm not in a position to make any further comment or offer any further information," said Robert Hornsby, a university spokesman. "We publish what we publish in the annual report, and we don't really discuss specific investments. It's sort of standard practice."
Michigan State University
After posting a 4.3 percent loss, Michigan State University's endowment moved $100 million from four losing hedge funds to quantitative hedge funds late last year — half of which went to Renaissance Technologies.
At the time, MSU Chief Investment Officer Philip Zecher detailed the reasons behind the move to reporters. But the university's investment office and entire board of trustees did not return calls and emails seeking comment about the Renaissance investment.
At least one student political group is not happy about the $50 million investment. The university should cut its ties with the company, said Eli Pales, a junior-year student and press secretary of the Michigan State College Democrats.
"I think the university should divest. I think it has a responsibility for its students that the gains of its investments should not come at the backs of its students who are marginalized," Pales told ThinkProgress. "By investing in hedge funds that are run by people like Robert Mercer, they are directly bankrolling and helping fund these white supremacists entities or organizations."
The Employee Retirement System of the City of Providence
In June 2016, more than $33.4 million,or almost 14 percent, of Providence's employee retirement system was invested in Renaissance Technologies' Institutional Equities Fund — a fund the system had invested in since 2006, according to a performance update for the city's Board of Investment Commissioners. The retirement system rolls out pension plan benefits to Providence city employee retirees.
The city's Finance Department and members of the City Council Committee on Finance did not return calls for comment on the investment.
Los Angeles Water & Power Employees Retirement Plan
Renaissance's Institutional Equities Fund was included in Los Angeles's nearly $12 billion Water & Power Employees Retirement Plan portfolio at the close of 2016. The plan oversees the city's water and power department workers' disability and retirement benefits.
The retirement plan's chief investment officer, Jeremy Wolfson, did not respond to an email requesting comment on the investment.
National Academy of Sciences
At the end of 2016, the National Academy of Sciences reported $31.1 million was invested in Renaissance's Institutional Equities Fund and another $23.4 million in the hedge fund's Institutional Diversified Alpha Fund. The NAS is a D.C.-based nonprofit NGO dedicated to research and public advisory on subjects including math, engineering, medicine, and science.
Officials at NAS did not respond to an email requesting comment on the investment, but a recent treasurer's report touted the strong performance of its Renaissance investment:
"The NAS Endowment & Trust Pool outperformed its benchmark in part due to the strong performance of two of the largest U.S. equity holdings, Berkshire Hathaway and Renaissance Institutional Equities Fund, which outpaced the rising U.S. equity markets."
Baltimore Fire and Police Employees' Retirement System
The body that oversees the benefits of Baltimore's public safety retirees had $25 million invested in Renaissance's Institutional Equities Fund in June 2015, according to an agenda for the city's Board of Estimates. The fund's total market value was almost $2.5 billion as of May 31.
Officials from the retirement system did not return calls requesting comment on the investment.
The William Penn Foundation
The Philadelphia-based nonprofit William Penn Foundation supports the City of Brotherly Love by issuing grants aimed at providing educational opportunities for low-income kids, boosting its art scene, and protecting the Delaware River watershed. As of 2015, it had also invested over $2.3 million into Renaissance's Institutional Equities Fund, according to the foundation's tax filings for that year.
William Penn Foundation officials did not return calls requesting comment on the investment.
American Physical Society
The Washington D.C.-based nonprofit American Physical Society, which is working to advance knowledge surrounding physics, invested $9.7 million into Renaissance Institutional Equities Fund in 2016, according to an audit of the organization's finances. The organization had $186 million in total assets that year.
Officials from the organization did not return calls requesting comment on the investment.
Robert Wood Johnson Foundation
The country's largest public health foundation, the Robert Wood Johnson Foundation invested over $120.6 million to Renaissance's Institutional Equities Fund in 2015, according to its tax filing for that year.
Foundation officials did not return calls requesting comment on the investment.
UPDATE: Since the publication of this article, ThinkProgress has identified two other large institutions that, as of recently, were investing in Renaissance Technologies funds.
As of 2013, Tufts Medical Center, a Boston-based hospital connected to Tufts University School of Medicine, invested in Renaissance Technologies' Institutional Equities Fund, according to its tax filings for that year.
Also, as of May 1 this year, the Greenville, South Carolina-based Furman University listed Renaissance as one of its investment managers. Furman, is a nearly 200-year-old private university with an endowment over $609 million as of 2016.
Spokespeople from Tufts Medical Center and Furman University did not immediately respond for comment Tuesday afternoon and Wednesday morning.
In response to the publication of the article, James Riordon, the head of public relations for the American Physical Society, officially declined comment.
Michigan State University has since issued a statement in response to the article on its website: "The recent story in ThinkProgress concerning MSU's investment strategy is misleading and purposely confusing. MSU is not financing any white nationalist organization or individual. We also do not have a financial position in any media outlet, Breitbart or otherwise. " Read the full statement here.
If you know of any other investors in Renaissance Technologies email dmclean@thinkprogress.org.