Open Letter to President Duterte from Farmers of Northern Samar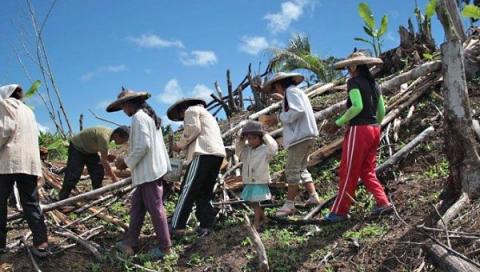 Farmers working in Northern Samar, Philippines. , Manila Today
We are the farmers of Northern Samar.
We comprise an overwhelming majority of the province's population but we are the poorest of the poor in this corner of the country. We rise at dawn to till the land we do not own only to be left with crumbs from the landlord's dish. We scrimp on food because our crops are dished out not on our tables but to compete in the race for export to imperialist coffers. We have a high tenancy rate and are susceptible to bogus land reform manipulations. We are vulnerable to disasters, natural or otherwise.
But now is a worse time. Murder and torture have become a daily scene in our far-flung barrios. President Rodrigo Duterte and his bloodthirsty minions in the Armed Forces of the Philippines hell-bent on quelling public dissent with his anti-people policies decided to eliminate the problem of poverty by murdering us, the poor.
As the whole nation and the entire world sees the grim images of the carnage of our poor brothers in the cities through Oplan Tokhang of the Philippine National Police, we suffer the same bloody murders through the Armed Forces of the Philippines' Oplan Kapayapaan.
Early this year, the 201st Infantry Brigade of the Philippine Army launched an all-out offensive against us farmers. This October, in Las Navas town, our children were targeted to be used as spies by the military, they planted landmines in several of our barrio schools. They ignore consistent repudiation of civilian authorities over their encampment within our communities. They unapologetically use us as their human shields and label it as their "Community Development" work.
They even harassed our noble school teachers who refuse to let our children be used in their malicious counter-insurgency operations. In Silvino Lobos town, and even in our capital town of Catarman, military men have made our peaceful communities into their own garrison. A few months ago, the townsfolk of Silvino Lobos mass evacuated to the town center to evade the gross human rights violations perpetrated by the AFP troops in their interior villages. In Barangay Sumuroy, last March, residents sought refuge in the municipal town proper of Lope de Vega due to the 43rd IBPA Bravo Company's militarization. Schools are far from being zones of peace as they report soldiers occupying schools and even constructing defense structures such as foxholes.
Meanwhile in Barangay Geparayan in Silvino Lobos, 13 families (57 individuals) evacuated to different barrios due to harassment threats by the military. Cases of illegal detention and strafing were also experienced by farmers in Las Navas. Military encampments within civilian communities continue in Barangay McKinley in Catarman, Barangay San Isidro and San Miguel in Las Navas, among others.
This is the face of Duterte's fascism in the hinterlands.
Lack of aid is one thing, but to be violated for demanding help is another. We trace this fascist government response from our resistance to their inaction and neglect of our plight. Hunger and poverty is not just a coincidence and the work of earth's nature – it is the handiwork of a corrupt system and government.
Northern Samar is rich in natural resources – from millions of tons of bauxite and chromite to heaping volumes of agricultural produce of rice, copra and abaca. But on the flipside, Nortehanons, composed largely of farmers, are among the poorest in the country. Poverty is at 56.2 percent, double the national average of 26.3 percent.
Typhoons Yolanda, Ruby, Seniang, Glenda, and Nona have plunged us deeper in the quagmire of poverty as evidenced by the leap of poverty indices from 43.5 percent prior to Yolanda to 56.2 percent in 2015.
The Department of Agriculture (DA) noted that 73 percent of the crop area of coconut and 16 percent of crop area for rice were damaged by Super Typhoon Yolanda. People Surge meanwhile estimated the destruction of Super Typhoon Ruby and Typhoon Seniang at PHP 22.18 billion altogether.
Nona, the typhoon which hit strongest in Northern Samar, left 15 people from among our neighbors and friends dead, 1,207 wounded and 11 people missing. It ravaged 110,427 houses and 112,655 families in Northern Samar. According to the Office of Civil Defense (OCD), total loss in the province amounted to more than PHP 14 billion, with PHP 960,690,993 coming from the agriculture sector.
But this is not just a matter of statistics. The storms that struck, especially Ruby and Nona, have resulted in fallen trees and severe damage to our coconut plantations. It takes almost seven years before coconut trees fully recover from nature's fury. We either have very low yield or our planted coconut trees have yet to bear fruit, subjecting us to the perennial debt trap of rich landowners and exploitative merchants.
Then came El Niño. PAGASA reported Northern Samar as among the provinces in the region with the highest vulnerability to drought. Barely 16 percent of the farmlands here have been irrigated because of anomalous irrigation projects, corruption coupled perfectly with El Niño to not just reduce the production cycle but also lay the ground for the proliferation of pests. The absence of irrigation facilities and humid temperatures are some of the observed factors for such infestation.
Fiber loss in Northern Samar due to abaca pest infestation reached PHP 3,488,400. The findings of Eastern Visayas Rural Assistance Program (EVRAP) indicate that about 95 percent of farmlands in Las Navas and Catubig have been infested by the bunchy top virus. In March 2017, the government recorded PHP 3,488,400 losses in income in Northern and Eastern Samar alone.
For almost all of us dependent on coconut and abaca for subsistence, fallen coconut trees and massive abaca infestation result in nothing less than intensifying hunger and poverty.
The provincial and national government failed to provide timely and decent help. The Emergency Shelter Assistance (ESA) for Typhoon Nona was given to us two years after it swept through our homes. We received no aid from the government for agricultural inputs, cash assistance or any other material interventions that would help us make it through.
Instead, the provincial government formulated the Nona Rehabilitation and Reconstruction Plan (NRRP) that brushes the agricultural sector to the margins. The NRRP also seeks to enforce a "No Build Zone" policy to evict houses along the shorelines and displace coastal communities to places far from their livelihood. Even with lack of democratic consultation with us marginalized sectors, the NRRP, akin to the Yolanda Rehabilitation and Reconstruction Plan (YRRP), may well serve investment-driven interests in the pretense of disaster risk reduction.
Our farms have been massively infested by cocolisap, bunchy top virus, black bug, rice bugs and several other pests; consecutive typhoons and dry spells have wreaked havoc. Our farms have been severely infested and devastated, but so have our living conditions. The greater pest is militarization; the greater storm is government negligence.
We have exhausted all means to demand justice: we have sent letters and engaged in dialogues in government offices; we lobbied for local legislative resolutions to declare our barrios and towns under a state of calamity; we even went to the national capital, engaged the Department of Agriculture in a dialogue, we were promised an on-site investigation by the legislators of the Lower House to check on our situation and ultimately staged protests in Manila – but our calls fell on huge deaf ears.
We have been ignored for too long.
Today, four years since the onslaught of Super Typhoon Yolanda, two years since Typhoon Nona, and as we march forward to a new year, we declare war against hunger, poverty and militarization. We seek to break free from the pests of government criminal neglect and militarization, in linked arms with other exploited sectors – workers, youth and students, teachers – we lead in forging unity under the banner of the "Stand with Samar" campaign to register the united dissent of the Northern Samar people.
We are left with no choice but to heighten our resistance, escalate our fight and overcome. For no storm from the Pacific, not even a barrel of a gun can make us, long neglected and angry, silent.
Stand with us, Stand with Samar.