What Amazon boss Jeff Bezos wants for Christmas is. . .world peace (With the help of some spies and special forces types)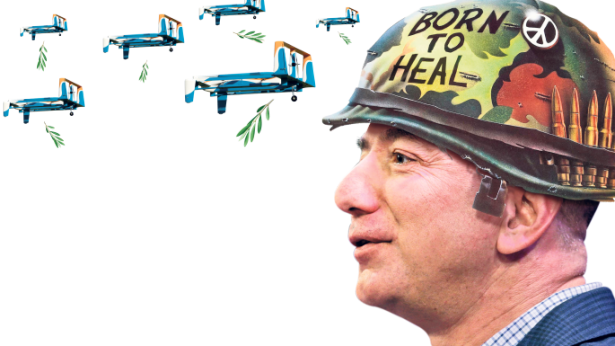 , The Sunday Times
Buried deep beneath the white marble foyer of the US Institute of Peace (Usip), with its sweeping views across the National Mall to the Lincoln Memorial, is a cavernous, black-walled basement. Workers call it the "bat cave". For good reason. The windowless lair is the site of a bold experiment: Amazon's plunge into the peace-making business.
Having almost wiped out the high street and stolen a march on rivals in the race to develop artificial intelligence, the $570bn (£426bn) retail giant is trying its hand at solving problems far trickier than next-day delivery. Challenges such as terrorism, corruption, resource scarcity and violent extremism.
Amazon is a founding partner of the PeaceTech Accelerator, an obscure joint-venture of military men, former spies, peaceniks and industry that it launched last year with C5 Capital, the London investment firm run by Andre Pienaar, a politically connected corporate intelligence veteran, and the PeaceTech Lab, a spin-off of Usip.
Sheldon Himelfarb, PeaceTech Lab's chief executive, called it "the future of peace-building". He added: "Governments simply do not have the resources to move upstream and do conflict prevention in the world. Partnerships with the private sector like this are good business and good for the future of the planet."
The Seattle giant's foray into war prevention is perhaps the most striking example yet of its boundless ambitions. It also points to its increasingly close relationship with the US government. Amazon Web Services (AWS) last month announced the launch of Secret Region, a cloud platform specially designed for the CIA and other government intelligence agencies. Jeff Bezos, owner of The Washington Post, has laid down roots in the capital. The world's richest man ($90bn) was revealed in January as the anonymous buyer of a $23m, 27,000 sq ft mansion in the same neighbourhood as the Obamas and several cabinet officials.
The PeaceTech accelerator scours the globe for start-ups in conflict zones, brings them to the American capital for an intensive eight-week course of mentorship and meetings, and then sends them back to their home countries, often with a new government contract in hand.
AWS uses its unique vantage point as the world's biggest provider of cloud services to funnel interesting start-ups to the "bat cave". Once there, it provides them up to $50,000 in free "cloud credits" as well as mentors and corporate coaches.
The accelerator also relies on social media advertising, as well as partners like SAP's national security division, which recently joined the programme, to lure talent. At the end of the programme, the Accelerator has the option of taking a small equity stake in its graduates.
Himelfarb, a veteran of peace campaigns from Burundi to Bosnia, went to great pains to make clear that the accelerator was an independent NGO with no direct government affiliation, despite its connections in Washington — and location in the bowels of the Usip.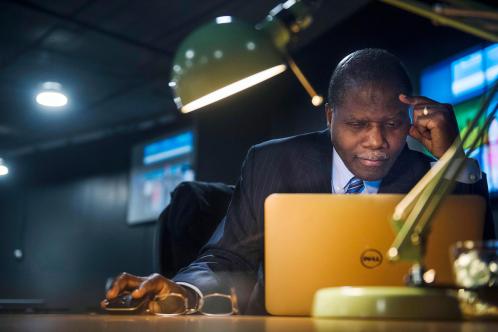 Former senior national security officer Ron Moultrie helped establish the accelerator AMANDA VOISARD
The latter was created by an act of Congress in 1984 as a body "devoted to the non-violent prevention and mitigation of deadly conflict abroad". It sits across the street from the State Department. The board of directors includes Secretary of State Rex Tillerson and General Jim Mattis, secretary of defence, as well as congressmen from both sides of the aisle.
The PeaceTech Lab, which oversees the accelerator, was spun out in 2014 as a stand-alone entity to apply technology to conflict resolution. It receives funding from some government contracts, but is not directly financed by Washington. Instead it relies on donors and corporate partners. Himelfarb said: "We couldn't have private sector funding under the charter for Usip. They spun us out so we could be more entrepreneurial."
Himelfarb said that when C5 and Amazon suggested creating an accelerator, it was "a dream come true". He added: "As my friends in the military tell me all the time, 'You can have a vision, Sheldon, but vision without resources is a mirage'."
He now has resources. Perhaps more importantly, he has acquired the connections. Ron Moultrie spent nearly four decades in American intelligence. A Russian linguist who served in the CIA before moving to the National Security Agency, he retired in 2015 after five years as head of operations, the third in command of the world's biggest cyber-espionage organisation.
He helped to get the accelerator off the ground via his role as chairman of C5's American division. The seasoned spy, who still travels under aliases and has top-secret security clearance, chuckled at the notion that the government had turned to Amazon to scout for on-the-ground intelligence help. "I'd hope that if the intelligence community wanted or needed to be able to put that net out there, they'd have another way of doing it," he said. "This is just a collaboration of riches you have here, where everything has fallen together at the right time."
What is clear is that US intelligence has come under fire for failings for years, going back to the first Iraq War when it relied on bogus information from an Iraqi informant called "Curveball", all the way up to last year's election, when authorities were caught flat-footed by Russia's misinformation campaign.
IN NUMBERS
$90bn The size of Jeff Bezos's personal fortune
$50,000 The amount in free 'cloud credits' given to promising start-ups
3bn The estimated number of smartphones in the world
The 3bn-plus smartphones in the world, packed with cameras, sensors and GPS trackers, have opened a new front. "It doesn't matter if you're in Somalia or South Sudan or downtown London, almost everybody has a smartphone," said Nancy Payne, PeaceTech's vice-president. "Traditional peacebuilding is not going away, but why not actually try to figure out how you can tackle complex social problems using technology in the same way that you're using it to figure out how you disrupt the taxi industry?"
RedCrow, a programme alumnus based in Ramallah, in the Palestinian territories, is but one example. The company has developed a mobile app to warn people of "explosions, airstrikes, shootings" and other flare-ups in Syria, Lebanon, Jordan and on its home turf. It received a grant this month from Unicef.
The accelerator's genesis goes back to the summer of 2015, at AWS's annual public sector conference in Washington. That is where Himelfarb met Pienaar, a South African with deep and controversial ties to the British establishment.
Before C5, he founded G3 (Good Governance Group), a London corporate intelligence firm. It was at the heart of the scandal that led to the 2011 resignation of Liam Fox after it was revealed that a charity linked to the then defence secretary paid tens of thousands of pounds for his best man to travel with him as an unofficial adviser on state business. G3 set up and funded the charity. Pienaar sold G3 for £14m before the scandal broke.
He set up C5 as a private equity firm focused on cyber-security. Its advisers include Lt Gen Sir Graeme Lamb, a former head of UK Special Forces, Lord (David) Gold, a solicitor and former corporate monitor at defence giant BAE Systems, and Admiral Mike Mullen, chairman of the US Joint Chiefs of Staff under presidents Bush and Obama.
Amazon has backed accelerators from Saudi Arabia to Silicon Valley, but the Washington operation is its first focused on armed conflict. Since its formation a year ago, it has graduated 13 companies from eight countries. Moultrie said the goal was for it to act as a "bridge", linking companies with promising technology to potential customers and offering advice on everything from shaping their business models to how to pitch investors. "There's evil in the world," he said, "and the only way to combat that is to do something in the corporate sector to augment what's going on in the public sector."
Jerry White needs no convincing. As a 20-year-old, he was walking in Israel when he stepped on a landmine. He lost a leg below the knee, but the incident set him on a new course. He co-founded the Landmine Survivors Network and was part of the team that won the Nobel peace prize for leading the International Campaign to Ban Landmines. He worked closely with Diana, Princess of Wales.
Today he runs giStrat, which has developed a model, using game theory and algorithms, to predict the outcome of complex conflicts, from Venezuela's social breakdown to Isis's next move after taking Mosul. It was a member of the accelerator's second cohort in September. "What's interesting here is precisely the combination", White said, of peaceniks, national security figures and commercial partners that, combined, can help turn an idea into something useful.
The next cohort arrives in January. Amazon declined to comment. Moultrie said: "We're going to do what we can to bring all the tools we can to bear on these problems in the world, I see it as a continuation of my national security time. Not a part of it, but a continuation."