Erica Garner and How America Destroys Black Families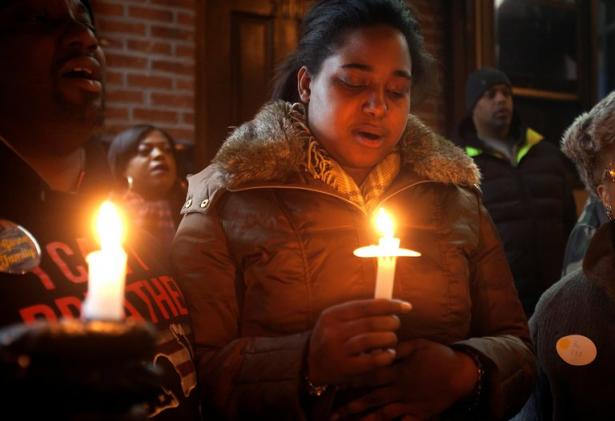 Erica Garner at a vigil for her father, Eric Garner, at the site of his death in Staten Island. , Carlo Allegri/Reuters
Erica Garner, the civil rights activist and a daughter of Eric Garner, died on Saturday, two days before the New Year and in the middle of the holiday season — a time when we're all encouraged to be with our families. It is impossible to think of her death without thinking of her father's death, the devastation their family must feel and the ways that black families have been destroyed throughout history.
Other families could devote themselves to spending time together around tables piled with celebratory food. But the Garners had to keep vigil around a hospital bed, because Erica suffered a heart attack on Christmas Eve and spent most of last week in a coma. She died unfairly young, at 27. That's three years after her dad died unfairly young, at 43, when Officer Daniel Pantaleo of the New York Police Department placed him in a banned chokehold.
Erica Garner is survived by her two young children. If both she and her dad had been alive this holiday season, they would have almost certainly spent it together. "He was a family man," she said about him, in one of the last interviews she gave before her death, on the third anniversary of the grand jury's decision not to indict Officer Pantaleo. "Like all the holidays, any type of events, he was always there. He always made sure you knew he supported you any way he can."
Since the country's founding, black families have never been able to thrive. Slavery broke them apart by allowing family members to be sold at auctions to different owners, and by prohibiting slaves from legally marrying, since slaves were classified as property, not people. Millions of black family members were killed during slavery and the lynching era, from 1877 to 1950. The modern legal system separates black families at higher rates than other families through many methods, including disparate sentencing schemes. Black defendants often receive far longer sentences than similarly situated white defendants.
In the latest insult to families, prisons increasingly don't allow for in-person visits, forcing families to pay money to private companies if they want to call incarcerated family members. The decision to make families that are disproportionately poor and black pay to speak to their loved ones over the phone or internet, instead of allowing free visits to them in person, is a blatant attempt to weaken the bonds that tie those families together.
Black families are also destroyed by police brutality. Michael Brown is no longer with us because a cop couldn't let go of the violent fantasies he entertained about black men. Tamir Rice was shot to death at 12. Philando Castile was killed while his girlfriend and her young daughter were with him in their car.
Black families are also disproportionately affected by the seemingly arbitrary decisions that the child-protection system inflicts on low-income parents. Laura Browder was arrested in 2015 for leaving her 6-year-old daughter and 2-year-old son a couple of dozen feet away from her while she attended a job interview in a mall food court, since she didn't have time to line up child care beforehand. Debra Harrell was arrested in 2014 for having her 9-year-old daughter play at a playground while she worked a shift at McDonald's. The charges against both women were eventually dropped, but only after they'd incurred thousands of dollars in legal fees, became subject to extensive amounts of unwanted public attention and suffered the indignity of having their children yanked away from them.
Every single one of those incidents has devastated a black family. Black families are forced to attempt to prove our humanity over and over again to a legal and administrative system that doesn't seem to believe in it, all the while hoping that we won't have to lose our family members, or if we do, that other families won't have to suffer the same pain.
One way to describe Erica Garner's last few years is to say she spent them fighting against police brutality. Another way is to say she fought against the forced separation and destruction of black families by the state. And that fight may have killed her, just as it might have killed the mother of Kalief Browder, a young man who had been unjustly accused of a minor crime and sent to Rikers Island, where he spent two horrific years in solitary confinement.
"They do these things for you to give up," Erica Garner said in an interview last month. "Look at Kalief Browder's mother. She died of a broken heart because she kept fighting for her son." She added, "I'm struggling right now, with the stress and everything."
"The system," she said, "beats you down to where you can't win."
The Garner family continues to be disrespected. Officer Pantaleo is still employed by the New York Police Department. Eric Garner's death was ruled a homicide, but it increasingly looks like one of those homicides no one committed. Similar to the Immaculate Conception, which meant Mary was free of original sin, apparently we are also supposed to believe that deaths like Eric Garner's are immaculate executions, just as free of sin.
If there is no sin in killing Eric Garner, no crime, then black families like the Garners can be destroyed without anyone having to answer for it.
Kashana Cauley (@kashanacauley) is a television and freelance writer and a contributing opinion writer.