The Other Imperiled Immigrants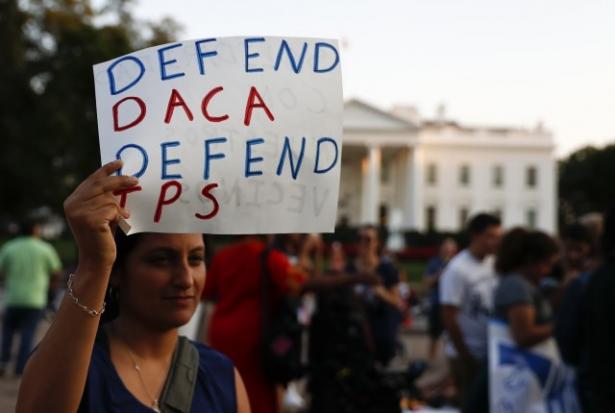 A woman holds up a sign that reads "Defend DACA Defend TPS" during a rally supporting DACA outside the White House,AP Photo/Carolyn Kaster
The past has come to claim Karla Alvarado and her family.
Departing from Central America's infamous Northern Triangle of El Salvador, Guatemala, and Honduras, Karla and her younger brother Carlos made the harrowing journey to the United States border in 1997, crossing over with the help of a coyote and then waiting for nightfall to hike into Texas. Their mother, Maria, had gone before them just months earlier, fleeing an abusive husband in El Salvador and then arranging for her children to join her in Washington, D.C.
At the time, Karla could count the number of words she knew in English on one hand and her own age on two hands; Carlos, too little to remember most of the trip, recalls vividly only a few scenes: Floating across the Rio Grande on plastic inner tubes, hiding in the basement of a hotel turned safe house in Mexico, and, throughout, the fear of being on the run, of being caught and kicked out—a feeling that, after 20 years, the Alvarado siblings are still unable to fully escape.

Since 2001, the only thing standing between Karla's family and deportation has been a little-known immigration protection called Temporary Protected Status (TPS). Currently granted to more than 300,000 immigrants, the status has allowed foreign nationals who cannot return to their homes because of perilous conditions to legally reside and work in the United States. Since it was first established by Congress in 1990, TPS has been an uncontroversial program with bipartisan support.
But no more. The Trump administration has ordered a complete reversal, ending the designation for refugees from Haiti and Nicaragua and deferring a decision on Honduras for six months. The possibility of El Salvador losing this special protection now seems increasingly like a certainty, too. For the approximately 200,000 Salvadoran TPS holders, including Karla and her family, the lives they've spent years building now teeter on the verge of collapse.
"I don't know anything else besides the U.S.," says Karla, now 29 years old. "It's like they're taking my entire life away."
TPS WAS CREATED by Congress as a humanitarian response to the refugee crisis following the civil war in El Salvador. The Immigration Reform and Control Act, signed into law by President Ronald Reagan in 1986, had granted legal status to hundreds of thousands of undocumented immigrants, but left out anyone who had entered the country without authorization in 1982 or later. Before TPS, there had been no established criteria for granting temporary immigration protections, leaving decisions to the discretion of the president. The new bill allowed more oversight, charging the attorney general (and then later the secretary of homeland security) to decide, in consultation with the State Department, which countries deserved TPS status based on a dispassionate review of adverse conditions in the country in question, such as war, political upheaval, epidemic, natural disaster, or an inability to handle the return of its foreign citizens.
In line with Trump's slogans of less immigration and more enforcement, the administration has contended that the deportation protection was intended to only be temporary and argued it has been abused over the years through constant extensions. Whereas past administrations concluded that some perilous conditions on the ground required extended protected status, the Trump administration has focused on the original reason for that status being granted. In the case of Haiti, which was given TPS after a catastrophic earthquake in 2010, Acting Secretary of Homeland Security Elaine Duke determined in November that the "extraordinary but temporary conditions" caused by the earthquake no longer existed. The decision did not seem to take into account the more recent devastation from Hurricane Matthew, which tore through the island in 2016, leading to a cholera outbreak and exacerbating severe food shortages.
"This is an administration that is hostile to immigrants overall and is using as many tools to remove immigrants as possible," says Cecilia Muñoz, chief of domestic policy in the Obama administration and a former immigrant-rights advocate who worked to pass the original TPS legislation in 1990. "There is ample reason to be concerned that the decisions on TPS are being motivated by this posture."
Congress approved in 2015 a $750 million investment to take on poverty and gang violence in El Salvador, Guatemala, and Honduras. A truce between rival gangs in El Salvador had unraveled and an aggressive crackdown by security forces ravaged the country. As a result, the country's murder rate spiked—a 70 percent increase over 2014. Congress's decision to send aid to the region was largely a response to the surge of women and unaccompanied minors fleeing to the U.S-Mexico border to escape the violence, with the expectation that improving conditions would eventually lead to fewer migrants. Muñoz, who worked on the unaccompanied minors crisis during her time in the White House, believes the decision to end TPS status for these countries is inconsistent with the previous investment in the region.
The three countries in the Northern Triangle remain among the world's most violent nations not at war. A July report from the Center for Global Development analyzed the relationship among violence, economic stability, and migration, finding that homicide and unemployment strongly correlated with the number of migrants bound for the United States.
"Ending TPS puts even more strain on these countries and our relationships with them," says Doris Meissner, who served in the Reagan and Clinton administrations as commissioner of the Immigration and Naturalization Service, the predecessor to current immigrant agencies. Although she admits that the Trump administration is well within its rights on its narrow interpretation of the statute, Meissner, who was involved with TPS renewal during her tenure in the Clinton administration, believes ignoring realities on the ground makes for bad policy on a purely pragmatic level. "TPS has become very bound up with our overall interests in the region. ... It is a self-defeating action, sending these people back before the country is ready."
Nicaraguan nationals now have until January 2019 to change their immigration status or risk going undocumented. TPS holders from Haiti were given until July 2019. The matter of a narrow or broad interpretation of the statute is sure to come up again in the decision on El Salvador, which was granted TPS after a trio of deadly earthquakes in 2001. The Department of Homeland Security has until Monday, January 8, 2018, to make its decision. 
THE ALVARADO SIBLINGS and their mother are paralyzed by the idea of going back. "The gang violence, the lack of work—I wouldn't survive in El Salvador," says Carlos, now 25 years old. Carlos has received many a cautionary tale from his aunt, who he says will soon have to abandon her transportation business because of incessant extortion and death threats from local gangs. Salvadorans pay an estimated $390 million a year in extortion fees, while Hondurans pay around $200 million.
Homeland Security currently lacks the resources to deport thousands of individuals the moment they lose TPS protections. It also remains unlikely that the entire population of TPS holders will actually self-deport themselves: More than half of TPS holders from El Salvador and Honduras have resided in the United States for more than 20 years and have more than 245,000 U.S.-born children. A far more plausible scenario is one where tens of thousands of immigrants continue to live in the country after their status expires, no longer paying taxes and unable to find legal employment.
"The choice people are going to have to make is whether running from immigration officers is less dangerous than running from gang members back home," says Pablo Alvarado (no relation), director of the National Day Laborer Organizing Network (NDLON). "For most, that's going to mean staying and living in the shadows."
But returning to the shadows may prove difficult for many protected by TPS. Much like recipients of the DACA program for young immigrants, a TPS holder is far more integrated into American society than an undocumented immigrant—owning driver's licenses, being admitted into school system records, and taking out mortgages—and, paradoxically, thus more easily tracked down. Many won't want to chance deportation and will try to apply for asylum once their protected status runs out, a much more onerous case-by-case process with no guarantee of success.
"A lot of people who are concerned about TPS ending will contemplate applying for asylum as a way to remain in the country," says Todd Pilcher, a Washington, D.C., immigration lawyer. "However, to win an asylum case, you must prove that you will be persecuted in your country because of your religion, nationality, ethnicity, social group, or political beliefs. A generalized worry about the nation's economy and violence, or not having access to medical treatment or education for your kids is not enough."
Internal estimates from CARECEN, an immigrant-aid organization that provides low- or no-cost legal services, find that only 20 percent or less of those currently with TPS would qualify for some sort of individualized protection from deportation. The Alvarado siblings are relatively lucky: Both Karla and Carlos are married to U.S. citizens and plan on applying for a green card through their spouses, a process that Karla says would cost $4,000 to $5,000 at an organization like CARECEN, but would cost more at a private law firm. But because Karla and Carlos entered the United States illegally, they will still have to leave the country before changing their status and could face a ten-year bar, minimum, before returning to the United States.
Although they'll be shielded from deportation once the application process has begun, the siblings would still be unable to work once their permits expire. Karla works as a home health-care nurse in a low-income neighborhood in Philadelphia, where she oversees care for 55 clients, from the disabled to the elderly; Carlos works in HVAC full-time and is a financial educator on the side. Both of them are the primary breadwinners in their homes and say they cannot afford to lose their jobs.
"This is clearly a working population," says Cecilia Menjívar, co-director of the Center for Migration Research at the University of Kansas who has done research on TPS holders. According to a survey conducted by Menjívar, more than 80 percent of Central American TPS holders are employed, well above the 63 percent labor force participation rate of the rest of the country—and more than 80 percent pay income taxes.
An April report by the Immigrant Legal Resource Center estimated that ending TPS designations for Honduras, Haiti, and El Salvador would lead to a $45.2 billion loss in GDP over the next decade in lost wages alone. Another report by the Center for American Progress went one step further, factoring in potential impact on industries as well as lost earnings, and found that economic output could take a hit as large as $164 billion over that same period.
In October, the Essential Worker Immigration Coalition, representing more than 30 business and trade groups, called for a path to legal status for TPS recipients, citing economic concerns. Two weeks later, the U.S. Chamber of Commerce sent a letter to the Department of Homeland Security, warning that canceling the program would "adversely impact" industries such as construction, food processing, hospitality, and home health-care services.
THE REALITY IS THAT the TPS program has flown relatively under the radar compared with DACA, which has received national attention since its inception in 2012 and affects approximately 800,000 individuals. As a group, "Dreamers" have shown far more political clout than their TPS counterparts. With a median age of 43 years, according to Menjívar's survey, TPS holders are older than Dreamers, many of whom have been raised in the United States and have been politically active for years.
"People don't understand my status when I explain it to them at work," says Karla, who feels that TPS remains unknown to most Americans. "They ask me, 'Why can't you just become a citizen?'"
There are currently multiple pieces of legislation in Congress, mostly sponsored by Democrats but a few with bipartisan support, that would provide some form of relief to TPS holders. But the political prospects of such legislation are remote.
Any attempt to expand immigration has become anathema to conservative Republicans and their base. Republican Representative Ileana Ros-Lehtinen of Miami is one of the few lawmakers in the GOP who have pushed for TPS renewal alongside a more permanent legislative solution. Unsurprisingly, Ros-Lehtinen has little support from her Republican colleagues, of whom the majority "would not know what TPS is" in the first place. "There's just no interest for immigration reform generally, and I don't think there's much appetite to help these ... people. It hurts to say it but it's the political reality," Ros-Lehtinen told The Miami Herald. "It's taken us a long time to get where we are, to get a lot of people in favor of a legislative fix for Dreamers. That's where the priority is."
"From Rachel Maddow to Sean Hannity, there's one message in the immigrant-rights movement that has transcended ideology and political affiliation, and that's that these kids with DACA were brought here through no fault of their own," says NDLON's Pablo Alvarado. "What that does, however, is immediately stigmatize their parents and adult immigrants, many of them TPS holders."
The March 2018 deadline for lawmakers to find a legislative solution for Dreamers is well ahead of the 2019 TPS elimination dates for Nicaragua and Haiti, as well as Honduras's possible elimination in July 2018. Only El Salvador risks losing its status before the deadline for Dreamers, though observers believe it is unlikely that El Salvador will not receive a similar transition period to Nicaragua before its status is rescinded.
For now, no news is good news for Salvadoran TPS holders. Karla is hopeful that as more people hear the stories of TPS recipients, political momentum will begin to grow behind passing a legislative solution. Despite their situations, Karla and Carlos are more concerned about their family than anything else.
"Our grandmother survives off the money Carlos and I send back to El Salvador. What will happen to her if we lose our jobs?" Karla asks. "What about my mother? What about the people who have no legal option when they lose status?" At the moment, Maria would have no clear avenue for relief if her TPS status were to be revoked. The Alvarado siblings insist that they won't allow her to be deported, that they'll find a way.
"I hope this administration takes into consideration that they're breaking up families," Karla says. "All these people want is an opportunity to have a little piece of the American dream."