Faced With Abuse Scandal, U.S.O.C. Does Nothing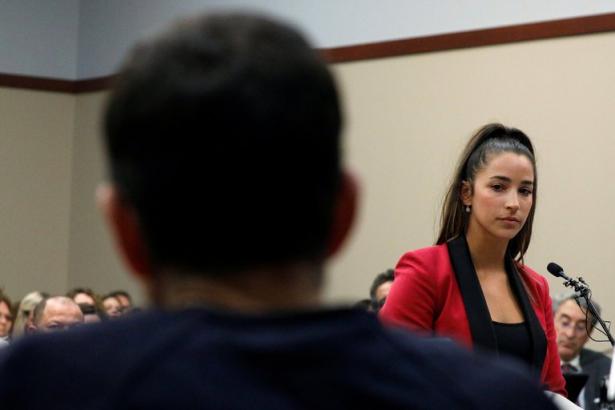 The Olympic gymnast Aly Raisman addressed Dr. Lawrence G. Nassar in court on Friday. He will soon be sentenced for sexual abuse. ,Credit: Brendan Mcdermid/Reuters // New York Times
The United States Olympic Committee once stepped in to run the national governing body for team handball because it was plagued by "a continued pattern of dysfunction."
At another time, it stripped the power of the taekwondo federation because it had financial troubles and failed to "effectively confront" its problems. In 2008, it threatened to disband U.S.A. Track & Field because the organization needed to shrink its board of directors.
Those problems seem like jaywalking violations compared with the blatant failure of U.S.A. Gymnastics to protect its young gymnasts from a serial predator like Dr. Lawrence G. Nassar, the longtime national team doctor.

So why, amid what is one of the worst sexual-abuse scandals in sports history — one much bigger than the Penn State scandal that took down the longtime football coach Joe Paterno, an athletic director and a university president — hasn't the Olympic committee fully held the gymnastics federation accountable for its incompetence?
The Olympic committee should decertify U.S.A. Gymnastics, stripping it of its powers as a national governing body, because the federation has failed at its most essential duty: to protect young athletes. Decertification is the most drastic thing the Olympic committee can do, and the nuclear option is warranted.
The gymnastics federation's failure to safeguard young girls was graver than financial instability or ineptitude on the playing field, which were reasons the Olympic committee used to decertify other governing bodies.
It's a rare move — the Olympic committee has decertified governing bodies only three times in recent years — but it's necessary. If not now, when more than 150 girls and families have been hurt by a sport that turned its back on them, then when?
If the Olympic committee needs encouragement to make the move, it should just listen to the piercing words of the women who spoke at Dr. Nassar's sentencing hearing last week. About 120 were expected to face Dr. Nassar or provide statements regarding their abuse.
"I was not protected," Jordyn Wieber, a 2012 Olympic gold medalist, said on Friday, as she said in public, for the first time, that Dr. Nassar abused her. "My teammates were not protected. My parents trusted U.S.A. Gymnastics and Larry Nassar to take care of me, and we were betrayed by both."
In tears, Ms. Wieber described how Dr. Nassar began grooming her with food and gifts when she was 8, and began molesting her when she was 14. How much more does the Olympic committee need to bulldoze U.S.A. Gymnastics, so the organization can be rebuilt without the people who couldn't see, or didn't want to see, a monster right before them?
Scott Blackmun, chief executive of the Olympic committee, wasn't available for comment for this column, but here's a primer for him:
Because of U.S.A. Gymnastics' decades-long practice of failing to report sexual-abuse accusations in the sport to law enforcement, Congress decided there needed to be a federal law to remedy it. In the wake of the Nassar case, Senator Dianne Feinstein, Democrat of California, introduced a bill that would make it mandatory for the national governing bodies of Olympic sports to report sexual assault to the police. The bill passed the Senate in November and is expected to be passed in the House in the next few weeks.
A majority of the gymnastics federation's officials and board members have remained in their posts throughout the Nassar scandal, even though many of the women molested by Dr. Nassar — including the Olympic gold medalist Aly Raisman — have repeatedly called for the officials to step down or be removed.
Three days after Simone Biles said she was abused by Dr. Nassar and added that she dreaded going back to the national training center in Texas because she was abused there, the gymnastics federation said it wouldn't return to that site. That change came because of the power of Ms. Biles and other women speaking up.
Now, the Olympic committee should listen to the athletes, too.
"If they really cared, then there would be a lot of change," Ms. Raisman told ESPN, referring to the gymnastics federation, last week. "And there hasn't been enough change."
Ms. Raisman and other gymnasts have called for Paul Parilla, the federation's chairman, to step down, but Mr. Parilla — a lawyer and retired Marine Corps colonel — has only dug in.
In a statement last March, Mr. Parilla — whose daughter, Jennifer, is a two-time Olympian in trampoline — said, "The entire leadership of U.S.A. Gymnastics shares the U.S.O.C.'s commitment to promoting a safe environment for athletes, and we take its views very seriously."
Yet in an investigative review paid for by the federation, the former federal prosecutor Deborah J. Daniels described the weaknesses of U.S.A. Gymnastics. One of them was that the board didn't adequately address the sport's sexual-abuse problem.
Her report criticized the board because it didn't hold management accountable for protecting children, failed to routinely question management about the issue and spent "very little time" discussing child-abuse prevention.
Ms. Daniels also saw a problem with how long some members have been serving on the board because it could lead to insularity. There is a provision in the federation's bylaws for members to serve only two four-year terms, but Mr. Parilla has been there for 19 years.
"When a sexual-abuse case came up during my time on the board, the concern was about the reputation of the coach — not the accusation of the athlete," Jessica Howard, a national champion in rhythmic gymnastics who was abused by Dr. Nassar, wrote in a first-person piece for a New York Times blog. She, too, wants wholesale changes to the board that failed in its mission to oversee the federation.
The leaders of U.S.A. Gymnastics fought to keep the abuse secret.
McKayla Maroney, an Olympic gold medalist, said she signed a nondisclosure agreement in 2016 and, according to The Wall Street Journal, received $1.25 million from the federation in exchange for her promise to remain quiet about Dr. Nassar's abuse. The problem is, according to her lawyer, John Manly, that forcing a witness in a felony sexual-assault case to remain silent about her abuse might be illegal.
Ms. Raisman has also said the federation prodded her to keep her abuse from the public.
The evidence is there that the gymnastics federation is in need of substantial change, though I acknowledge that decertification presents some complications.
If the federation is no longer recognized as the governing body of gymnastics, top gymnasts can lose their funding. Their status as athletes training at the Olympic training center in Colorado Springs might be revoked. They might not be able to compete internationally because the international federation of gymnastics only recognizes athletes from a nation that has an official governing body.
Still, all of these issues can be worked out in the interest of the athletes — the people who should matter most.
The Olympic committee could also put the gymnastics federation on probation, which would be a way to warn it that it needs to change.
The Olympic committee needs to do something, anything, to signal to gymnasts that it cares about their safety — and not just about money and medals.
Which brings us back to Ms. Raisman.
"I have represented the U.S.A. at two Olympics and have done so successfully," she said on Friday in the Ingham County, Mich., courthouse, facing Dr. Nassar. "And both U.S.A. Gymnastics and the United States Olympic Committee have been very quick to capitalize and celebrate my success. But did they reach out when I came forward?
"No."
Not a good look for this country's Olympic officials. After everything we heard last week, why are they still propping up U.S.A. Gymnastics?
[Juliet Macur is an award-winning Sports of the Times columnist at The New York Times and a best-selling author. She joined the Times in 2004, as a feature writer and enterprise reporter in the sports department. After years of breaking news about Lance Armstrong's doping, Ms. Macur wrote the best-selling biography, "Cycle of Lies: The Fall of Lance Armstrong." In 2016, the Associated Press Sports Editors named her one of the top 10 sports columnists in the United States.]