labor
A Backlash Is Mounting in Cities Bidding for Amazon's HQ2

,
Jamie Eldridge, the son of an electrical engineer who grew up in suburban Boston, would seem like a natural cheerleader for Massachusetts' bid to land Amazon's second headquarters. A state legislator, he represents a district only 30 miles from the proposed $5 billion company campus and its promise of 50,000 high-paying jobs.
But Eldridge has a surprising message for the tech giant: Thanks but no thanks.
Eldridge is among a small but increasingly loud group of naysayers who live in the 20 regions that are
finalists
for the headquarters sweepstakes. While mayors and governors compete to offer Amazon billions in tax breaks, these locals have no interest in paying the company to come to their towns.
The contrarians say their communities are thriving as is, and that's why Amazon is interested in the first place. They look at the downside of winning: diverting money from schools and other services, making housing more unaffordable and clogging roads and straining transit.
"Greater Boston is better off without Amazon," said Eldridge, a 44-year-old lawyer.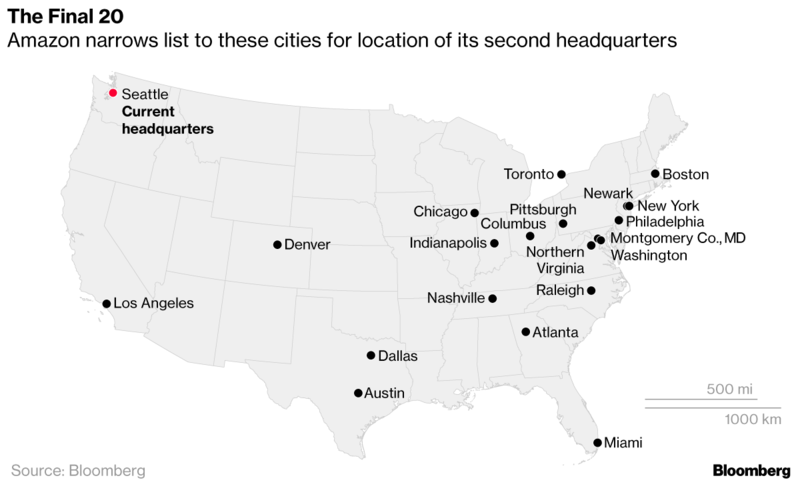 In Maryland, Rich Madaleno, a Democratic state senator running for governor, doesn't go that far, but he opposes paying Amazon to come to the state. Maryland is setting aside $5 billion to woo Amazon to Montgomery County, a suburb of Washington and part of Madaleno's district. In the legislator's view, officials should pump money into colleges instead.
"You've got a company that could probably put out the $5 billion without blinking an eye," Madaleno said.
In New Jersey, where Newark is courting Amazon, Governor Phil Murphy last month ordered an audit of all tax-subsidy programs to see if they were worth the cost. Murphy's predecessor Chris Christie put together a $7 billion tax-break package for Amazon.
"New Jersey is a fantastic place, and we should be promoting that and not some bribery," said Erica Jedynak, New Jersey state director for the conservative Americans for Prosperity, which calls such incentives "corporate welfare."
Amazon's Pitch
For its part, Amazon said it has invested more than $100 billion in the U.S. and created 200,000 jobs -- 20 percent in its hometown of Seattle. The company estimates that every dollar invested in Seattle generated $1.40 for the city's economy. Amazon said it has contributed tens of millions of dollars to affordable housing and has successfully encouraged workers to walk, bike and use public transit.
"If you ask most people in Seattle -- and ask most businesses -- would you prefer Amazon be here or not, they would prefer to have Amazon," said Tom Alberg, a venture capitalist who was was a first-round investor in the company and sits on its board.
Most local officials -- such as the mayors of New York and Boston and their state's governors -- are rolling out the red carpet and dusting off the checkbook.
"It's a monster -- 50,000 jobs, $5 billion of investment by the company. Go online, just look on the website and look at the Amazon bid and just look at the growth that could happen," Boston Mayor Marty Walsh told Bloomberg Radio.
Tax Giveaways
While smaller contenders such as Indianapolis might well benefit from Amazon's high profile, Boston, New York and Washington would hardly seem to need a boost, according to Mark Muro, who directs the Brookings Institution's metropolitan policy program.
Some prominent economists -- including Harvard's Edward Glaeser and Princeton's Alan Krueger -- have signed a petition calling on communities to enter a "nonaggression pact" for the Amazon competition that rejects "egregious tax giveaways."
Business incentives have more than tripled since 1990, according to a study last year by the nonprofit W.E. Upjohn Institute for Employment Research. State and local governments spend as much as $90 billion a year, yet the tax breaks don't seem to have a large correlation with employment growth or income levels, the institute says.
Consider the cautionary tale of Boeing Co. in Amazon's home state of Washington. The company had threatened to relocate its 777X aircraft program. In 2013, the state offered a package estimated to cost taxpayers $8.7 billion, the biggest state subsidy package in history. But Boeing's Washington workforce shrunk to 65,829 from the January 2013 level of 86,397. Spokesman Paul Bergman said Boeing invested $13.5 billion in Washington in 2016 alone, "confirming the value the state and taxpayers receive."
Corporate Welfare?
Since the 1970s, Good Jobs First, a Washington research organization critical of such incentives, has tracked 386 "mega deals" worth at least $50 million. The group found the cost of each job created averaged $658,000 and, in some cases, more than $2 million.
Amazon was unusual in opening the headquarters competition to all comers. It inspired 238 cities to compete.
"They're playing the system like a fiddle," said Greg LeRoy, Good Jobs First's executive director. "We suspect Amazon knew who was on that short list going in."
That no doubt included Boston. Sports betting sites have ranked Boston as high as No. 1 and No. 2 for winning Amazon.
The region boasts an unrivaled concentration of top universities, including Harvard and the Massachusetts Institute of Technology; some of the world's finest hospitals such as Massachusetts General; and thriving tech and biotech hubs, as well as money management companies including Fidelity Investments.
Playing Cool
Given its success, Ben Carcio, the 40-year-old Boston co-founder of marketing startup Promoboxx, would prefer that Boston show more New England Patriots-style swagger.
"Part of me just wishes Boston would be a little cooler about it, instead of bowing down before Amazon to get them to come," Carcio said. "Boston doesn't need Amazon."
Boston has played it cool before. Deep public skepticism about the cost to taxpayers of hosting the 2024 Olympics resulted in local leaders terminating its bid two years ago.
But, in 2016, the city and state agreed to shell out $145 million in incentives to land General Electric Co.'s relocation of its headquarters to Boston from Fairfield, Connecticut.
Then Chief Executive Officer Jeff Immelt promised that for every dollar the city spent, "you will get back a thousandfold, take my word for it." In a column, the Boston Globe kvelled: "General Electric moving its headquarters to Boston is all glory ... The world can now mention Boston in the same sentence as Silicon Valley when talking about where the future is being built."
Perhaps now, not so much. GE's stock price has been cut in half since December 2016, and the U.S. Securities and Exchange Commission is investigating its accounting. Immelt, the Boston booster, has since stepped down. The headquarters, once slated to open this year, now won't be complete until 2021.
"GE remains firmly committed to Boston," spokesman Jeff Caywood said.
Still, the company's current CEO, John Flannery, recently made comments suggesting that GE was considering another plan for its future: breaking up the company.