labor
All Of West Virginia's Public School Teachers Are On Strike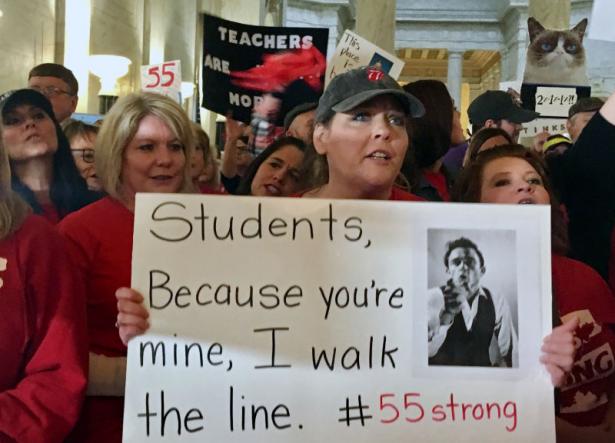 Jennifer Hanner, a first-year teacher from Harts, West Virginia, holds a sign at a protest at the state Capitol on February 22. ,John Raby/AP
Thousands of public school teachers across West Virginia went on strike this week in protest over their pay and benefits, affecting more than 277,000 students. It began on Thursday, a day after West Virginia Governor Jim Justice, a Republican, signed legislationproviding teachers, school service personnel, and state police with a 2 percent pay increase starting in July and scheduling 1 percent pay hikes for teachers in 2020 and 2021. The strike is poised to extend into Monday.
Teachers' unions say the raises won't cover cost-of-living increases, and the bill doesn't address other concerns related to public employee insurance programs, health care costs, and payroll tax deduction options.
Christine Campbell, president of the American Federation of Teachers-West Virginia, told CNN that's a reduction from an earlier version of the bill — which would have instead added a total 5 percent increase in wages. She also said teachers in surrounding states make $5,000 to $20,000 more than West Virginia teachers. In 2016, the average salary for West Virginia teachers ranked 48th in the country, according to the National Education Association, ahead of only Oklahoma, Mississippi, and South Dakota.

"These things got everyone here, brought everyone here, and signing a bill at 8:00 at night wasn't going to change that," Campbell said.
Thousands of teachers, parents, and supporters descended on West Virginia's Capitol in Charleston on Thursday and Friday to protest. "We'd like to have a decent wage. And we'd like to have our PEIA [Public Employee Insurance Agency] fixed. We want then to quit trying to take our seniority and attacking our leaders in legislation," said Betsy Atwater, a Fayette County teacher, told local news outlet WOKW.
Regarding the decision to extend the strike into Monday, Dale Lee, West Virginia Education Association president, told reporters at a news conference on Friday that "our members have spoken, and are not prepared to go back to work yet."
AFT-West Virginia@AFTWV

"The members have spoken." AFT-WV President @cjobell on decision to continue statewide walkout on Monday.
It's actually illegal for teachers to strike in West Virginia. They're doing it anyway.
West Virginia's 680 public schools employ 19,488 classroom teachers and have enrolled 277,137 students, Alyssa Keedy, a spokeswoman for the state's education department, told the New York Times. All 55 counties in West Virginia closed schools this week and are poised to do so for at least part next week as well.
Steven Paine, West Virginia superintendent of schools, in a statement ahead of the strike said he fully recognizes and supports the work of teachers and that they "deserve more," but "the economic realities of our state may not allow everything teachers deserve to take place immediately." He also pointed out that work stoppages by public employees are "not lawful" in West Virginia. State Attorney General Patrick Morrisey said the strike was "illegal." Both officials also said the strike would be detrimental to students and families.
Per the Times, state food banks have helped feed students who depend on school meals during the strike, and supplemental child care centers have been set up, according to local news reports.
Thus far, educators seem to be shrugging off concerns over the legality of their move. Kym Randolph, West Virginia Education Association director of communication, told the Washington Post it's been a long time coming. "This is a cumulative strike," she said. "I mean, the pay and the benefits have been problems for years, and there's constantly been the promises of, 'We'll take care of this, we'll take care of this.' It's finally gotten to the point where, you know, the promises aren't enough."