Private Mercenary Firm Is Making Millions Off Tragedy in Houston, Puerto Rico and Standing Rock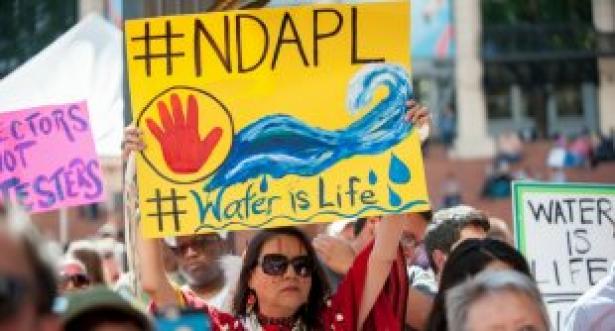 Diego G Diaz/Shutterstock
The practice of governments and security firms conducting wide-scale exploitation of major disasters, natural and otherwise, is nothing new. Last week, the Intercept reported on TigerSwan, a mercenary security firm that follows a similar disaster-capitalist model and has attacked the No Dakota Access Pipeline (NoDAPL) movement since 2016, at least. But that's not all: TigerSwan has also been preying on relief needs in hurricane-hit areas like Houston and Puerto Rico since 2017.
So far, the mercenary firm keeps its media presence at a minimum level, attracting little attention from the press. This makes sense considering the depth and scale of its massive military-style operations, including suppressing anti-pipeline activists by infiltrating activist groups with informants, surveilling the movement and calling on law enforcement agencies to suppress activist organizing.
In spite of how shadowy the firm may sound, TigerSwan has the approval of the United States government. TigerSwan contracts with the U.S. military and the state department to offer its services to Energy Transfer Partners, the company behind the Dakota Access pipeline. In May 2017, the Intercept published leaked internal documents from the firm in which TigerSwan officials likened NoDAPL activists to "jihadists" and called the movement an "ideologically driven insurgency with a strong religious component." Calling for a combined strategy of increased surveillance and security, the TigerSwan documents concluded that in order to suppress NoDAPL, the firm would need "aggressive intelligence preparation of the battlefield and active coordination between intelligence and security elements."

Tara Houska, who directs campaigns for Honor the Earth, told Democracy Now! in May 2017 that TigerSwan's deliberate mischaracterization of the NoDAPL movement carries dangerous implications for activists. "The movement was 'Water is life,'" Houska said. By drawing false parallels with extremist religious movements, Housak said TigerSwan emboldened a state-sanctioned response that was "incredibly violent, incredibly brutal."
As of February, TigerSwan has added savior to its role by creating maps calling Hurricane Maria and Hurricane Harvey "billion dollar weather and climate disasters." Center for Constitutional Rights attorney Pamela Spees told the Intercept that there's reason to be concerned about TigerSwan's interest in these ravaged regions, as "you have this growing patchwork of private and state interests that are basically executing law enforcement and security functions in these settings."
This isn't the first time a mercenary firm has expressed interest in a hurricane-devastated region. After Hurricane Katrina, the firm Blackwater swooped into New Orleans and deployed heavily armed security guards to patrol the streets. Jeremy Scahill reported on the scene for the Nation and was told such operations are anything but over. A Blackwater member told Scahill, "This is a trend. You're going to see a lot more guys like us in these situations."
Mehreen Kasana is a news writer for AlterNet. Previously, she worked as the front-page editor for the Huffington Post. Follow her on Twitter at @mehreenkasana.