What's the Matter With Oklahoma?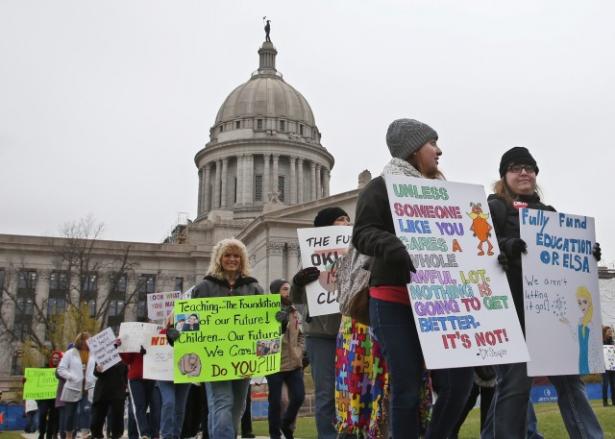 Teachers picket around the Oklahoma State Capitol in Oklahoma City on April 2, 2018.,AP Photo/Sue Ogrocki
The teacher's strike in Oklahoma has been a long time coming. When we traveled through the state in February as part of a research project, everyone we spoke with was concerned about education. We talked with parents of children in both public and private schools, and with recent high school graduates. They all agreed the situation was abysmal. Teacher salaries were among the lowest in the country and teachers were moving across the state line to Texas, where they could earn tens of thousands more.
Children were graduating without knowing basic facts of American history and politics. When we visited the moving memorial to the Oklahoma City bombing victims, we learned that most school children in the state cannot come and visit it because of lack of funding for buses. In Tulsa, people told us that the most important reason businesses are reluctant to move there, despite the city's storied history and magnificent cultural institutions, was concern about providing high-quality public education for their employees' families.
Yet the legislature in Oklahoma City refused to enact a meaningful school funding package. Its members were held captive by oil and gas interests, as well as the rabidly anti-tax cattle farmers in the western part of the state. The result has been that Oklahoma is ranked 47th in the quality of its education, with a D grade, based on the Quality Counts K-12 Achievement Index, which examines measures such as reading and math performance, high school graduation rates, and Advanced Placement exam results. Some state legislators went even further to reduce education quality by passing legislation to teach creationism in high school. Many parents undermine funding by home-schooling their kids.

The strangest element in this situation is that Oklahoma is different from other low-tax states. In a state like Kansas, the argument has been made that taxes must be cut to attract businesses into the state. This experiment has not worked well, because to attract business, a good infrastructure and educational system are needed, but at least it was a plausible argument.
For Oklahoma (as well as for West Virginia, where a successful teacher's strike served as the model for Oklahoma), no such argument can be made. The state's businesses are overwhelmingly concentrated in the oil and natural gas industry. And these resources are not going anywhere. The oil and gas industry will stay in Oklahoma, even if their taxes are raised, because it would still be profitable.
If the oil and gas extraction tax in Oklahoma were raised to the level it is in Texas (not a left-wing state), the teachers could be paid as well. The brain drain would cease, and the state educational system could begin to recover.
The only thing standing against this sensible move is the influence of the industry over the state legislature, courtesy of heavy lobbying, campaign contributions, and Republican gerrymandering. (Tulsa is prevented from having any real voice in state policymaking because of gerrymandering that favor the less-populous western part of the state, which has a cowboy culture and is very distinct from the eastern half of the state.)
Overcoming this roadblock would be a perfect task not just for the teachers, but for the parents and children we met. The Parkland kids have shown the power of involvement by young people. The same power can be marshaled in Oklahoma as well.
The key question is why voters in Oklahoma have not turned against politicians who refuse to raise the oil and gas tax. Some of them may have been convinced by the oil and gas interests that raising taxes would be bad for business.
More frequently, the anti-tax right has wrapped itself in the cultural right (if they raise your taxes, next they will take away your guns). Since Oral Roberts gained popularity in the 1940s, a coalition of extreme, self-reliant, anti-government evangelicals have supported limited government. They are the ones who choose to home-school their kids, therefore directly undermining public education, which they equate with "secularism." Oklahoma has a very high percentage of evangelicals, and evangelical pastors played a prominent role in delivering the state to Trump in 2016 by stressing wedge issues like abortion and gay marriage.
But our impression was that most Oklahoma residents we talked with understood that the state is perfectly capable of collecting more revenue without driving away oil and gas interests, and that cultural issues were not as important as bread-and-butter ones. A revolt against the entrenched interests is brewing. 
From Woody Guthrie on, Oklahoma was once a center of left populism. As recently the 1970s, Oklahoma had one of the most radical left-populists in the Senate with Fred Harris, the last living member of the 1968 Kerner Commission. It was the reddest state in the country in 2016 (not a single county voted for Clinton), but the teachers' strike has the potential to transform political understandings and alignments in Oklahoma more broadly.
We interviewed more than a dozen Republicans there, and they all emphasized that the right kind of Democratic candidate (one who ran as a populist and did not stress cultural issues, like Conor Lamb in Pennsylvania) had a chance. Yes, Oklahoma is still deeply red, but the GOP experiment with cutting taxes on the backs of kids may have backfired. Even in Oklahoma, change is coming.
Orli Avi-Yonah is a clinical psychologist who is consultant to the Family Assessment Clinic at the University of Michigan. Reuven Avi-Yonah is professor of law at the University of Michigan. They are on an extended road trip through the U.S. South and Southwest, interviewing people on their experience of the American dream.
ARTICLES BY ORLI AVI-YONAH & REUVEN AVI-YONAH
RSS FEED OF ARTICLES BY ORLI AVI-YONAH & REUVEN AVI-YONAH
Subscribe to The American Prospect and help support non-profit journalism.