food
Modernist Cuisine's Next Tome Tackles Pizza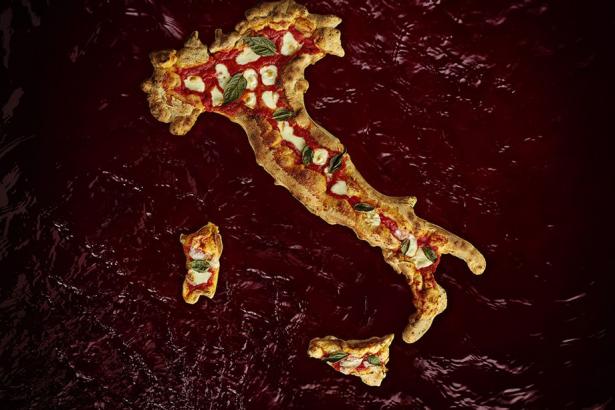 The next book to come out of the laboratory kitchen of Modernist Cuisine will be Modernist Pizza,Nathan Myhrvold/Modernist Cuisine
The ink on Modernist Bread, the 52-pound dissertation on bread and its history, is barely dry, but Nathan Myhrvold, tireless inventor, scientist, trained chef, and creator of Modernist Cuisine, is already onto his next book.
 "We cut more than 400 pages out of Modernist Bread," Myhrvold says by phone from the International Pizza Expo in Las Vegas. "We realized pretty quickly we had a lot more to say about pizza than a bread book could contain." (Modernist Bread is just over 2,600 pages, spread out among six volumes.)
But don't expect Modernist Cuisine's look at pizza to be quite so massive: Myhrvold promises it will "not be six volumes... certainly we could write six volumes on pizza, but no I don't think we will. It will be more than one, but not six."

 Baker and pastry chef Francisco Migoya and the team that collaborated to produce Modernist Bread are currently at work developing recipes for the new book, while Myhrvold has already started on the photography. To celebrate the forthcoming book, the chef-scientist is unveiling a new collection of photos at his Modernist Cuisine Gallery in the Forum Shops at Caesars Palace in Las Vegas today.
 "Pizza is...certainly the most popular prepared fast food in most of the world," Myhrvold says of why the team chose to pursue the topic for its latest project. "It's bread, but it's more than just bread. And the thing about pizza is that you'll show someone pizza from another place or made by a different person and they'll say, 'Oh that's good, but that's not pizza'..."
It's those differences of opinion that made Myhrvold and his team curious to dig deeper. "All of these styles, all of the pizzaiolos practicing their craft today, they're all making pizza but they disagree on how to make it," he says, "so we're going to try them all and see what's actually the truth, what works and what doesn't and why."
Myhrvold says regional styles including Neapolitan, all of the East Coast styles, and newer inventions like Detroit-style will be covered, along with flatbreads like focaccia. According to a press release, the goal is to produce "the most comprehensive pizza cookbook in the world."
 A publication date has not yet been set, but a representative says the book is a least a year out.