Capitalism Got You Down? Try a Worker Cooperative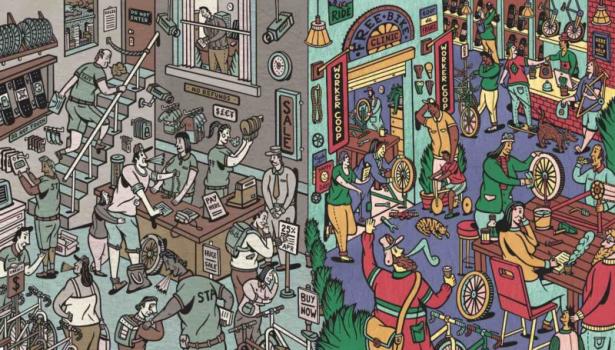 Phil Wrigglesworth / Upstream
Do you ever have the feeling that your boss is ripping you off? Maybe it's not your boss; maybe it's a bit more abstract. Like you get home from work and feel cheated somehow. "They should be paying me more," you might think. Or maybe you're getting paid enough, but you still feel a bit empty. A bit hollowed out. Purposeless. If someone were to ask you, "Do you think your job needs to exist?" you think you know how you might answer, and it doesn't make you feel any better.
I posed this question to myself not too long ago, and my answer was a resounding no. After a bit of existential turmoil (which is still definitely lurking), my answer led me on a path to explore why it is that so many of us feel this way and what we could do about it. My explorations led me to many different places, from the pages of Karl Marx's Capital to New Economics conferences in London, to name just a few. Most recently, my inquiry also led me to begin researching worker cooperatives — workplaces that are owned and run by the employees themselves. After spending so many nine-to-fives having my soul sucked out of me, I wanted to know what it was like—psychologically—to work under a radically different kind of structure. At some point in my research, I was told to go to downtown Richmond, California, just across the BART station, to speak with the co-owner of Rich City Rides, a cooperatively owned and run bicycle and skate shop.
"You know, it was something about it being Independence Day," Najari Smith explained to me, shaking his head and smiling. "I'm stuck working on Independence Day, on a Sunday, and it's like 10 o'clock at night…and I'm still trying to finish up a project for the company. So I just took a pause and went to go see the fireworks. After that I said, 'You know, something's got to change.'" As we sat in a back room of the bike and skate co-op he's now a co-owner of, Najari, whom I had just met about 15 minutes ago, opened up to me about his life story.

After growing up in poverty in Brooklyn and serving some time as a young adult, Najari decided to take a shot at coming out west after the company he was working for relocated and offered him a promotion if he came along. He married his girlfriend, and they moved to San Francisco. His corporate job paid pretty well and provided temporary housing in the city. He was doing all the things that you're supposed to do, and things went pretty well for the first three months. But then his housing stipend came to an end, and he quickly discovered that he wasn't being paid close to enough to cover the costs of living in San Francisco, where paying over $3,500 for a mediocre one-bedroom apartment is considered normal. So he moved to Fruitvale and then to West Oakland. And that's when things began to unravel.
"The lady I was with, my wife—she really wasn't diggin' Oakland. She hated it. And we had some disagreements around that. It ended in a divorce. She went back to Brooklyn." While he was alone in West Oakland, a darkness started to settle in—not just from heartbreak but from the soul-crushing corporate job that he was now pouring himself more and more into. "It wasn't really like a nine-to-five, it was like an eight-to-ten — or whatever was needed. I had a strong spirit of wanting to do a really good job. In the corporate system, they love that. They can extract as much energy and labor from you as possible." And so he slowly ground himself down into a routine of alienated drudgery, day after day, until one evening he found himself staring up at a sparkling sky over the San Francisco Bay. The fireworks exploding all around him must have ignited something deep within his soul, because after that night he made a decision that would change the trajectory of his life.
He did what so many of us dream of doing multiple times a day. "I left my job," Najari told me, with the look of someone recounting a traumatic experience from a distant past. Maybe it was a realization that the individual for whom he was toiling for on this Fourth of July was probably not working that weekend. Or even further, perhaps he recalled a widely published report by the Economic Policy Institute revealing that, on average, chief executives make 271 times more than typical employees. It's also possible that he was just tired — tired of working at a bullshit job for bullshit wages in a bullshit housing market designed to work for about only one percent of the population. Aren't we all?
"And you know, there's something that happens when you don't have any plan B's." Najari explained. "You've left your job. Your wife has left you. And you just have to — there's no other option but to go forward. And I ran with that. I went all the way forward."
When I first showed up at Rich City Rides, there weren't any customers in the store because they were just opening. Najari was behind the counter wearing a shirt with the words "Rich City" on it. I immediately knew it was him. I must have looked a bit out of place with my field recorder and headphones on. With his dreads pulled back into a ponytail, a pair of black glasses and a goatee, he stood framed by a busy backdrop of hanging tires, buckets filled with bolts and bearings, floor pumps, hex keys, spoke wrenches, cable cutters and, of course, dozens of bikes in various stages of repair. He invited me into a room in the back of the shop, where we sat down to talk.
"I ended up going to two different churches and volunteering as much as I possibly could because I didn't want to think about this whole situation that I was going through. I was riding my bike from Fruitvale up to Lake Merritt and just working out to alleviate stress — to keep my mind off of things. So I was a volunteer-aholic and a workout-aholic," Najari laughed.
"And then one day, it happened to be Halloween. I'm in Fruitvale — East Oakland. I was going to the store. I come out of the house, and there are these kids riding these custom-built, wonderful — I didn't know what they were called at that time, but I found out that they were "scraper bikes." And this dude in the front of a group of kids is riding up Foothill Boulevardd on Halloween. Everybody's dressed up. It's about 40—maybe 50—of them. I immediately ran home to try to get my bike, but by the time I got back over there, everybody was gone. But that was the first magical moment — seeing all of these kids with this person in front with this clown mask on riding a tricycle with a speaker on the back of it. And I was like, "'That looks like fun.'"
It was one of those profound experiences that happens to you — sort of like the universe having an epiphany that you just happen to be playing a part in. The scraper-bike experience led to a love affair with bikes, which eventually led Najari and two other young men to launch a collective pop-up bike shop that they ran out of random spots, like storage spaces or garages. After a couple of years, Najari moved to Richmond, where the pop-up bike shop turned into Rich City Rides, now an officially incorporated worker cooperative that just happens to be the only bicycle repair shop within something like a five-mile radius of downtown Richmond.
Rich City Rides is in the heart of a community that has been largely abandoned. The town of Richmond is an example of what we know as a "sacrifice zone" — a community that has been largely incapacitated by environmental damage (from the Chevron Richmond Refinery) and economic neglect. Many people living in Richmond can't afford cars, so they ride bikes to get to work or just to get around. In the past, when their bikes broke down, they had no way of fixing them. Bikes would get abandoned when they got something as simple as a flat. It was a pretty bad situation. But now that's slowly beginning to change.
Rich City Rides offers free bike clinics once a week, where community members can come in and learn how to repair their bikes using the shop's tools. They also run an "earn a bike" program that encourages youths to work on projects collaboratively and gives prizes out to members who bring their parents along on special family bike tours. They're pretty active in Richmond's bike scene in general, putting together all sorts of different social rides that focus on bringing the community together. "Richmond needs a community space like Rich City Rides," Najari told me. "We show that it's possible for black and brown communities to create these things."
The example set by Rich City Rides — and many other worker cooperatives — demonstrates that workplaces can be structured in a way that is healthy for both the communities around them and the individuals within them. The business provides meaningful work to three young men (Najari, Josue and Taye) who were up against a capitalist economic system that would have preferred to extract value from their labor or profit from their incarceration. "One thing I feel cooperatives do is they give the value of an individual's labor back to that individual," Najari explained. "And I like coming to work. That's a big difference. The other worker-owners and I talk about how the business is doing, and we celebrate when we have a month that's better than the same month last year. Everything is transparent. We know exactly where all of the money is going. We make all of our decisions collectively. It's a total — it's not even a 180 from any corporate jobs or any other jobs that I've ever worked. It's totally a different world. It's the new economy I want to see."
Worker cooperatives have been around for hundreds of years in the United States. They have a history steeped in radical labor movements as well is in African American communities seeking respite from a white supremacism that terrorized them for centuries. After fading in and out over the last century, the cooperative work structure is beginning to make a major comeback as the isolation of cubicles and the precarity of neoliberalism are met with resistance from people all over who know there is more to work than punching a clock and slowly dying for eight hours a day. And if the moral argument for work democratization wasn't enough, the empowerment of having a say in the decisions that affect you has been linked to better physical and mental health — working in a horizontal structure is actually better for you. So as this tumultuous and trying 21st century continues to unfold, let's hope for more examples like that of Najari — and the hundreds of others across the nation who are engaging in a movement toward real and lasting economic democracy.
The Bold Italic is an online magazine that celebrates the character and free-wheeling spirit of San Francisco and the Bay Area.