Media Bits and Bytes – Don't Shoot the Cartoonist Edition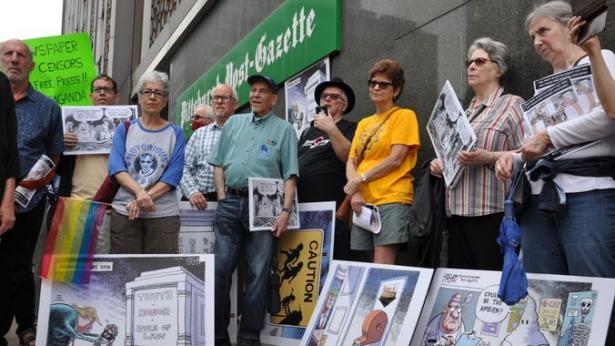 , Rossilynne Culgan / The Incline
Questions Piling Up About Why Reporter's Records Were Seized
By Brian Stelter  
June 10, 2018
CNN
Why did the US government secretly seize information from a reporter while investigating the longtime Senate staffer she had been dating?

While the Net Neutrality Fight Continues, AT&T and Verizon are Opening a New Attack on ISP Competition
By Ernesto Falcon
June 8, 2018
Electronic Frontier Foundation
Incumbent wireline telephone companies would be free to raise prices, or simply disconnect competitors' access to their infrastructure, and potentially jeopardize the small amount of remaining competition that exists in high-speed broadband.
After Papers Were Removed, a Seattle Student Newsroom Pushed Back
By Carina Julig
May 30, 2018
Columbia Journalism Review
The cover of that week's edition was a photo from Seattle University's 10th annual drag show, featuring a fully-clothed male performer in heels and a wig gesturing onstage.
An Online Agitator, a Social Media Exposé and the Fallout in Brooklyn
By Michael Wilson
June 6, 2018
New York Times
A HuffPost reporter was accused of "doxxing" a storeowner and her family, the term for revealing personal information about a person online. He was, in turn, doxxed by her supporters, and was immediately inundated with threats.
By Barbara Fister
June 6, 2018
Inside Higher Ed
Facebook does indeed connect the world, but it works by encouraging "engagement" and that means the most emotionally charged messages will get the most traction.
Anti-Trump Cartoons Stopped by Censor at Pittsburgh Post-Gazette
By Olivia Riggio
June 6, 2018
FAIR
The Pittsburgh Post-Gazette's editorial director refused to publish six of Rob Rogers' cartoons in a row. Four were directly critical of President Donald Trump, and two alluded to racism.