'This Is What Solidarity Looks Like': Mass Demonstrations at LaGuardia Airport as Kids Ripped From Parents Arrive in New York; Dozens of Parents with their Babies Occupy ICE Field Director Office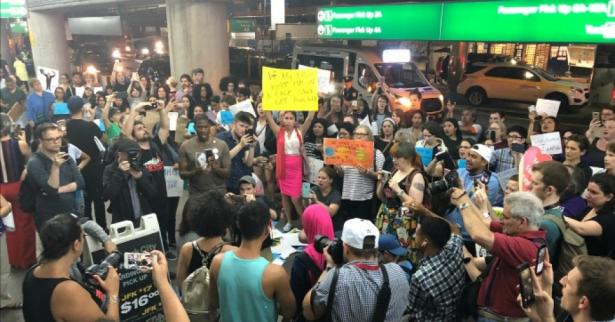 Make the Road New York, an immigrant rights group sent out a "red alert" late Wednesday calling on everyone around New York City to rush to LaGuardia to "witness where the children are being taken" and show they have unwavering support of the community.,Photo: United We Dream/Twitter // Common Dreams
'This Is What Solidarity Looks Like': Mass Demonstrations at LaGuardia Airport as Kids Ripped From Parents Arrive in New York
by Jake Johnson
June 21, 2018
Common Dreams

If President Donald Trump thought his sham executive order would put an end to mass grassroots outrage over his unspeakably cruel anti-immigrant agenda, he was sorely mistaken.
As hundreds of immigrant children forcibly separated from their families arrived on flights to New York City from Texas Wednesday night, massive demonstrations kicked off both inside and outside LaGuardia Airport showing solidarity with the young children and demanding that the Trump administration immediately reunite them with their loved ones, who are detained thousands of miles away.
"We want to let them know that there are thousands of people who see them, who love them, and who will fight for them," Stosh Cotler, CEO of immigrant rights group Bend the Arc and one of the organizers of the rally, said in a statement.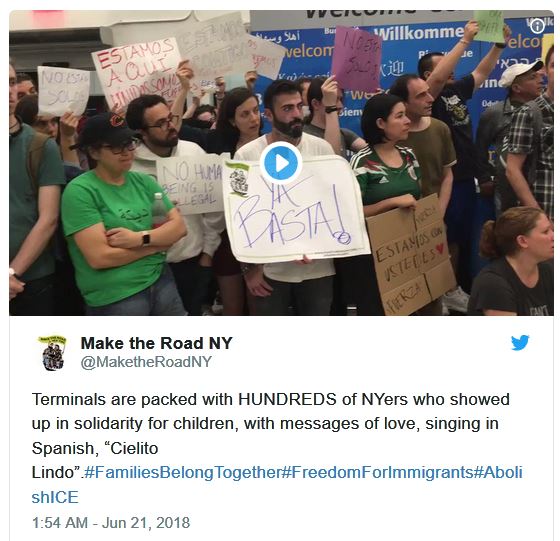 Listen here.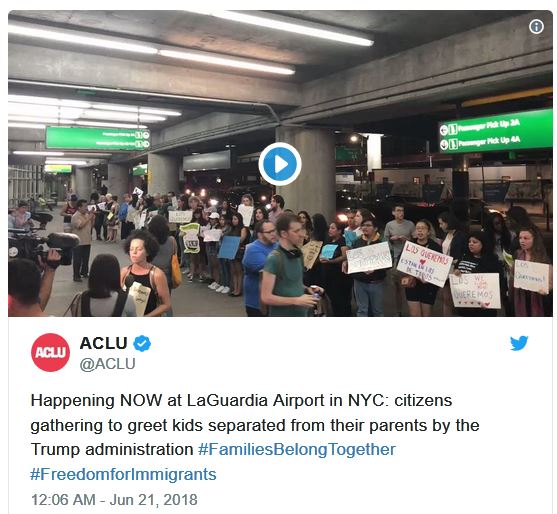 Listen here.
The protests at LaGuardia, which continued into the early hours of Thursday morning, closed with chants of "I believe that we will win!"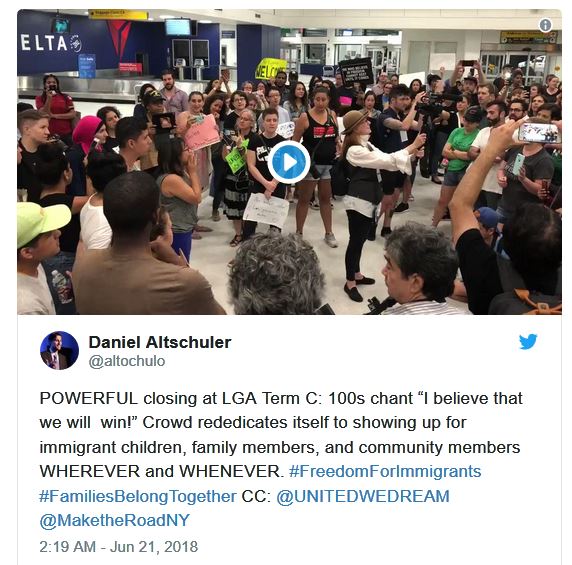 The rapid-response demonstration against Trump's family separation practice came amid reports that the administration is quietly transferring young immigrant children to New York "in waves," without the knowledge of state officials.
Make the Road New York, an immigrant rights group that has been organizing against Trump's anti-immigrant agenda, sent out a "red alert" late Wednesday calling on everyone in New York City to rush to LaGuardia to "witness where the children are being taken" and show that they have the unwavering support of the community.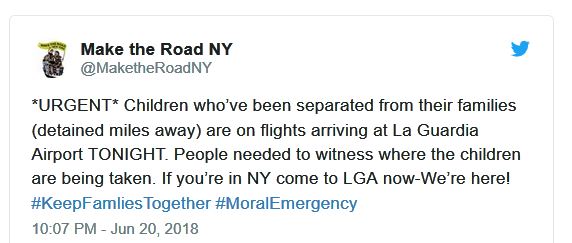 After Trump signed his executive order Wednesday afternoon, Kenneth Wolfe, a spokesperson for the Department of Health and Human Services (HHS), said the White House has absolutely no plans to reunite the more than 2,300 children who have been torn from their families and detained as their parents are criminally prosecuted for seeking refuge from violence and persecution in their home countries.
While another HHS spokesperson later slightly walked back Wolfe's statement—saying the department is "awaiting further guidance" from Trump on reunification—the administration has shown little concern for the plight of the thousands of immigrant children it has traumatized with its cruel policy.
In addition to leaving thousands of children detained or in foster care facilities as their parents are prosecuted for crossing the border illegally, Trump's executive order merely trades "one form of child abuse for another" by demanding mass family detention.
"In response to the overwhelming public outrage at his policy of tearing children away from their parents at the border, this administration thinks the appropriate response is to indefinitely detain families," Sen. Bernie Sanders (I-Vt.) said in a statement on Wednesday. "This executive order is an affront to our moral values and runs afoul of our nation's laws."
Reacting to Trump's order on Wednesday, the Metro D.C. branch of the Democratic Socialists of America (DSA)—which put pressure on the White House late Tuesday by publicly shaming Department of Homeland Security Secretary Kirstjen Nielson as she attempted to dine at a Mexican restaurant—vowed to keep fighting the administration's xenophobic policies.
"They think it's over, that we'll pipe down and go away," Metro D.C. DSA wrote on Twitter after Trump signed his directive. "It's not over, it's just getting started."
[Jake Johnson is a staff writer for Common Dreams. Follow him on Twitter: @johnsonjakep]
This work is licensed under a Creative Commons Attribution-Share Alike 3.0
Dozens of Parents with their Babies Occupy ICE Field Director Office 
Calling for Swift Reunification of Children with their Families and an Immediate End to Trump's heartless "Zero Tolerance" Policy
Hundreds of families gather outside ICE offices in support of immigrant families and asylum seekers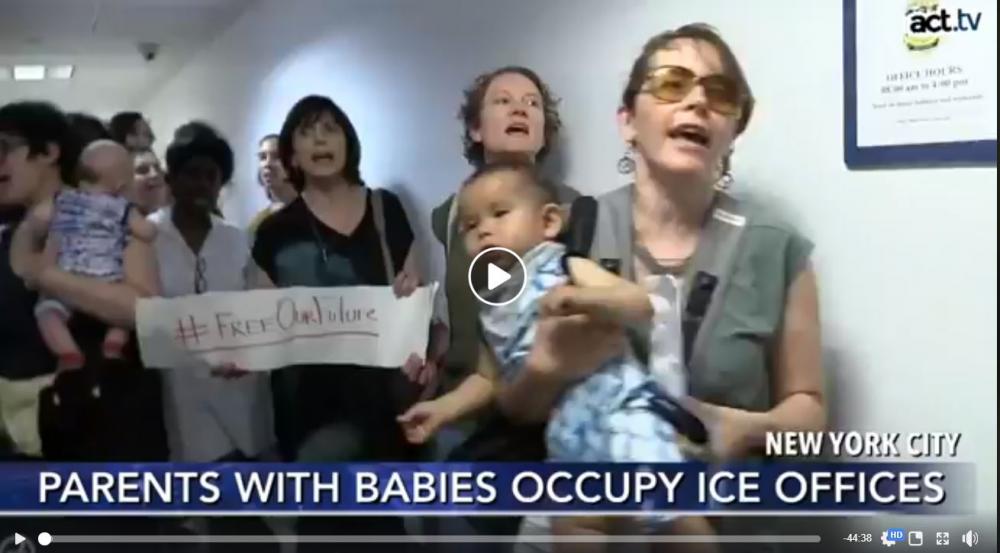 Watch video here (on Facebook) - act.tv
Contact:
Ilana Berger: 347-645-4255, ilanaleeberger@gmail.com
Yotam Marom: 201-723-8784 yotam.marom@gmail.com
Jodeen Olguín-Tayler: 202-607-3657, jolguin.tayler@gmail.com
This afternoon dozens of parents and babies took over the offices of Thomas R. Decker, New York field office director for ICE Enforcement and Removal Operations in protest of the Trump administration's heartless separation of children from their families. Local children sang together and drew on paper hearts to leave behind in support of the more than 2,000 boys and girls torn from their families as a result of the Trump administration's horrific "zero tolerance" policy.
These parents dismissed President Trump's executive order as a ploy for whole families to be unjustly and unnecessarily – and potentially indefinitely – detained, noting that thousands of children had still not been reunited with their families, and that just last night dozens of children ripped from their parents' arms at the border arrived in NYC airports and were headed to detention centers thousands of miles away from their loved ones.
"Our families are not fooled by yesterday's executive order: it will only lead to more detention and further mistreatment of families." said Jodeen Olguín-Talyer, mother of 11 month old Alejandro who was with her at the protest. "This crisis of family separation is one of Trump's own making. The Trump administration criminalizes and inflicts terror on immigrant families in order to advance their agenda of mass deportations." Clutching tightly to her baby, she said "These are families aren't criminals, they are mothers, fathers, daughters, babies who are crossing borders to flee violence and poverty."
The action, which the parent-organizers planned in just 36 hours, brought together concerned families and children from all over New York City through word of mouth and quick mobilization. Many expressed horror at hearing the Trump administration has no plans to reunite the more than 2,000 children now in detention, and that some children may never see their families again.
"I had to do something," said Margot Brandenburg, a mother holding her 14 month old baby. "I can't stay silent as the so-called leadership of this country dehumanizes and cages human beings. I just hope that as people continue to see the brutality of Trump's inhumane deportation force enough of us will speak out and take action. My kids are not going to stop fighting. I'll be taking all three of them – ages 14 months, 3 and 9 years old – to the massive protest in Washington DC next week."
"We wanted to take action with our children -- as families -- to show the next generation that we stand against hate and take a stand for what's right," said Ilana Berger, one of the organizers of today's action. "Every day I think about the world we're leaving for our kids. I want them to inherit not just a better society but also the knowledge that they have the power – and the responsibility – to make a better world for all of us. We are creating tool kits for other parents and children to be able to organize protest in their own communities. We all have a role to play."
Others pointed to the damage already done and the lack of a clear plan for reunification.
Jess Morales-Rocketto, Political Director with the National Domestic Workers' Alliance was at both today's protest and the protest at the Texas-US border on Saturday. "The crying, inconsolable children we heard; the toddlers behind wire fences; the rows of young boys on cots under aluminum blankets – these young people may never recover from the trauma of being separated from their parents and relatives."
When asked about Trump's announcement yesterday Morales-Rocketto responded: "The fight to end family separation and detention is not over. We will not rest until every single child is reunited with their parents, and until the zero tolerance policy that created this crisis is overturned. President Trump and Attorney General Sessions are lying to the American people, and we must continue to shine the light of truth. That's why we are organizing mass protests on June 30: we expect hundreds of thousands to participate in marches and protests across the country."
"I'm horrified at the thought of someone taking my child. I've heard from the parents and children who've been separated, are traumatized and without any indication of how they will be reunited. It breaks my heart as a mother, as a daughter, and as a human being. As parents we are here with our babies because our children see the truth and we think they can help other people see it as well. What's happening is wrong. No child, no family, should be punished for trying to find a safe place to live" said Olguín-Tayler as she held her 11 month old son.
"As my 6 year-old niece told me, 'All families love. All families hold hands, no matter where they come from. No more locking people up.'"
Organizers of the action also invited others around the country to join them in taking action with their families, calling on DHS and ICE officials and their members of Congress to stop locking people up, stop criminalizing immigrants and terrorizing families and communities.