Evictions in California are Triple Previous Estimates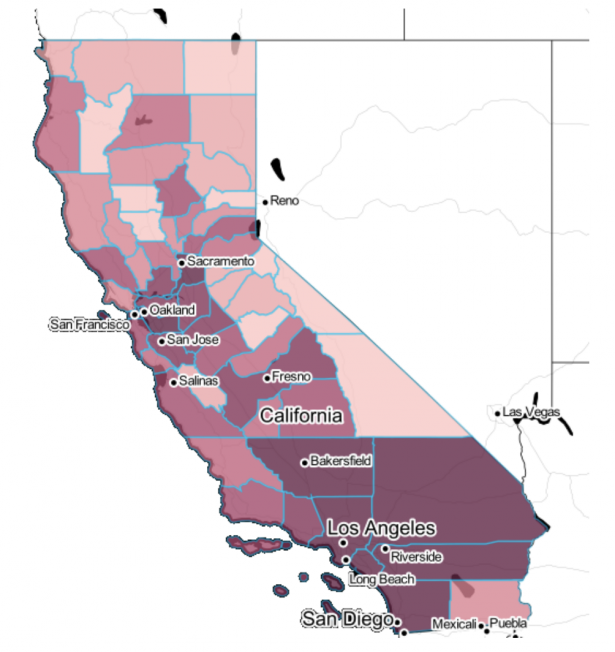 Anti-Evictin Mapping Project
Due to the masking of unlawful detainer (UD) records from public view in California, the full spectrum of eviction data is unavailable using standard research tools. With our friends at the Anti-Eviction Mapping Project, we obtained and analyzed eviction data from the California Judicial Council.
The most recent records show an average of 166,337 unlawful detainer (UD) cases filed per year over the last three years. With an average of 2.9 people per renter household, an estimated 500,000 California tenants face court eviction each year. Tenants Together is releasing this data in our latest report, California Evictions are Fast and Frequent (click to download). The Anti-Eviction Mapping Project created an interactive map to explore evictions by county and year.
In the report, we mentioned Assembly Bill 2925 (Bonta, D-Oakland), which would require all landlords to provide a cause for evicting tenants. The bill failed last night with only 15 votes in favor (read our press release for more details). California legislators still are unwilling to challenge the landlord lobby in the midst of an unprecedented eviction crisis. The time to act is now.

The data represents the tip of the iceberg when it comes to displacement. Most evictions do not go through the court process since landlords give eviction notices prior to the filing of unlawful detainer eviction lawsuits. Tenants who are served with this first notice to terminate tenancy know that they have limited rights and limited access to legal representation. In many cases, landlords serve a notice and tenants just move out.
Among the policy recommendations in the report, we call for further tracking of eviction notices, not just court filings. We predict such research will show that over a million Californians each year face involuntary displacement from their homes.
Contrary to the landlord lobby, the data also reveals that eviction court cases move through the system at breakneck speed. Nearly 75% of eviction cases are resolved within 45 days of filing, and nearly 60% are resolved within a month. Other civil cases take months or years to resolve. This finding rebuts misinformation from landlord industry lobbyists that it takes many months to evict tenants who violate the terms of their lease.
As AB 2925 fails on the floor and local rent control and "just-cause" eviction protection campaigns move to the November ballot alongside repeal of the Costa-Hawkins Rental Housing Act, California tenants need your voice now more than ever. Follow Tenants Together on Facebook, Twitter, or our website to get involved in the movement for housing justice.