This Week's Elections - Huge Wins in Missouri and Michigan - Right to Work Defeated, Palestinian Woman Elected to Congress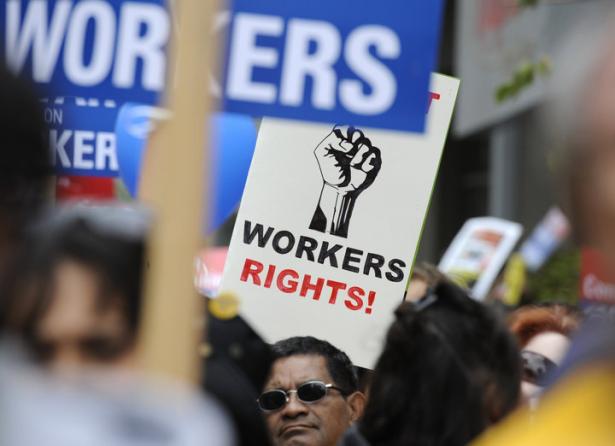 Unions are hoping that Missourians' decision to reject right-to-work takes some steam out of the nationwide right-wing campaign to expand them.,credit: Phil McCarten / Reuters // Huffington Post
Missouri Voters Overturn Right-To-Work Measure, Rejecting Republican Lawmakers
 
Organized labor hopes the win will help stop the spread of the anti-union laws.
By Dave Jamieson
August 7, 2018
Huffington Post
Labor groups won a landmark and lopsided victory Tuesday as Missourians voted by referendum to overturn the state's new right-to-work law, an embarrassing rejection for the state's Republican lawmakers.
Proposition A asked voters whether or not they would like to enact the right-to-work statute that the state legislature passed and former Gov. Eric Greitens (R) signed early last year. The "no" votes defeated the "yes" by a 2-1 margin, with 937,241 against the proposition and 452,075 for, according to returns released Tuesday night by the secretary of state.
The AFL-CIO union federation called the results "historic."
"The defeat of this poisonous anti-worker legislation is a victory for all workers across the country," Richard Trumka, the federation's president, said in a statement.
The ballot measure drew interest far beyond Missouri due to the rapid spread of right-to-work laws around the country. Such laws give workers who are covered by a union contract the option to not pay any union fees while still enjoying the contract's protections. Unions are likely to lose members and funding after a state becomes right-to-work.
The Republicans who control both chambers of the legislature thought they made Missouri the 28th right-to-work state last year. But labor groups and their allies succeeded in rounding up enough signatures to put the question directly to voters, then spent months building a "no" campaign to drive voter turnout.
The result was a rare victory for unions in the nationwide right-to-work fight. Although the laws used to be confined mostly to the South and West, the anti-union groups that back them have succeeded in making them the norm rather than the exception around the country. Even longtime labor strongholds like Michigan and Wisconsin have passed right-to-work measures in recent years, thanks to GOP control of state government.
Unions are hoping that Missourians' decision to reject right-to-work takes some steam out of the nationwide right-wing campaign to expand them. In the runup to the vote, they argued that the referendum would prove that the lawmakers rushing to enact them were out of touch with voters on the issue.
"We think that the legislature and the people are miles apart on this," Erin Schrimpf, a spokeswoman for the labor-backed coalition We Are Missouri, told HuffPost the night before the vote.
The "no" campaign outspent "yes" groups by an eight-to-one margin ahead of the vote, according to an analysis by the Missouri Times. Labor groups also fanned out with their door-knocking operations, trying to reach not only union members but the general public with their argument that a right-to-work law would drive down wages and working conditions for everyone.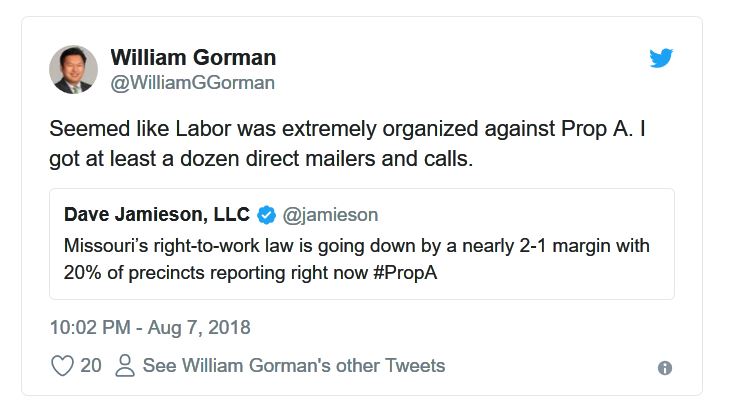 One campaigner, Chloe Collins, told HuffPost Monday that she was canvassing six days a week because she feared the law would weaken her union and therefore her job benefits and protections. Collins works at St. Louis Lambert International Airport as a janitor and is a member of the Service Employees International Union Local 1.
″I feel I wouldn't have security at work," Collins said.
The union membership rate in the U.S. is near an all-time low, with just 6.5 percent of private-sector workers belong to a union. The lawmakers pushing right-to-work laws have argued that the statutes would attract new employers who don't want to deal with collective bargaining. They also claim the statutes would free workers from having to support unions they may disagree with, but workers are already free from having to pay for their union's political activity. The right-to-work law means they wouldn't have to pay for bargaining and representation, either.
While Tuesday's vote may provide a boost to the labor movement, referendums have their limits as a strategy to beat back right-to-work laws. Only about half of states allow for referendums, and the Missouri referendum only worked because labor groups moved quickly for a ballot measure after the right-to-work law was passed. In other states, right-to-work statutes have been on the books for years or even decades. Voters in these states may be less likely to overturn what they see as long-settled law.
[Dave Jamieson is HuffPost's labor reporter. Before joining the D.C. bureau, Jamieson reported on transportation issues for local Washington news site TBD.com and covered criminal justice for Washington City Paper. He's the author of a non-fiction book, Mint Condition: How Baseball Cards Became an American Obsession, and his stories have appeared in Slate, The New Republic, The Washington Post, and Outside. He's won the Livingston Award for Young Journalists and the Hillman Foundation's Sidney Award.]
Rashida Tlaib, With Primary Win, Is Poised to Become First Muslim Woman in Congress
 
By Astead W. Herndon
August 8, 2018
New York Times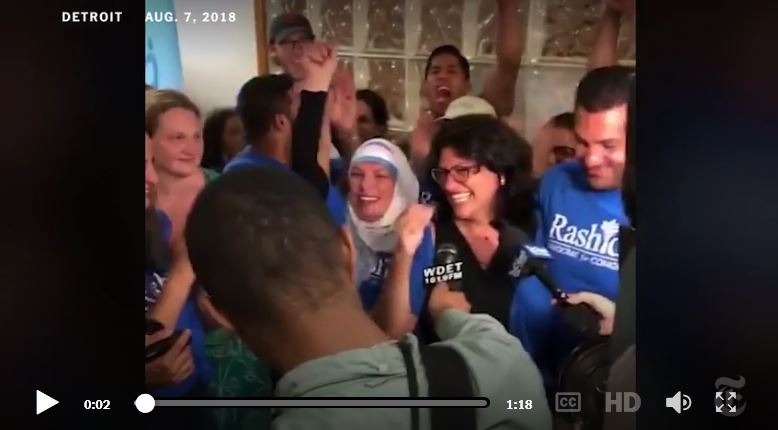 Listen here.
DETROIT — By the time Rashida Tlaib was finished, not a dry eye remained in the room.
"I want people across the country to know that you don't need to sell out," Ms. Tlaib said early Wednesday morning. "You don't have to change who you are to run for office — and that is what this country is about."
Ms. Tlaib is poised to become the first Muslim woman ever elected to Congress, after she narrowly defeated Brenda Jones, Detroit's City Council president, in a Democratic primary race to succeed longtime Representative John Conyers Jr. in Michigan's 13th Congressional District. She will run unopposed in November. In a separate Democratic primary contest for a special election to serve the remaining months of Mr. Conyers's term, Ms. Jones prevailed over Ms. Tlaib on Wednesday afternoon, according to The Associated Press.
Ms. Tlaib, a former Michigan state legislator, Detroit native and daughter of Palestinian immigrants, was so cautious about celebrating her victory that she waited until every vote was counted — and long after The Associated Press had called the race in her favor — to begin her celebrations at almost 3 a.m.
That meant the crowd had thinned significantly from the dozens who attended her earlier results watch party, but those who stayed until the early morning saw a special sight: a room of largely Arab-American immigrants emotionally celebrating an American democracy that has, in their view, been hostile to their existence and identity.
"A lot of my strength comes from being Palestinian," she said at one point. Ms. Tlaib's mother draped her in the Palestinian flag as she spoke.
"I will fight back against every racist and oppressive structure that needs to be dismantled," Ms. Tlaib said. "You deserve better than what we have today with our president."
The eldest child of 14, Ms. Tlaib campaigns with a raw energy rarely seen by candidates across either party. More than any singular policy position, her calling card is the no-holds-barred way in which she has engaged voters from traditionally marginalized backgrounds — calling voter interactions her "comfort zone," where she feels most free to rail against "corporate PAC money" and the uselessness of traditional representatives.
"I'm going to push back against everything that's so un-American that's coming out of this administration," Ms. Tlaib promised the audience. "My grandmother told me never to let a bully tell me, "can I do this?" or "you can't do this."
Ms. Tlaib's win on Wednesday rounded off what was a mixed evening for many Muslim voters in Detroit and Michigan. Abdul El-Sayed — the former Detroit health director who was supported by Senator Bernie Sanders of Vermont and the insurgent New York congressional candidate Alexandria Ocasio-Cortez — lost heavily in the Democratic primary racefor governor, which was won by the establishment favorite, Gretchen Whitmer.
More than 90 Muslims — mostly Democrats — have entered races for local, state or national public office, according to Jetpac, a nonprofit that advocates civic engagement across the country. With Ms. Tlaib, the group has now notched its most high-profile victory, which comes complete with a stunning visual: sending a Muslim woman who in 2016 heckled Donald J. Trump during a speech in Detroit to the floor of the House of Representatives.
"I won!" Ms. Tlaib exclaimed at one point, seemingly in disbelief. She soon, however, corrected herself.
"We won," she said.