tv
Ozark, Drug Cartels And America's Changing Relationship With Mexico
, Netflix
The recent violence in Charlottesville and the ever-shifting statements by Donald Trump about national identity bring to the fore the dangers of the recurrent narratives of "us" versus "them" and the threats posed to American values by the omnipresent other – such as Trump's "bad hombres" from Mexico.
This is a narrative that has become familiar fodder in popular US crime dramas, such as Breaking Bad and Sicario. But the recent Netflix series, Ozark, is a welcome shift from the dominant paradigm of the beleaguered and fundamentally decent white man struggling to survive in world full of threatening others.
Ozark has received mixed reviews. For some it falls short when compared to Breaking Bad, because rather than follow the protagonist's downward spiral, in this series not only is the protagonist a middle-class white man but he is crooked from the start.
What Ozark shares with both the Sopranos and Breaking Bad is the way it brings home the consequences of criminal activity and shines a spotlight on the practical – even mundane – difficulties involved in multi-million dollar crime. Ozark focuses on a white-collar bureaucrat operating on behalf of a cartel.
To understand the significance of Ozark it must be considered in the context of a proliferation of series about the cartels, which are indelibly tied to current US-Mexican border policy and attitudes to race in the US.
Ozark shares with Narcos the technique of having an opening voiceover which, in this case, establishes financial adviser Marty Byrde (Jason Bateman) as the show's – flawed – hero. But the shift in protagonist from Narcos' heroic law enforcement officer, Steve (Boyd Holbrook), to a crooked money manager, reflects the key recognition that backroom people – bean counters even – are integral to the operation of criminal enterprises.
Family values
After it emerges that his business partner, Bruce Liddell (Josh Randall), has been siphoning off money from an unnamed Mexican cartel, Marty uproots his wife Wendy (Laura Linney) and children to the Lake of the Ozarks in Missouri. Marty knows nothing about the Ozarks beyond a page from a brochure – but the move is Marty's idea – a deal struck with the angry cartel bosses in exchange for his life.
Del (Esai Morales), the cartel leader, accepts the deal on condition that Marty retrieves and then launders the $US8m that his partner stole. So the family travels to Missouri. Marty and Wendy's relationship has broken down before we meet them, but they are now forced to cooperate for their own safety and that of their children. But they soon discover that the majority white town they move to is full of corruption and criminality – as evidenced in the sadistic and murderous local drug dealers.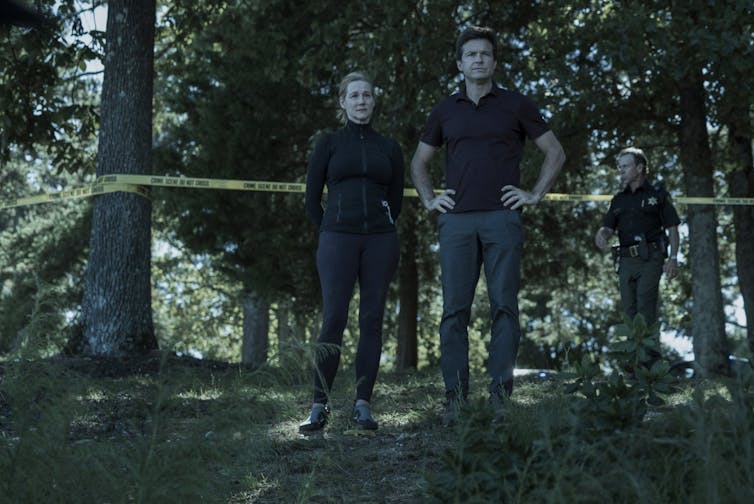 Scene of the crime. Netflix
Marty and his family are superficially ordinary and respectable – a point that the series frequently casts ironic shade on through dialogue. For example, in a typically barbed exchange, Wendy asks Marty what he has done for the family today. His response is that he has "bought a strip club", thus upending the heavily loaded righteousness of the premise of the question. In this way, the series presents the machinations of the drug war as something that permeates all aspects of society right down to family relations. Unlike Breaking Bad and The Sopranos, where family is only in danger when systems break down, in Ozark being involved in criminality is inherently a permanent state of crisis.
Location, location
There is an irony in the presentation of the Ozarks as an ideal space for drug activity when its rural setting would normally bring with it a presumption of idyllic retreat and its location so far north should distance it from the trade to the south. This led to criticism by Missouri opinion writer, Kevin Horrigan, who objected to the portrayal of the Ozarks. Some of this is because the series was shot in Georgia, but there is also an awareness that the series' stories of corruption do not reflect local versions of white-collar crime, which tends more typically to consist of tax evasion and embezzlement.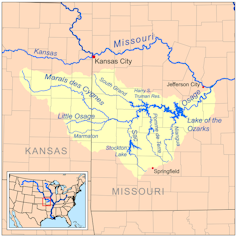 How do you police a porous border? Kmusser via Wikimedia Commons, CC BY
The lake shore, an artificial construct in itself since the lake was created in 1931 by damming Missouri's Osage River stands as a clear signal of the impossibility of policing borders because its porous border makes it a perfect locale for dealers and other illegal activity. This internal frontier challenges the idea presented by Trump that building a wall between the US and Mexico will somehow ensure that those he calls "bad hombres" will be kept out. The Mexicans Trump is referring to are for the most part a distant shadow in Ozark. Instead, it is the well-established white majority residents, who prove to be the most dangerous criminals.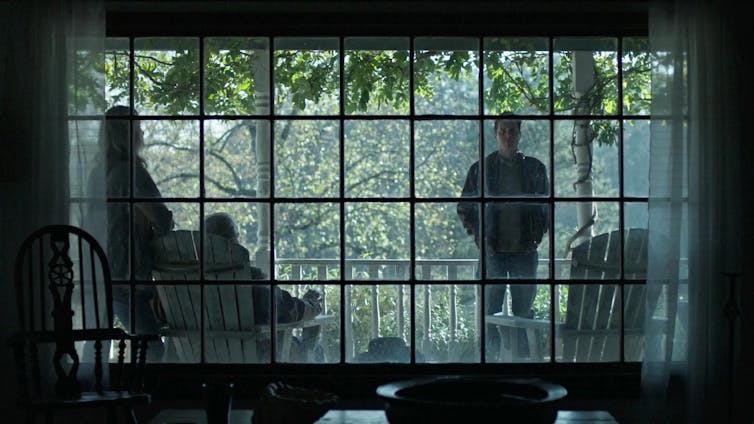 Quaint and safe? Not on your life. Netflix
Ozark is a shift in the representation of the drug trade and its attendant violence to a new realisation of the complex systems that keep it in place. The Mexican cartel's activities provide motivating action that impels the narrative forward – but it is the white characters' willingness to participate for personal gain that is fundamentally at question.
As a result it is "us" who are suspect not "them" in this story – and hopefully that signals a shift in direction for popular long-form narrative.
Disclosure statement
Niamh Thornton does not work for, consult, own shares in or receive funding from any company or organization that would benefit from this article, and has disclosed no relevant affiliations beyond their academic appointment.