If You're a Cuba Activist and the FBI Comes Knocking on Your Door, Here's What They Might Want to Know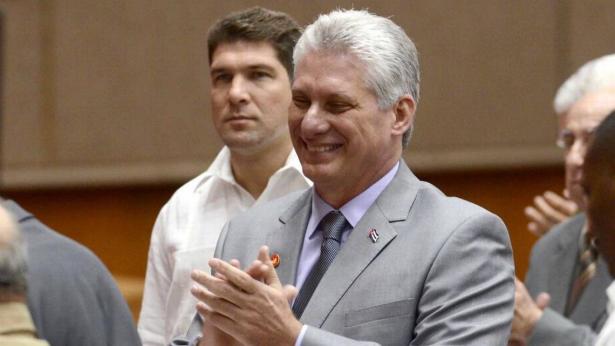 Cuban leader Miguel Díaz-Canel is expected to arrive in the United States to attend the United Nations General Assembly next week. Prior to the visit, FBI agents have called on the homes and offices of pro-engagement Cuban activists in New York and Miami., Joaquín Hernández/Xinhua TNS Latest News If you're a Cuba activist and the FBI comes knocking on your door, here's what they might want to know By Mimi Whitefield mwhitefield@miamiherald.com September 21, 2018 12:00 AM Bob Schwartz was babysitting his
Bob Schwartz was babysitting his two grandchildren at his New York apartment when the doorman called to tell him his friends Andrew and Olga were there to see him.
He told the doorman he didn't know any Andrew or Olga. After a brief conversation with the visitors, the doorman told him: "It's the FBI." The friends turned out to be Olga Dougherty and Andrew Reid, special agents in the New York field office of the FBI, according to their business cards.
After declining their suggestion that they come up and talk with him or grab a coffee for 10 or 15 minutes, Schwartz, who runs a health organization that works in Cuba and elsewhere in the Americas, decided to go downstairs and see what they wanted. It turns out they were interested in who his contacts were at the Cuban Mission to the United Nations.
John McAuliff, executive director of the Fund for Reconciliation and Development and coordinator of the Cuba-US People to People Partnership, said the two agents who knocked on the door of his home in Riverhead, N.Y., on Sept. 11, also were interested in his contacts at the Cuban mission.
Schwartz and McAuliff were among the pro-engagement, anti-embargo activists in New York and Miami that the FBI agents surprised with visits in late August and early September. Why they were making the visits is open to speculation, but they came just before next week's United Nations General Assembly in New York, which will include a large Cuban delegation and the island's newly appointed president, Miguel Díaz-Canel.
"It's routine outreach," one federal law enforcement official told the Miami Herald in a previous article. "We do this stuff all the time. We are not pushing a Trump administration agenda."
Other sources said the visits were intended to send a message — through people like Schwartz and McAuliff, who regularly meet with Cuban diplomats — that the FBI is still on the lookout for Cuban spies who might be infiltrating the United States.
Miami activists contacted by the Herald who received FBI visits either declined to talk with the agents or didn't want to talk about the experience. So these New York interviews provide the first glimpse of what the FBI was interested in.
José Ramón Cabañas, Cuba's ambassador to the United States, declined to comment on the FBI visits. "We usually don't have a reaction on domestic issues," he said.
Schwartz, executive director of Global Health Partners, a nonprofit committed to improving the health of children and their families in Cuba and other Latin American countries, has had plenty of contacts with Cuban diplomats. He's been active on the island for 24 years, coordinating humanitarian missions with Cuba's Ministry of Health. He also brought Muhammad Ali to Cuba twice in the 1990s and has organized trips of about three dozen volunteer surgical teams.
"It requires a lot of contacts and hands-on work with the Cuban mission," he said, to set up interviews and high-level meetings on the island and to take care of details such as making sure medicines being sent to Cuba are shipped at the proper temperature.
"I've never had any interaction with the FBI before," he said. "Everything I do is completely legal and transparent."
The first thing the agents asked him about as they conversed in the lobby of his building on Aug. 30 was about his interactions with the Cuban Permanent Mission to the United Nations, he said. Schwartz told them that he'd be willing to have that type of conversation if his lawyer were present.
"Then Olga thumbed through her notebook and asked about a specific diplomat by name," he said. That Cuban diplomat, whose name he did not reveal, is no longer posted in New York.
"Having the FBI visit you at home is intimidating; it's uncomfortable," Schwartz said. When he returned to his apartment, his 9-year-old grandchild asked: "Was a crime committed?
Unlike Schwartz, McAuliff invited the agents into his Long Island home. Agent Rob Liang asked all the questions and Agent Jude O'Burke listened.
McAuliff is a high-profile Cuban activist who has worked for decades to build bridges between the United States and former adversaries such as Vietnam, Laos, Cambodia and Cuba. He began such work when he arrived in Hanoi on behalf of the American Friends Service Committee on April 30, 1975, the day the war ended.
Since then he's organized many educational trips to Cuba and regularly totes books to the island and distributes them.
He said he's aware of at least five activists in the New York area who were visited by the FBI. "Although we have not compared names, it seems like different teams were involved with the five interviews," McAuliff said. "Most of my colleagues followed the protocol of declining to be interviewed without an attorney present, believing based on experience that the motive or information used could be political.
"Apparently none of our counterpart activists were interviewed in Washington, although they are in at least as much contact with the embassy as we are with the U.N. Mission," McAuliff said.
He chatted with the two FBI agents, who he said were both professional and polite, for about two hours. "I talked about my work in Vietnam, Laos and Cambodia. They seemed interested," he said. They compared notes on Vietnamese and Cuban food.
But, he said, the agents' interest in Cuba was narrowly focused. "Their initial questions were about the person I meet with from the Cuban Mission," he said. They already knew who it was, he said, because they inquired about the diplomat by name, said McAuliff. He identified the diplomat only as a first secretary.
They also wanted to know what happened when a diplomat was rotated home, if "I was then handed off to another person," McAuliff said. He said no, that there is "often a gap between my interlocutors" and he finds a new contact when he runs into a diplomat at a meeting or through his own initiative.
He said he explained to the agents that he does not try to speak on behalf of one country to the other.
"It could be that the real target [of the FBI visits] are the Cuban diplomats with whom we are in contact, with the goal of finding justifications when politically useful for expulsion," McAuliff speculated.
Or, he said, perhaps hard-liners in Miami and within the Trump administration "would like to find a way of undermining our future effectiveness or of getting even for the annoyance we [pro-engagement activists] have been to them for years. Although we had no role in the Obama transformation of U.S. policy, we certainly supported it."
But he said effective Cuban diplomats in the United States and effective U.S. diplomats in Havana should regularly be in touch with people of all kinds from both nations "to deepen" their understanding of the country.
"Obviously if either side tries to recruit nationals from the other to become witting agents, that is a game changer," added McAuliff, "and a certain level of surveillance is the only way to know that.
Follow Mimi Whitefiled on Twitter: @HeraldMimi