labor
Marriott Workers on Strike in Eight US Cities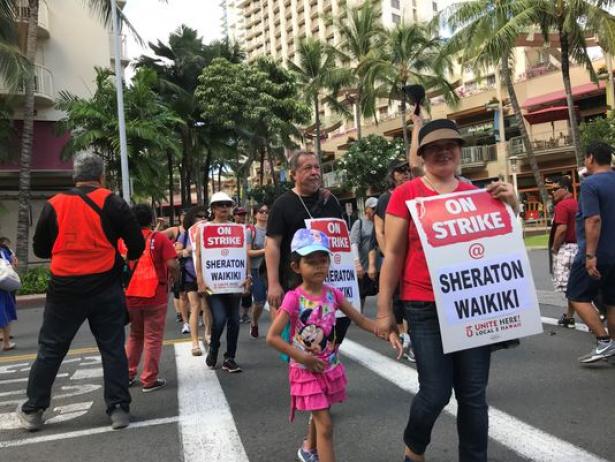 Unite Here
About 7,700 Marriott International employees in eight cities have walked out on strike and say they will stay off the job until they reach an agreement on a new contract with the world's largest hotel company.
The largest strike locations are Hawaii, Boston and San Francisco. The cities of Oahu and Maui in Hawaii have 2,700 Marriott workers on strike, San Francisco has 2,500 and Boston has 1,800. The other affected cities are: San Diego, Oakland, San Jose and Detroit. Almost two dozen hotels have been affected.
The employees are members of Unite Here, which has spent months in negotiations with Marriott. The contracts expired over July and August. The workers include housekeepers, front desk attendants, restaurant employees, bellhops and most anyone else not in a management position.

The employees are asking for increased wages, job security as hotels adopt more technology, and workplace safety.
"Marriott is the richest and most profitable hotel company in the world, and by taking them on in this historic hotel worker strike, Unite Here union members are going to change the lives of all workers in our industry," says D. Taylor, president of Unite Here.  
Unite Here authorized the strikes three weeks ago. The union and Marriott returned to the negotiating table two weeks ago but failed to reach an agreement.
"There is no end date. It's an indefinite strike until we achieve our demands," says Anand Singh, president of the union's Local 2 in San Francisco.
Marriott has 850 company-managed hotels in the U.S. and Canada. It has 140,000 managed employees in the USA.
The company declined to address the union's specific demands but said in a written statement that it is "disappointed that Unite Here has chosen to resort to a strike instead of attempting to resolve these disputes at the bargaining table."
"During the strike our hotels are open, we have contingency plans in place and are activating those plans. We stand ready to serve our guests," the company said. "While we respect our associates' rights to participate in this work stoppage, we also will welcome any associate who chooses to continue to work."
Singh says the employees are asking for fair enough wages that they don't have to get second jobs to survive.
"The cost of living has outstripped gains we've made in the last contract fights," he says.
And while the union is not opposed to technology, it is asking for workers to be involved in discussions over how automation is adopted.
"We want to be equal partners so we have a voice in how that technology can be supportive of workers rather than disruptive," he says.