Climate Emissions From Gulf Coast's New Petrochemical, Oil and Gas Projects Same as 29 New Coal Power Plants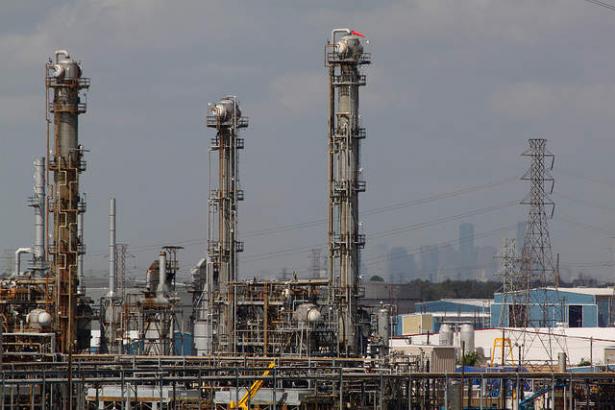 Johann Haltermann chemical manufacturing plant seen from the Houston Ship Channel.,Roy Luck, CC BY 2.0
In the last six years, officials in Texas and Louisiana issued permits allowing 74 petrochemical, oil, and gas projects to pump as much climate-warming pollution into the atmosphere as running 29 coal-fired power plants around the clock, according to numbers released September 26 by the nonprofit watchdog Environmental Integrity Project.
And construction appears to be speeding up, with over 40 percent of those projects permitted between 2016 and mid-2018. The 31 most recent projects combined will add 50 million tons of greenhouse gases — equal to 11 new coal-fired power plants — to the world's atmosphere in a year, the watchdog adds.
Environmentalists pointed to the risks that climate change poses to Gulf Coast states, where these projects are being built, and noted that the greenhouse effect has already led to sea level rise and a higher risk of extreme storms.

"Louisiana is already sinking into the Gulf of Mexico, and yet our state government is permitting more of the emissions that cause flooding and storms," Anne Rolfes, Founding Director of the Louisiana Bucket Brigade, said in a statement accompanying the numbers. "It's mind boggling."
The most recent projects tallied by the group include seven Liquefied Natural Gas (LNG) plants or terminals, 15 chemical and plastic resin plants, five petroleum refineries, and two natural gas processing plants, as well as a fertilizer manufacturer and hydrogen plant, all in Texas and Louisiana.
Looking North
The count does not include plants outside the Gulf Coast, like the Marcellus shale region of Pennsylvania, Ohio, and West Virginia, where a glut of natural gas liquids (NGLs) like ethane, a petrochemical feedstock produced by many shale wells, is attracting attention from plastics and chemical manufacturers.
The Marcellus region now produces 27 billion cubic feet of natural gas a day, roughly a third of total U.S. output. That's up from just 1.7 billion cubic feet a day in early 2010, according to the Energy Information Administration. At the same time, the area's NGL production expanded from 20,000 barrels a day in 2010 up to 660,000 barrels a day, according to Department of Energy figures, and industry analysts predict that NGL flow from the region will double again by 2025.
Another report, issued last week by Food and Water Watch, called attention to $35.8 billion worth of petrochemical and plastics projects in central Appalachia, including the Appalachia Development Group's $10 billion NGL storage hub proposed in West Virginia.
"The proposed storage complex may be a profit bonanza for industry, but it is a pollution pitfall for communities and ecosystems of the Appalachian basin," Food and Water Watch wrote. "Converting the region into the second largest concentration of plastics and chemical manufacturing outside the highly polluted Gulf Coast will compound the Tri-State area's already substantial exposure to industrial toxic emissions, while increasing plastic materials that largely end up polluting the earth's oceans."
Some of the most heavily polluting new Gulf Coast facilities are liquefied natural gas (LNG) terminals, including the Driftwood LNG terminal in Calcasieu Parish, Louisiana, and the Sabine Pass LNG terminal in Cameron Parish. The Environmental Integrity Project report noted that combined, the two terminals have recently issued state Clean Air Act permits to release an additional 19.7 million tons of greenhouse gases into the atmosphere a year.
Oil and Water
As North and South Carolina begin to dry out from record-breaking flooding from Hurricane Florence, the new report called attention to the harm that Hurricanes Harvey and Katrina caused to the Gulf Coast's petrochemical industry.
During Katrina, Murphy Oil USA's Chalmette, Louisiana, refinery saw oil and chemical tanks rip off of their moorings, the report notes, causing spills that harmed rivers and surrounding neighborhoods.
An investigative report this year by the Associated Press and the Houston Chronicle linked Hurricane Harvey to over 100 separate toxic discharges from pipelines, refineries, and chemical plants, including a spill of nearly a half billion gallons of stormwater mixed with industrial waste from ExxonMobil Corp.'s Olefins plant in Baytown, Texas. Many of the spills and accidents resulting from Harvey were never publicized, the investigation found, and officials had downplayed some of the largest events and failed to collect data about potential contamination.
"As we saw from Hurricane Harvey last year, building massive refineries and petrochemical plants in the flood zone without adequate planning or engineering is not just a risk to the environment, but a real potential health hazard, as well," said Bakeyah Nelson, Executive Director of Air Alliance Houston.
During Florence, spills of coal ash, sewage, and hog waste have made headlines. The region is also home to over 1,000 sites where chemicals are stored or used, according to The New York Times, and to over 70 high-priority Superfund sites. The Environmental Protection Agency asked four families in Cheraw, South Carolina, to evacuate their homes on Wednesday after finding high levels of polychlorinated biphenyls (PCBs), a long-lasting class of toxic and banned chemicals, from a nearby Superfund site.
The region that flooded from Florence contains far less chemical, oil, and gas production infrastructure than either the Gulf Coast or Marcellus region.
"Hurricane season is a good time to think about the impact these big greenhouse gas emitters will have on global warming," Eric Schaeffer, director of the Environmental Integrity Project, said in a statement accompanying the new report. "We had better start thinking about whether all this oil and gas infrastructure is strong enough and safe enough to withstand the severe storms that are sure to follow."  
Sharon Kelly is an attorney and freelance writer based in Philadelphia. She has reported for The New York Times, The Guardian, The Nation, National Wildlife, Earth Island Journal, and a variety of other publications. Prior to beginning freelance writing, she worked as a law clerk for the ACLU of Delaware.