Despite Famine, Khashoggi, and School Bus Massacre, House GOP Moves Swiftly to Keep US Involved in Saudi-Led War on Yemen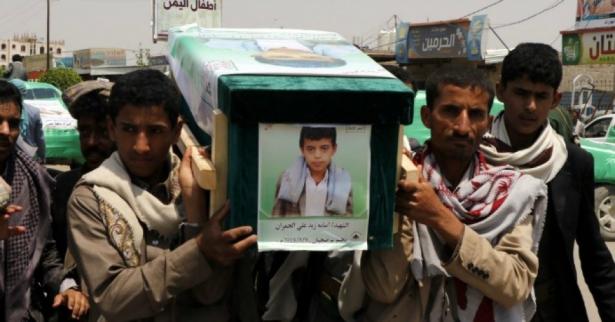 Mourners carry the coffin of a child at the funeral procession for those killed in an airstrike on a bus carried out by a warplane of the Saudi Arabia-led coalition on August 13, 2018 in Saada, Yemen. ,Photo: Mohammed Hamoud/Getty Images // Common Dreams
Despite Famine, Khashoggi, and School Bus Massacre, House GOP Moves Swiftly to Keep US Involved in Saudi-Led War on Yemen
by Julia Conley
November 14, 2018
Common Dreams

Anti-war groups have been cautiously hopefully in recent weeks that the U.S. would withdraw support for the Saudi-led war in Yemen following widespread outcry over Saudi Arabia's murder of journalist Jamal Khashoggi—but those hopes were dashed late Tuesday when House Republicans moved to stop a long-planned-for vote from going to the floor.
In their final weeks in control of the House Rules Committee, Republicans adopted a rule to de-prioritize Rep. Ro Khanna's (D-Calif.) bill invoking the War Powers Resolution (H.R. 138), which argues that U.S. participation in the assault on Yemen is illegal because Congress never voted to approve it. The move ensured that Republicans can avoid voting on the bill—a vote in which they would have to choose between standing up against a war that has killed more than 15,000 civilians or angering President Donald Trump.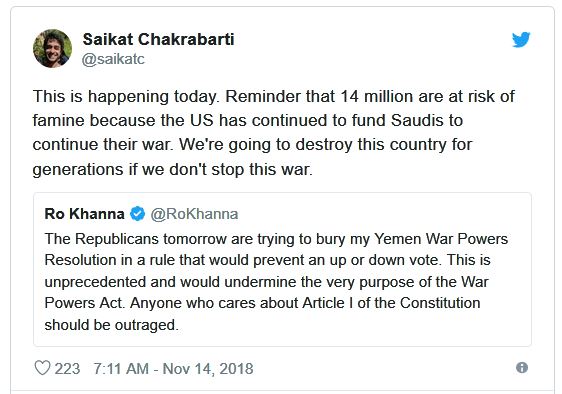 The Republican maneuver was denounced as "disgraceful" by the anti-war group Peace Action.
"Apparently, neither Saudi Arabia's brutal murder of Jamal Khashoggi nor its mid-summer bombing of a school bus packed full of children were enough to break the ice surrounding House Majority Leader Paul Ryan's heart," said Kevin Martin, president of the group, in a statement.
"Millions of people in Yemen are on the verge of starvation, a crisis brought on by Saudi tactics in the war, yet in the face of a maelstrom of condemnation of Saudi Arabia from the national and international community, House leadership would still rather prevent Congress from voting on whether or not to end U.S. support for Saudi Arabia's starvation campaign in Yemen than risk interfering with arms industry profits," he added.
Peace Action and other groups have been joined since the war began in 2015 by Democratic lawmakers including Khanna and Sen. Chris Murphy (D-Conn.) as well as Sen. Bernie Sanders (I-Vt.) in demanding that the U.S. end its support for the Saudi-led assault. The calls for the passage of H.R. 138 and the Senate's version of the bill have gained traction since October, after the Saudis admitted to the murder of Khashoggi.
Last week, the Trump administration announced it would stop refueling the Saudis' planes, following Secretary of State Mike Pompeo's call for a ceasefire in Yemen. Both announcements were met with cautious optimism from progressives and humanitarian groups along with criticism of their late arrival. 
The GOP's decision on Tuesday made it clear that the party has no plans to use its final weeks in power to help stop the assault on Yemen, in which recent targets have included a school bus, a marketplace, and a wedding party—all using American intelligence and bombs.
Democratic lawmakers and other critics rebuked the Republicans for what House Minority Whip Steny Hoyer (D-Md.) called an abdication of their congressional responsibility.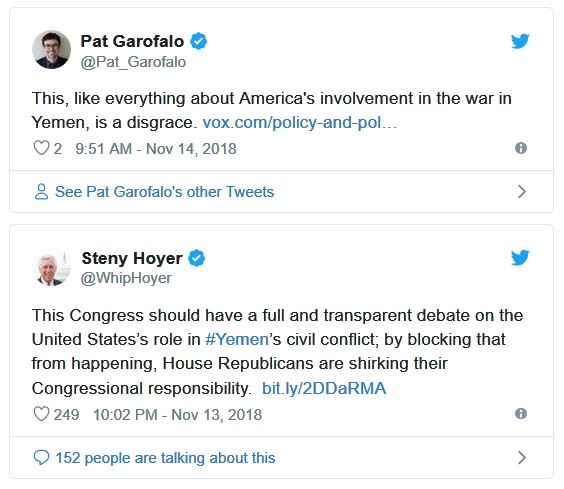 [Julia Conley is a staff writer for Common Dreams.]
Republicans Used a Bill About Wolves to Avoid a Vote on Yemen War
By Alex Emmons, Aída Chávez
November 14, 2018
The Intercept
Republican leaders in
the House of Representatives undercut a bipartisan effort to end U.S. involvement in Yemen by sneaking a measure that would kill an anti-war resolution into a vote about wolves.
On Tuesday night, the Republican-led House Rules Committee voted to advance the "Manage Our Wolves Act," which will remove gray wolves from the endangered species list. The Rules Committee waived all points of order against the bill and voted to advance it to the floor.
The catch: Republicans inserted language that would block a floor vote on whether to direct President Donald Trump to end U.S. involvement in the Saudi- and UAE-led intervention in Yemen. The intervention has been highly destructive, flattening homes, roads, markets, hospitals, and schools, and leading to the world's largest humanitarian crisis.
On Wednesday evening, the House approved the rule 201-187, largely on party lines, successfully blocking a vote on the Yemen resolution.
In September, Rep. Ro Khanna, D-Calif., introduced the Yemen resolution, which would have directed the Trump administration to remove U.S. forces from "hostilities" related to the Saudi-led intervention. Because it invoked the 1973 War Powers Act, Khanna's resolution was "privileged" under House Rules, meaning it could bypass a committee vote and, barring any interference from the powerful Rules Committee, get a vote on the floor. The Republican gambit caused Khanna's resolution to be stripped of its "privileged" status, meaning that it did not come up for a vote on its own.
If the Yemen measure had come up for a vote, it would have been the first time a chamber of Congress, which is notorious for avoiding votes on issues of war and peace, took an up-or-down vote that could end U.S. involvement in the conflict in Yemen.
On Capitol Hill, outrage against Saudi Arabia is at an all-time high following the murder of Washington Post columnist Jamal Khashoggi at the hands of Saudi agents last month. The measure had 81 co-sponsors, including four Republican members and several top Democrats. Two Democratic aides told The Intercept that Khanna's measure needed about 30 Republican votes to pass, and they were optimistic about getting them.
"Republican leadership had to kill the bill in a surprise, underhanded maneuver," Eric Eikenberry, advocacy officer at the Yemen Peace Project, told The Intercept in an email. "If they didn't, they risked further rank-and-file Republican cosponsors and a floor vote, a prospect which leadership, always bent on ensuring impunity for the administration, could not abide."
After a strong showing in last week's midterm elections, Democrats can revive Khanna's resolution after January, when the House switches to Democratic control. The top Democrat on the Rules committee, Jim McGovern, D-Mass., is a co-sponsor.
Saudi Arabia and the United Arab Emirates began their intervention in Yemen in March 2015, aiming to retake the capital from a rebel group called the Houthis. The Trump and Obama administrations have stood by the coalition, providing weapons, intelligence, and midair refueling of coalition aircraft. The Washington Post reported on Friday that the Trump administration would cease midair refueling amid a growing outcry, but that did not satisfy many of the war's critics on Capitol Hill.
[Alex Emmons is a reporter covering national security, foreign affairs, human rights, and politics. Prior to joining The Intercept, he worked for Amnesty International and the ACLU on their campaigns against targeted killing, mass surveillance, and Guantánamo Bay.
Aída Chávez is a journalist based in Washington, D.C., covering Congress and the impact of public policy on diverse communities. Prior to joining The Intercept, she worked for The Hill and Cronkite News – Arizona PBS. She graduated from Arizona State University in 2017 with a Bachelor of Arts in journalism and a Bachelor of Arts in political science.]