Senate Advances War Powers Resolution to End US Complicity in Saudi Assault on Yemen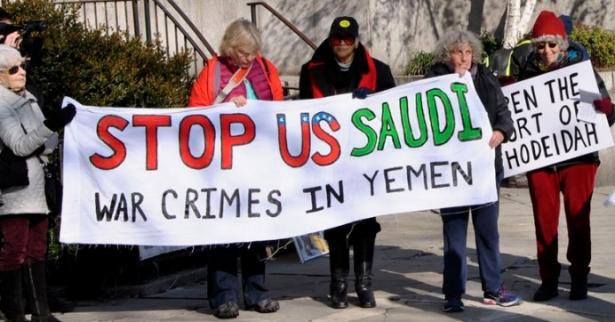 , Twitter/ @PeaceAction
In a historic vote that could "mark the beginning of the end of American complicity" in Saudi Arabia's mass atrocities in Yemen, the Senate on Wednesday voted to advance Sen. Bernie Sanders' (I-Vt.) Yemen War Powers resolution by an overwhelming margin of 63-37.
"I've been at this for three years, and I am blown away by this," wrote Sen. Chris Murphy (D-Conn.), who sponsored the resolution alongside Sanders and Sen. Mike Lee (R-Utah.). "The Senate just voted, for the first time, to move forward with a debate on ending American involvement in the Yemen war."
According to Sanders communications director Josh Miller-Lewis, Wednesday marks "the first time the Senate has voted to advance a War Powers resolution." Every single Democratic senator joined 14 Republicans in voting to move the measure forward.
"Cutting off military aid to Saudi Arabia is the right choice for Yemen, the right choice for our national security, and the right choice for upholding the Constitution,"  Paul Kawika Martin, senior director for policy and political affairs at Peace Action, declared in a statement. "Three years ago, the notion of Congress voting to cut off military support for Saudi Arabia would have been politically laughable."
While applauding the unprecedented rebuke of Saudi Arabia's vicious, years-long assault on Yemen—which has been carried out with the help of U.S. weaponry and intelligence—anti-war advocates warned that there is still a long road ahead, with debate and a final vote on the measure expected as early as next week.
"Today's victory is a testament to the power of grassroots activism across the country to bring about change," said Diane Randall, executive secretary of the Friends Committee on National Legislation (FCNL). "This vote sets a historic precedent for future action Congress can take to reclaim its constitutional authority over war and end American involvement in wars around the world."
This work is licensed under a Creative Commons Attribution-Share Alike 3.0 License
Jake Johnson is a staff writer for Common Dreams. Follow him on Twitter: @johnsonjakep