UCLA Releases First National Study of Labor Conditions in Nail Salon Industry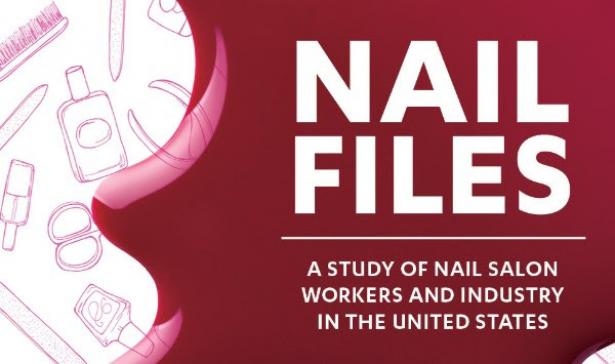 , Wendell Pascual and Eunice Ho, UCLA Labor Center
Key issues, trends, and areas of oversight in the multibillion dollar nail salon industry are highlighted in Nail Files: A Study of Nail Salon Workers and Industry in the United States. This report is the first to examine the nail salon industry nationally with a focus on labor conditions.
Among other discoveries, the report finds:
78% of nail salon employees are low-wage workers. This is more than double the national rate of 33% for all industries.
Nail salon workers experience challenging work conditions and labor enforcement issues. Misclassification as independent contractors is also a key concern.
Nail salons are primarily owned and staffed by immigrants and refugees. The majority of salons are small mom-and-pop businesses with 68% having fewer than 5 employees. The labor force is predominantly Vietnamese, Korean, Chinese, Nepali, Tibetan, and Latinx, with 81% women and 79% foreign-born.
The nail salon industry is expected to grow at almost twice the rate of other U.S. industries in the next decade, and report authors make recommendations for key stakeholders: ensure quality jobs and labor protections for nail salon workers; guarantee workplace protections and their enforcement; support high-road businesses and good employers; and assure health and safety of nail salon workers.
This report was produced in partnership with the California Healthy Nail Salon Collaborative.
EXECUTIVE SUMMARY
Nail salons in the United States are a booming multi-billion dollar industry. Due to immigrant and refugee labor and changes in technology, the nail salon industry grew from a high-end, luxury service to an affordable service available to low- and middle-income clients. Nail salons include their predominantly Vietnamese, Korean, Chinese, Nepali, Tibetan, and Latinx immigrant and refugee labor force. These immigrant and refugee communities have not only created economic niches that are unique to the industry but also developed health, labor, and community organizing initiatives that advocate for quality and safe jobs. They continue to shape the parameters of beauty service work, but they are also a key facet of today's service economy, subject to its market forces and labor issues.
While there have been some studies focusing on health and safety conditions in salons, few have explored labor conditions. The UCLA Labor Center launched this study in collaboration with the California Healthy Nail Salon Collaborative to gain a deeper understanding of the nail salon industry through existing literature, policy reports, worker stories and government and other relevant data sources. This is the first report to look at the industry nationally through a labor lens. The report focus on three primary areas: workers, industry, and oversight.
Worker Profile
National data sources estimate there are between 126,300 and 212,519 nail salon workers though this is most likely an undercount. State board data suggests that government sources only account for 33% of certified nail salon workers in California and 47% in New York. Nonetheless, national data do provide a useful profile of workers. The following are key data and issues related to nail salon workers:
•
Nail salon workers have strong participation in the labor workforce.
Most are in the labor force (92%) and the industry has low unemployment (3%). The majority (72%) work full-time and year-round (81%).
•
Self-employment rates are high for nail salon workers.
30% are self-employed which can include independent contractors, sole proprietors, or members of a partnerships. This rate is three times higher than the national average.
•
The majority of nail salon workers earn low wages.
Nearly 8 in 10 workers earn low wages, defined as 2/3 of the median full-time wage. This rate is significantly higher than the national rate of 33% for all workers.
•
The industry continues to employ a largely immigrant and female workforce.
The industry is predominantly women (81%) and foreign-born (79%), comprised largely of Vietnamese workers. Nearly half of those born abroad have low English proficiency.
•
Most nail salon workers support family members.
A third are heads of households and almost two-thirds have at least one child.
•
The industry faces challenging working conditions.
Small sample studies and investigative reporting have found that wage issues in the industry include low wages, being paid a flat, rather than hourly rate, minimum wage and overtime violations, and harassment and surveillance.
•
Misclassification is a key concern in the sector.
The industry has a high rate of self-employed workers which includes independent contractors. Some workers may be legitimate independent contractors, but there are concerns that many manicurists are purposely misclassified to avoid
labor laws and protections.
•
Nail salon workers are at risk for many different short- and long-term occupational health conditions.
Nail salon workers are exposed to hazardous ingredients and materials present in products and salons and are likely to experience work-related ergonomic body pain.
Industry Profile
According to the County Business Patterns, there are an estimated 23,745 nail salons in the United States.
Similar to the worker estimates, the number of salons may also be an undercount, as some salons may be
unregistered. The following are some key industry trends in the sector:
•
Most salons are small mom-and-pop operations.
The industry is dominated by small salons with 9 out of 10 salons having fewer than 10 employees.
•
Nail salons are a growing and vibrant industry.
Total revenue for nail salons in 2015 reached $4.4 billion, up 15% from the previous year. Over the next decade, employment in the industry is expected to grow by 13%.
New developments in cosmetics, fashion, and nail polish technology have set the pace for trends in the nail salon industry.
Nail trends include nail art, gel polish, and dip systems while salon cosmetics ingredients are moving towards more "natural" products. Also, the nail salon industry has been trying to attract male-identifying customers.
•
Social media and digital technology has also affected salons. Nail art is one of the top five most tagged items on both Pinterest and Instagram. Also, Yelp contributes to salons' customer engagement and management.
•
The gig economy creates on-demand, app-based manicure services. These salons allow customers to order manicures or pedicures through a cell phone app. The manicurist meets customers where they are, though some workers will only go to workplaces or corporate events.
•
New and large chains are entering the market. Nail salons have traditionally been mom-and-pop operations, but the sector is seeing some large chains enter the market and/or expand.  Industry Oversight and Enforcement In the United States, the nail salon workplace is governed by federal and state regulatory bodies, legislation,and other rules; county and local policies and programs; and state and federal court decisions.
The following is an overview of some of key areas of oversight and challenges:
•
Various federal and state agencies oversee labor conditions but face challenges in enforcing labor rights.
Challenges include investigations that are complaint-driven rather than investigator-driven,and are filed against owners whom cannot pay judgments. Additionally, workers and employers have a lack of understanding of labor laws, misinformation, a mistrust of investigators, and a lack of employer record keeping.
•
There are also continuing challenges in ensuring safe and healthy conditions in nail salons.
Federal agencies can conduct more research on the environmental effects of chemicals found in nail salon products and push for more legislation, such as those to control toxins that are released into the air. Training about workplace hazards and safety information is inaccessible and many workers are not trained in safe chemical handling.
•
There are many programs in local jurisdictions, with volunteer or elected staff, designed to improve work conditions in nail salons.
Programs like the Healthy Nail Salon Recognition Programs (HNSRP) provide a plan to ensure healthy workplaces including safer nail polishes and products, ventilation, and staff training. Programs may also recognize green business practices in salons and introduce green solutions and alternatives.
•
State legislation and policies have provided improvements in areas such as language rights, labor protections, health and safety protections, and industry standards.
Some examples include ensuring agencies increase staff, provide materials/forms and licensing in languages other
than English relevant to working populations, provide workers' rights education for owners and workers, and require cosmetics manufacturers to report chemicals found in their products that are known carcinogens or reproductive toxicants to the California Department of Public Health (CDPH).
•
Nail salon advocacy over the past decade has helped to improve working conditions and provide healthier workplaces.
Many of the efforts to improve nail salon conditions mentioned here have resulted from worker-led, community organizing and advocacy. Two examples include the California Healthy Nail Salon Collaborative (Collaborative) and the New York Healthy Nail Salons Coalition (NYHNSC), and such efforts are bourgeoning across the United States.
Recommendations
Nail salons are a thriving and growing industry shaped by immigrant entrepreneurship and industry
innovation. As the industry expands, we must continue to ensure safe and quality jobs for the workforce.
The following are recommendations for key stakeholders to ensure labor protections and standards as well
as to continue to advance policies and practices that create environmentally safe and healthy salons for
workers, employers and consumers alike.
1. Ensure quality jobs and labor protections for nail salon workers.
•
Agencies need to safeguard worker wages and benefits, address issues of misclassification, mandate safety, health, and workers' rights training for employers and address language barriers in materials.
•
Policy makers should expand worker protections and policies that improve job quality, remove barriers to licensing and address gaps in government data.
•
Advocates should develop a continuing education program and curriculum that provides workers with the skills to advance.
•
Employers must create pathways for workers to increase their skill sets and provide opportunities for wage increases.
•
Researchers should provide technical guidance on future research efforts.
2. Guarantee enforcement of workplace protection.
•
Agencies must support workers' rights through culturally appropriate worker education, addressing barriers to filing claims, creating model agreements and educational materials for independent contractors to use, and funding community partnerships that are better able to build trust with workers to provide necessary information.
•
Advocates must center workers by giving them decision-making power, ensuring that organizing initiatives represent the needs of workers, creating multi-stakeholder collaborations and learning best practices from other campaigns, industries, and regions.
•
Researchers must conduct further studies to better understand working conditions, labor issues, enforcement efforts, and other needs of the sector, particularly experiences not captured in public government data sets.
3. Support high-road businesses and good employers.
•
Agencies should support salon businesses by creating programs on how to run financially and environmentally sustainable and just businesses, educating nail salon consumers on why it is important to pay a fair price for nail services, creating public campaigns that educate customers about nail salon fair and healthy working conditions and safer beauty product alternatives.
•
Employers should meet with other high-road employers in the sector to share best practices and business models.
4. Assure health and safety of nail salon workers.
•
Agencies should expand healthy nail salon practices that are culturally and linguistically appropriate, raise awareness about safer products and practices, provide health and safety trainings, conduct outreach to workers, run health and safety awareness campaigns, provide informational materials to reduce worker exposure, and use worker health outcomes as indicators of safety, instead of possibly outdated exposure limits.
•
Policy makers should address the impact of harmful products by allocating and requiring cosmetic manufacturers and distributors to conduct further studies, requiring proper labels on products that may be hazardous and making products safe by ending the use of harmful ingredients. They should also provide access to healthcare for workers who are particularly vulnerable to health issues in the industry.
•
Advocates should continue to engage workers on health and safety issues and best practices through participatory and peer-to-peer programs.
•
Employers should participate in healthy nail salon programs that include guidelines on and support in the creation of a healthier workplace.
•
Researchers should continue to conduct and expand research on the cumulative effects of chemicals and exposures on worker health and continue to conduct and expand research on green chemistry to reduce the use of hazardous substances in products and ultimately improve the health and safety of consumers and workers.