labor
Over 5 Million Workers Will Have Higher Pay on January 1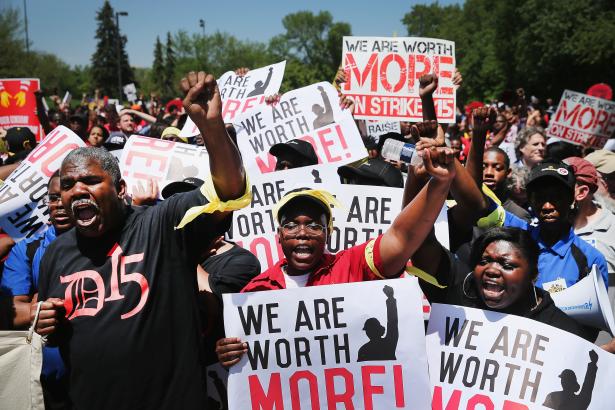 , Scott Olson/Getty Images
The Economic Policy Institute (EPI) estimates (link is external)that on January 1, 2019, 5.3 million low wage workers in 20 states will enjoy a raise in their minimum wage. The increases, which range from a $0.05 inflation adjustment in Alaska to a $2.00 per hour increase in New York City, will give low wage workers approximately $5.4 billion in increased wages over the course of 2019. These changes mean between $90 and $1,300 on average for year-round workers. These estimates do not account for changes in local minimum wages which for some municipalities mean substantial wage increases.  
In Minnesota, the statewide minimum wage is increasing due to automatic adjustments for inflation from $9.65 to $9.86 affecting an estimated 92,600 workers
Nationally, there are 24 cities and counties with higher local minimum wages taking effect on January 1. The minimum wage in Minneapolis will increase in July 2019 and the newly passed minimum wage increase in St. Paul begins Jan. 1, 2020

In D.C and Michigan, attempts to increase the minimum wage were thwarted. Denying minimum wage increases voted through or likely passed by ballot referenda disproportionately affect communities of color. 
The Council of the District of Columbia overturned a voter initiative that passed with 55 percent support(link is external) that would have gradually raised and eventually eliminated the separate lower minimum wage that currently exists for workers who receive tips. In doing so, the D.C. Council undermined pay increases for thousands of the city's tipped workers(link is external), who are predominantly people of color.
The GOP-led state legislature in Michigan took extraordinary steps to deny a wage increase for hundreds of thousands of workers. 
In September 2018, the Michigan legislature adopted, as legislation, a ballot initiative that had been scheduled to be on the November ballot that would have raised the state minimum to  $12 by 2022. The measure would have also established an automatic inflation adjustment after 2022 and would have eventually eliminated the lower minimum wage for tipped workers. 
The legislature denied voters the opportunity to pass the original proposal. Instead, the legislature watered down the legislation so that the minimum wage will instead reach $12 by 2030—eight years more slowly—with no further automatic inflation adjustments and only a $0.07 increase to the tipped minimum wage. 
EPI reports that had the Michigan ballot measure taken effect nearly 320,000 low wage workers would have received a raise, with the average directly affected worker who works year-round receiving over $900 in income. Instead, state lawmakers shrunk the wage increase so much that only 136,00 workers—nearly 200,000 fewer—are likely to get a raise, with the average year-round affected worker getting an annual pay increase of only $270.
Efforts to raise the minimum wage at the federal level have stalled. In 2017, congressional Democrats proposed raising the federal minimum wage to $15 by 2024, would lift pay for an estimated 41 million U.S. workers(link is external), but the bill was never allowed to come to a vote. Lawmakers in Congress have not raised the federal minimum wage since 2007, and since the last federal increase took effect, the purchasing power of the federal minimum wage has declined by over 12 percent.