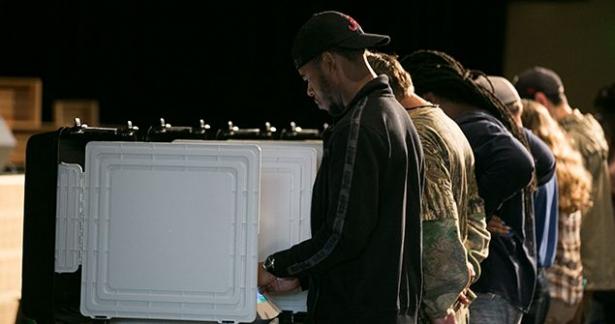 , Jessica McGowan/Getty
At the start of 2019, House Democrats introduced a sweeping pro-democracy bill, sending a clear signal that fixing our democracy is their top priority. But D.C. isn't the only place where ambitious democracy reform is gaining momentum.
Lawmakers or top officials in at least nine states have introduced or pledged to introduce legislative packages in 2019 that could dramatically expand voting access for many Americans.[1]
More broadly,15 states have filed or pre-filed at least 131 bills that would expand voting access. That far surpasses the six states, at least, where lawmakers have filed or pre-filed at least nine bills thus far that would restrict voting access. 
Still, it is very early in the legislative cycle — numerous states have not even begun their legislative sessions yet — so the landscape will continue to evolve.  
Here are the early trends in 2019 so far.
At least nine states are considering, and at least six have already introduced, broad-based voting rights packages. 
o  In New Mexico, lawmakers pre-filed bills for automatic voter registration (AVR) and same-day registration, as well as a bill that would repeal a state law that strips voting rights from people convicted of felonies.
o  In New Jersey, a package of expansive legislation has carried over from last year's session. It includes bills that: implement early voting, election day registration, and pre-registration for 16- and 17-year-olds; extend registration deadlines; add state agencies offering voter registration services; and repeal state law stripping voting rights from people convicted of felonies. Governor Murphy has indicated that he will prioritize several of these reforms.
o  In New York, a major campaign is underway to expand voting rights, including adopting AVR, early voting, and pre-registration, among other reforms. Lawmakers have already introduced some bills and additional bills are expected to be introduced shortly.
o  In Virginia, Governor Ralph Northam announced his support for a legislative package that includes no-excuse absentee voting (which, under Virginia law, includes an in-person absentee voting option) and a repeal of the state's strict photo ID requirement for voting. In addition, lawmakers have introduced or carried over bills that would establish AVR, same-day registration, and early voting. Other reforms include proposed constitutional amendments to remove provisions stripping voting rights from people convicted of felonies (or to permit the General Assembly to restore such rights).
o  Officials in at least three states have announced their intentions to push for significant voting reforms. 
§ In Delaware, Governor John Carney has called for a package of voting reforms that includes same-day registration and early voting.
§ In Minnesota, Secretary of State Steve Simon announced that he will push an agenda that includes AVR and voting rights restoration for people once they have been released from prison. 
§ And in Pennsylvania, lawmakers have promised to introduce a variety of pro-voter reforms, including establishing early voting and pre-registration for 16- and 17-year-olds, as well as bills improving access for disabled and military voters.
o  In South Carolina, lawmakers have introduced bills establishing AVR, early voting, and same-day registration, and extending registration deadlines. And in Texas, lawmakers have introduced bills establishing AVR, online voter registration, and same-day registration, and repealing the state's voter ID requirement, among other reforms. But the South Carolina and Texas bills seem less likely to pass given the GOP's full control over these states' legislatures and their recent history of enacting restrictive voting laws.
Expansive Bills Introduced or Carried Over in 2019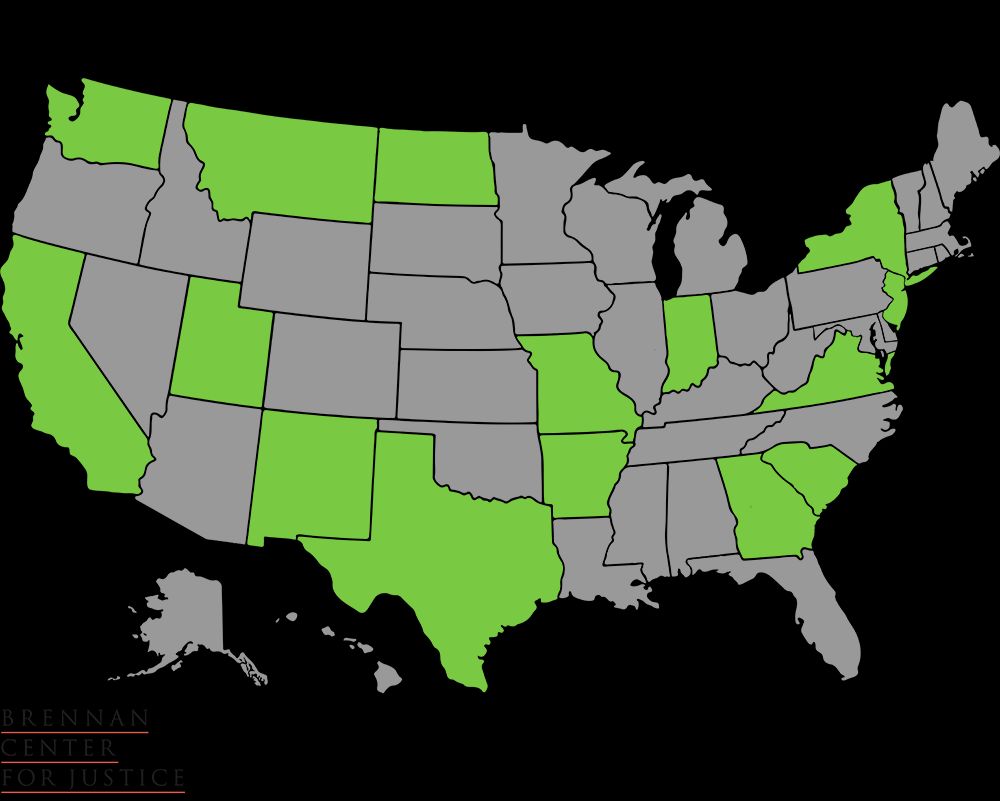 Lawmakers in six states have introduced nine bills that would cut back voting access. One that we're watching especially closely is in Texas. It would allow elections officials to photograph a voter's ID if the official "questions [its] authenticity." In 2017, Texas was forced to soften its voter ID law in response to litigation. This new bill may represent an effort to make its current law more severe through voter intimidation. Texas lawmakers have also introduced a bill requiring documentary proof of citizenship for in-person registration at the state's driver's license agency.
 
In Florida, no new restrictive bills have been introduced. But Governor Ron DeSantis has suggested that "implementing legislation" is necessary to carry out Amendment 4, which restored voting rights to many Floridians with past criminal convictions, even though the text of the amendment makes plain that it is self-executing.
Restrictive Bills Introduced or Carried Over in 2019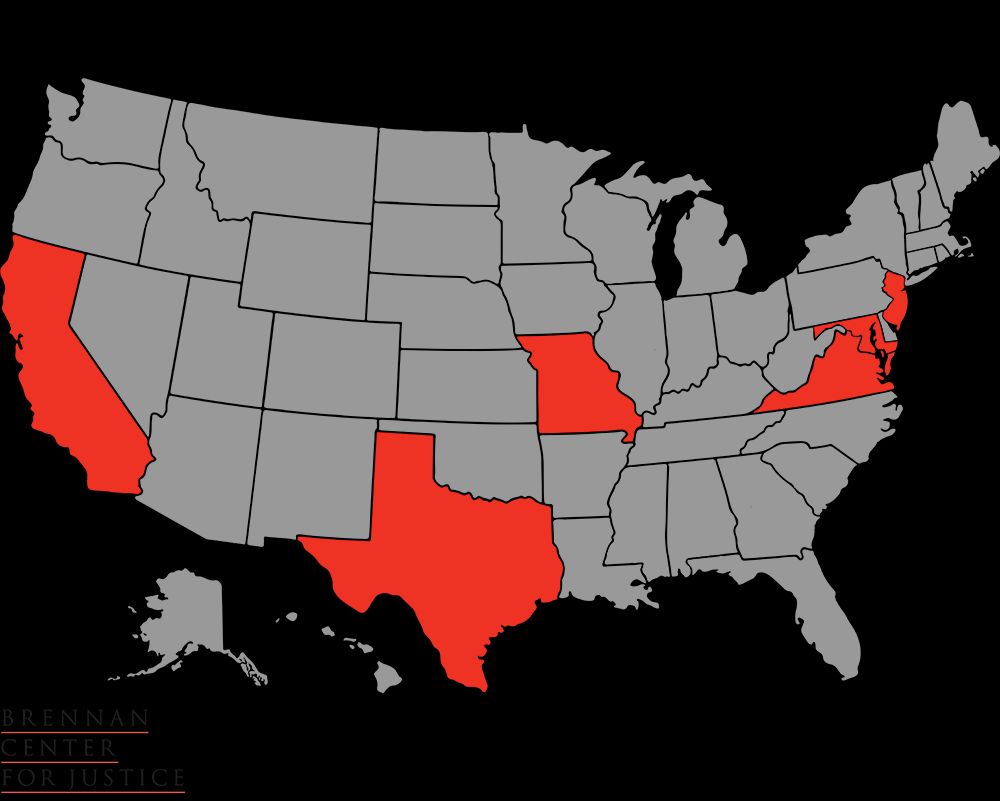 Expansive bills are currently outpacing restrictive bills. As noted above, legislators in at least 15 states have filed or pre-filed at least 131 bills that would expand voting access so far this year.[2]But despite this promising beginning, we must remain vigilant throughout the course of the year. In 2018, for example, significant restrictions were introduced and then enacted relatively late in the legislative session for the year.
The pro-voter reforms states are considering this year build on significant — but not unmitigated — successes last year. By the end of 2018, 16 states had passed laws that expand access to the vote, six states passed restrictive voting laws, and nine states passed laws related to election security. (These counts include laws enacted via ballot initiative.) Of particular note:
Voters voted for voting. Several of the most significant voting law changes occurred outside state legislatures, as voters themselves passed ballot initiatives at the polls last November that expanded access to the franchise. 
o   Florida voters passed the biggest expansion of the right to vote since the 26th Amendment to the U.S. Constitution, restoring voting rights to 1.4 million Floridians who had been stripped of those rights as the result of a criminal conviction. The initiative passed with about 65 percent of voters in favor. The constitutional amendment that voters passed is self-executing — it requires no additional legislative enactment to be effective. Despite its clear language, however, as noted above, Governor DeSantis has suggested that the amendment will only become effective once he signs implementing legislation.
o   Nevada voters adopted AVR, with nearly 60 percent of voters in favor.
o   Michigan voters adopted a suite of voting reforms, including AVR, election day registration, and no-excuse absentee voting, with nearly 67 percent of voters in favor. (Michigan's constitutional amendment was also self-executing, but lawmakers nevertheless passed implementing legislation in the lame-duck session.)
o   Maryland voters amended the state constitution to permit the state's General Assembly to enact same-day registration.
Automatic voter registration continued its steady march through the country. Six states enacted AVR in 2018. In addition to Michigan and Nevada, the Maryland, Massachusetts, New Jersey, and Washington legislatures enacted AVR. In total, 15 states and D.C. have adopted AVR, and ten states have their AVR programs up and running.
Nevertheless, states continued to pass restrictive laws. Leading into last November's election, the voting rights community focused heavily on the extraordinary voter suppression efforts occurring outside of the legislative process. Still, six states enacted significant voting restrictions into law in 2018.
o   Prior to the November election —
§  New Hampshire enacted a law burdening student voting that is scheduled to take effect in 2019.
§  North Carolina enacted a law that contributed to a nearly 20 percent reduction in the number of early voting locations this November, according to ProPublica. And the state also cut the last Saturday of early voting for future elections.[3]
o   At the polls in November, voters enacted new voting restrictions via ballot initiative —
§  Arkansas added photo ID requirements for voting to its state constitution.
§  Montana limited the ability of third parties to assist voters in casting their absentee ballots.
§  North Carolina added photo ID requirements for voting to its state constitution. 
o   After the November election —
§  North Carolina's GOP legislators rushed to fill in the details of the voter ID requirement this year before they lose their legislative super-majority. Governor Roy Cooper vetoed the voter ID bill legislators sent him, but the legislature overrode the veto. 
§  Wisconsin, as part of a broader push by state Republicans to entrench themselves in power, enacted a law limiting the early voting period (and codifying certain administrative practices on voter IDs), despite a court order halting the state's 2011 and 2014 attempts to limit early voting. 
States also picked up the pace on election security laws. Nine states enacted laws related to election security last year. 

Notably —
o   Kansas enacted a law that will phase out paperless direct recording electronic devices (DREs) – voting machines that do not provide a record that can be reliably audited after an election. 
o   Six states enacted laws relating to post-election audits to confirm the accuracy of vote counts.[4]California, in particular, enacted a law authorizing a pilot program for risk-limiting audits (RLAs)  the gold standard for post-election manual audits. 
(Image: Jessica McGowan/Getty)
---
[1]This document tracks certain voting legislation making it easier or harder to register or vote, as well as certain legislation related to election security. Evaluating which laws to include requires exercising judgment and is not susceptible to precise quantification. Note that there are several types of election- and voting-related legislation that we do not track, including: redistricting, ballot design, enfranchisement of people under 18 or non-citizens, or public or individual notice requirements. The document also does not track administrative changes that could expand or restrict access.
[2]These counts include bills that carried over from legislative sessions in New Jersey and Virginia — the only two states in the nation that carry over bills from even to odd years.
[3]In addition, Indiana amended the purge law it passed in 2017, but did not fix its failure to require notice to voters prior to purging them mandated by federal law. A court order has put a temporary halt on the purge law. (The Brennan Center represents the plaintiffs in that case.)
[4]California, Indiana, Kansas, Maryland, Michigan, and Washington.