From Coors to California: David Sickler and the New Working Class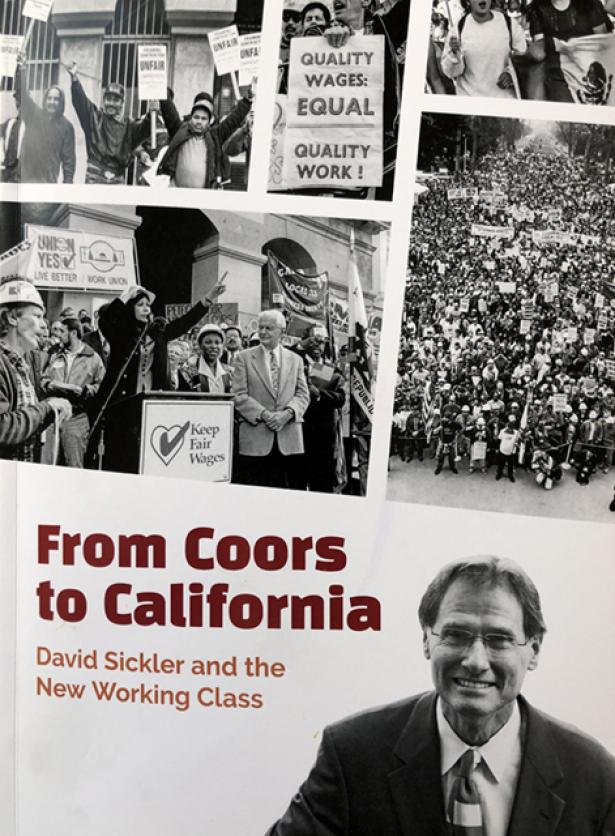 , UCLA Center for Labor Research and Education
From Coors to California: David Sickler and the New Working ClassEdited by Kent Wong, Julie Monroe, Peter Olney and Jaime Regalado – 2019 UCLA Center for Labor Research and Education
25 years ago in the fall of 1994, the California election season was in full swing and Republican Governor Pete Wilson faced a serious challenge from Democrat Kathleen Brown. He weaponized his campaign with racism and xenophobia by pushing for the statewide passage of the vicious anti-immigrant Proposition 187. Its draconian features makes Trump's "Wall" look relatively tame. Wilson figured Proposition 187 would drive turnout for him, and he was right in that he won reelection but the courts ultimately struck down Prop 187. This was a seminal moment in California history; many political pundits say that the Republicans permanently alienated the Latino community and painted the electoral map a bright and lasting blue!
It isn't always inevitable that the mistakes our enemies make become positives for us. Organizing and winning requires people of courage and vision. Such a man is labor leader David Sickler. The battle against 187 was a moment that tested the fortitude of labor leaders. Many of the big national unions argued that it was politically perilous to march against 187 with Mexicans and their flags and sombreros and mariachis. This spectacle would be damaging to the effort to mobilize "Encino man" (Reagan Democrats) to support the California Democratic ticket. AFL-CIO Regional Director Sickler vociferously argued that if the labor movement did not march publically against 187 that it would lose a whole generation of workers. Sickler's leadership carried the day, and 10,000 union members marched with banners and standards on Sunday, October 16, 1994 with over 100,000 marchers from the Latino community.
Coors to California, a new book from UCLA, chronicles Dave Sickler's life and work in the labor movement. There is a chapter on "Immigrant Worker Organizing" that chronicles the battle against 187. Other chapters tell of his work winning the Coors boycott, defeating the anti-labor Prop 226 in California and organizing construction workers. This attractive volume of 112 pages is very readable and accessible and beautifully illustrated with photos from the trenches and all the battles that Dave fought in his 50 year career as a Brewery workers union rank and filer, labor official and City of Los Angeles Commissioner and labor representative.
The subtitle of the book is "David Sickler and the New Working Class". "New" means new to this country or in the case of women and people of color "New" to the ranks of organized labor because of years of exclusion. The genius of Sickler is that he was a bridge from the old to the new. He was able to move the "good old boys" (often white boys!) to embrace particularly the new immigrants as the key to the future of labor in California. He more than any other labor leader in my experience was able to sit in on a construction trades union meeting and convince the members to embrace new immigrants often using the earthly homespun language of one of his "Sicklerisms".
I need to disclose that I collaborated closely with Dave over the last thirty plus years from my arrival in California from Boston in 1983, and I have co-authored with Tom Gallagher a chapter in the book about the LA Orange County Organizing Committee (LAOCOC) and the LA Manufacturing Action Project (LAMAP) that grew out of the work of LAOCOC. When we were launching LAMAP, a very ambitious organizing program to target the half a million Latino manufacturing workers in LA County, the only person who had the credibility to put 20 unions in a room to hear our pitch was David Sickler, then Regional Director of the AFL-CIO.
Dave established that "cred" because of his own working class roots, his deep experience and his fundamental respect for the members, elected leaders and the institutions of organized labor. When it was time to fight the "Paycheck Protection" Proposition 226, Sickler discarded the professional focus group message shaping approach and took the campaign right to the members of the building trades in their union meetings and worksites. He held a total of 111 meetings with most of the AFL-CIO affiliated unions, community groups, colleges, Latino, African American and Jewish organizations. Dave more than some of the organizing hot shots from inside the Washington beltway understood that without the support and commitment of elected leaders and the members of existing unions no external initiatives or political campaigns would be successful for long. As hard it is to slog through the institutions it is a necessary part of moving labor.
Dave's friends and colleagues write the chapters describing his work that they are most familiar with. The book tells the story of Dave's leadership of the Coors Boycott rising out of his employment and organizing at the Coors brewery in his home state of Colorado. And always at his side since their marriage in 1980 is the intrepid Carole Chiazza Sickler, a compelling and important figure in her own right and Dave's soul mate thru all the twists and turns of his career.
The book should be must reading for young labor organizers whether on staff, elected or starting out as industrial salts by entering the work force to organize from within. The only deficiency is the failure to include a list of "Sicklerisms" sayings from Dave that have endeared him to his friends and colleagues and fellow labor combatants. Here is a sampling and maybe the whole list can be incorporated into the second printing:
About Friends: "I've got ties older than you" or "She's as pretty as a brand new pair of bowling shoes."
About enemies: "I wouldn't trust him if his tongue was notarized." "On a hot day he can keep an ice cream next to his heart"
About himself: "I would rather tear tape off a wildcat's ass than handle that"
General wisdom: "They want everyone to develop their individual healthcare accounts, and now they are passing laws that every worker has to create his own job"
Dave has been an inspiration to a whole generation of organizers because of his humanity, grit, wisdom and vision. Que Viva Dave Sickler!!
There is still one FREE book party:
For San Francisco on the 28th of February, register here for tickets.
Peter Olney is retired Organizing Director of the ILWU. He has been a labor organizer for 40 years in Massachusetts and California. He has worked for multiple unions before landing at the ILWU in 1997. For three years he was the Associate Director of the Institute for Labor and Employment at the University of California.