labor
Oakland Teachers Reach Tentative Deal To End Week-long Strike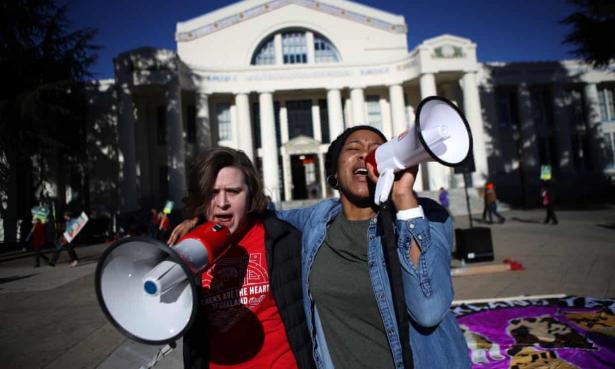 Oakland teachers picketing outside Oakland Technical high school on 21 February. ,Photograph: Justin Sullivan/Getty Images
Striking teachers in Oakland, California, reached a contract agreement on Friday with district officials to end a week-long walkout.
The Oakland Education Association, which represents the city's 3,000 teachers, said that union leaders reached a four-year agreement that calls for teachers to receive an 11% salary increase and one-time 3% bonus. The deal also requires the district to reduce class sizes and hire more student support staff, including special education teachers and counselors, the union said in a statement.
The deal, reached on the strike's seventh day, still needs to be voted on by teachers. They were expected to vote Saturday, and, if the deal is approved, return to classrooms next week.

"On Monday, March 4, we look forward to everyone being together again in the classroom," Superintendent Kyla Johnson-Trammell said in a statement. "The contract will help ensure more teachers stay in Oakland and that more come to teach in our classrooms and support our students."
Oakland's teachers walked off the job on 21 February to demand higher pay, smaller class sizes and more school resources.
Union officials from the Oakland Education Association said in a statement on Friday that the contract deal marked "a win in every major proposal" the union made.
Teachers are expected to vote on the agreement this weekend, the statement said.
The city's 86 schools were open during the strike, staffed by a skeleton crew of substitutes and administrators, but most students stayed away in support of their striking teachers.
The walkout affected 36,000 students.
Among their demands was a 12% retroactive raise covering 2017 to 2020 to compensate for what they say are among the lowest salaries for public school teachers in the expensive San Francisco Bay Area.
A starting salary for teachers at Oakland schools is $46,500 a year and the average salary in the district is $63,000 a year.
The union also called for the district to scrap plans to close as many as 24 schools that serve primarily African American and Latino students. It fears more students will be lost to charter schools that drain more than $57m a year from the district.
As part of the deal, there will be a five-month pause on any school closures, the union said.
The union rejected two earlier salary proposals from the district, which initially offered a 5% raise covering 2017 to 2020.
The talks did not center on pension or healthcare benefits, which are free for full-time workers and their beneficiaries. The Oakland district spends an additional $13,487 per teacher annually for health benefits for educators and their families.
Oakland teachers were the latest educators in the country to strike over pay and classroom conditions.
Recent strikes across the nation have built on a wave of teacher activism that began last spring. Unions for West Virginia teachers, who staged a nine-day walkout last year, ended another two-day strike last week.
Last month, teachers in Denver ended a three-day walkout after reaching a deal raising their wages.
Teachers in Los Angeles, the nation's second-largest school district, staged a six-day strike last month that ended when they settled on a 6% raise with promises of smaller class sizes and the addition of nurses and counselors. 
 
We made a choice…
… and we want to tell you about it. Our journalism now reaches record numbers around the world and more than a million people have supported our reporting. We continue to face financial challenges but, unlike many news organisations, we haven't put up a paywall. We want our journalism to remain accessible to all, regardless of where they live or what they can afford.
This is The Guardian's model for open, independent journalism: free for those who can't afford it, supported by those who can. Readers' support powers our work, safeguarding our essential editorial independence. This means the responsibility of protecting independent journalism is shared, enabling us all to feel empowered to bring about real change in the world. Your support gives Guardian journalists the time, space and freedom to report with tenacity and rigour, to shed light where others won't. It emboldens us to challenge authority and question the status quo. And by keeping all of our journalism free and open to all, we can foster inclusivity, diversity, make space for debate, inspire conversation – so more people have access to accurate information with integrity at its heart.
Guardian journalism is rooted in facts with a progressive perspective on the world. We are editorially independent, meaning we set our own agenda. Our journalism is free from commercial bias and not influenced by billionaire owners, politicians or shareholders. No one steers our opinion. At a time when there are so few sources of information you can really trust, this is vital as it enables us to give a voice to those less heard, challenge the powerful and hold them to account. Your support means we can keep investigating and exploring the critical issues of our time.
Our model allows people to support us in a way that works for them. Every time a reader like you makes a contribution to The Guardian, no matter how big or small, it goes directly into funding our journalism. But we need to build on this support for the years ahead. Support The Guardian from as little as $1 – and it only takes a minute. Thank you.
Free for those who can't afford it
Supported by those who can