labor
On Opening Week: Labor Solidarity and the Plight of Minor League Baseball Players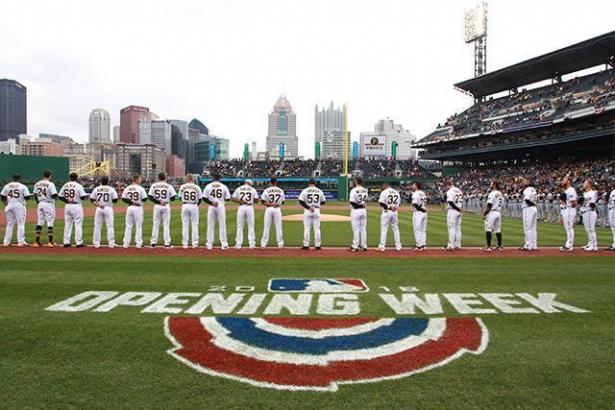 Reuters/USA Today Sports/Charles LeClaire
In Minnesota the beginning of the baseball season marks the thawing of multi story snow banks and treacherous icecaked sidewalks. The excitement of championship possibility is palpable as is the promise of warm afternoons lounging in the sunshine enjoying the Minnesota Twins' open air stadium.
As the political environment throughout the country continues to deteriorate more and more people are finding their political voice and are speaking out for things that matter to them. Athletes are no different. Colin Kaepernick kneeling during the national anthem to draw attention to the police killings of black men has encouraged athletes to speak out. Athletes are leveraging platforms nurtured by their physical prowess and a devoted fan base to speak out for social justice issues.
Washington Nationals pitcher Sean Doolittle and activist Eireann Dolan have been the most visible advocates of a push to keep the on field caps worn by MLB's players, made in a union manufacturing facility. Recently they were featured in the Edge of Sports podcast with Dave Zirin.

In November 2018 New Era, the exclusive baseball cap supplier for Major League Baseball, announced that it would relocate production from Derby, New York, to a non-union shop in Florida. Moving the factory will displace 219 workers and devastate the economy of the small town.
As quoted in the Buffalo News as it was announced;
"It's just very devastating to the workers at the plant and in the community," said Erin Bowie, a Communications Workers of America staff representative in Buffalo. "We have a lot of people who have worked there: long-term workers for over 40 years, families that work there, people who work there that that is the only job they've held."
CWA Local 14177 represents 192 of the workers in Derby. The Derby plant is New Era's only headwear-manufacturing facility in the United States.
New Era also closed unionized operations in Alabama a little less than a decade ago. 351 workers in Demopolis, Alabama lost their jobs as a result of the closure. Quoted in Tuscaloosa News at the time of closure Demopolis Mayor Mike Grayson said, "The impact will be seen in at least a five-county area." Efforts to save the jobs including cost saving measures  agreed to by the CWA along with economic incentives by local government officials could not withstand New Era efforts to find cheap labor.
While the lights shine on the biggest stars of any sport, what is overlooked are players toiling in the development leagues. Major League Baseball has the most expansive minor league system where players learn their craft hoping that effort and commitment lead to a shot at stardom.
Reporting in the The Athletic draws attention to the poor pay that minor league baseball players suffer through in their attempts to reach the plateau of millionaires.
"I can't afford to play this game," an anonymous player in High-A told Waldon. "I put my body on the line and I work really, really hard and I show up early and I stay up late and I might have to end my dream, because I financially can't afford it."
Minor league players make $2,150 per month at the highest AAA levels with little support to  find housing in the small towns dotted throughout the country where minor league baseball is played.
While for the 16th year in a row, MLB baseball saw record revenues estimated at $10.3 billion,  over two years MLB has spent roughly $2.6 million in lobbying fees to legalize an exemption to the Fair Labor Standards Act of 1938.
The "Save America's Pastime Act" passed in March 2018 and allows the league to deny players overtime pay "for a workweek of 40 hours irrespective of the number of hours the employee devotes to baseball-related activities.''
SB Nation explains,
"The part that changes the life of minor leaguers the most is that they would no longer be eligible for overtime pay, wouldn't get paid for spring training, and therefore would have to work harder in the offseason to make up that difference in pay. Most minor league players already pick up jobs in the offseason instead of being able to focus on their career as an athlete, and this would make budgeting even tighter for them and their families."
SB nation further argues that the general public should pay close attention to this case," an entire workforce being exploited so a group of billionaires can pad their pockets with a few more dollars shouldn't be your hope for the world."
In Minnesota, the owners of the Independent League (not directly affiliated with the MLB) St. Paul Saints are seeking a similar minimum wage exemption to what  MLB pursued at the federal level. The owner's claim that without the exemption they would go out of business.
In response Bill McCarthy, president of the Minnesota AFL-CIO stated at a Wednesday hearing,
"Whether you are tending bar or playing minor league baseball, all working people deserve to earn at least the minimum wage in the communities where they work," he said.
McCarthy also said the change would set a "troubling precedent," because it could prompt other employers to request minimum wage and overtime exemptions.