Unchecked Corporate Power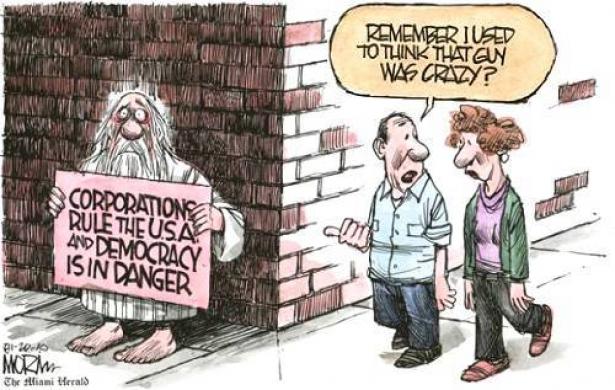 Jim Morin
One year ago, in Epic Systems v. Lewis, the Supreme Court ruled that employers can use forced arbitration clauses that strip workers of their right to join together in court to fight wage theft, discrimination, or harassment. Unchecked Corporate Power, a new report from the Center for Popular Democracy (CPD) and the Economic Policy Institute (EPI) forecasts that by 2024, more than 80 percent of private-sector, nonunion workers will be covered by forced arbitration clauses. This trend makes it critical that public enforcement agencies have the resources that they need to ensure that employers respect important worker protections such as minimum wages, earned sick and family leave, fair workweek standards, and protections against discrimination and harassment. Yet our public agencies are crippled by shrinking budgets and struggle to address persistent workplace violations.
This report was written by Kate Hamaji, Rachel Deutsch, and Elizabeth Nicolas from the Center for Popular Democracy and Celine McNicholas, Heidi Shierholz, and Margaret Poydock from the Economic Policy Institute. The National Employment Law Project provided analysis on historical and current funding and staffing for state-level enforcement agencies in Maine and Oregon. The Massachusetts Budget and Policy Center provided state-level historical and current enforcement agency funding data for Massachusetts. Worker stories and organizational profiles were collected by the Center for Popular Democracy.
About the Center for Popular Democracy The Center for Popular Democracy (CPD) works to create equity, opportunity, and a dynamic democracy in partnership with high-impact base-building organizations, organizing alliances, and progressive unions. CPD strengthens our collective capacity to envision and win an innovative pro-worker, pro-immigrant, racial and economic justice agenda. www.populardemocracy.org

About the Economic Policy Institute The Economic Policy Institute (EPI) is a nonprofit, nonpartisan think tank created in 1986 to include the needs of low- and middle-income workers in economic policy discussions. EPI's mission is to inform and empower individuals to seek solutions that ensure broadly shared prosperity and opportunity. https://www.epi.org/
About the National Employment Law Project The National Employment Law Project (NELP) seeks to ensure that America upholds for all workers the promise of opportunity and economic security through work. At the federal, state, and local levels, NELP fights to create good jobs, expand access to work, and strengthen protections for low wage workers and the unemployed. http://www.nelp.org
The report calls on Congress to override Epic Systems and protect the fundamental rights of working people by passing the Restoring Justice for Workers Act and the Forced Arbitration Repeal Act. And the report urges states to enact "whistleblower enforcement" laws—such as those introduced in Massachusetts, Maine, New York, Oregon, Vermont, and Washington—to empower workers to sue law-breaking employers on behalf of the state and all injured workers, including those covered by arbitration clauses. California's Private Attorney General Act (PAGA) is a successful model. In the most recent fiscal year, California's labor agency received over $34 million in PAGA revenue, which has funded a wide variety of enforcement programs, including cracking down on companies that fraudulent misclassify their employees as independent contractors to avoid minimum wage, unemployment insurance, and other basic obligations to workers.
Executive Summary 
Working families in many states have won crucial new workplace protections, including dramatic increases to the minimum wage,  paid sick time, and family leave and protections against unpredictable part-time work schedules.  These policies are powerful tools for fighting economic inequality; they help working families put food on the table, keep a roof over their heads, and care for their children and family members. But the real-world impact of these historic policy wins depends on effective enforcement. Historically, workplace standards have been enforced through the combined efforts of public agencies and private class-action lawsuits. Today, corporate use of forced arbitration, combined with shrinking budgets for public worker protection agencies, is undermining our new, hard-won workplace standards as well as long-standing protections. The right to be paid a livable minimum wage, to take meal and rest breaks, to safe workplaces, and to equal earning and promotion opportunities regardless of race, gender, ethnicity, or other social category—all of these important rights are at risk of being hollowed out by underenforcement.
Elected leaders' misplaced budget priorities have left worker protection agencies severely under-resourced. Staffing has not kept up with the growing workforce nor with the increasing size and complexity of businesses. At the same time, wage and hour violations, workplace discrimination, and health and safety violations persist.  Indeed, new findings show that:
• In Oregon, Washington, Maine, Massachusetts, New York, and Vermont (the states profiled in this report) the number of workers per wage and hour investigator ranges from 54,900 to 188,800.
• The number of workers per federal wage and hour investigator and per officer is now 175,000—well over double the ratios that existed in the late 1970s.
Meanwhile, an increasing number of corporations are forcing their employees to sign away their right to pursue justice in court if their employer violates their workplace rights. In forced arbitration, a company requires a worker or consumer to waive their right to sue in court; instead, disputes must be resolved by a private arbitrator. Surging corporate use of forced arbitration has already blocked over half of private-sector nonunion employees from suing when they experience discrimination, harassment, or wage theft,  leaving private arbitration—a secretive, biased, and expensive alternative—as their only option. The Supreme Court's 2018 decision in Epic Systems v. Lewis  worsened this trend. The court held that employers can require employees to give up their right to sue on both an individual or collective basis—denying workers the right to band together to seek justice and allowing employers to force all disputes into individual arbitration.  
We anticipate a surge in corporate use of forced arbitration following Epic Systems. Our analysis shows that by 2024, more than 80 percent of private sector nonunion workers will be blocked from court by forced arbitration clauses with class- and collective-action waivers. Soon, the vast majority of workers will have signed away their right to go to court or to join with their coworkers to vindicate their workplace rights. Faced with narrowing options to pursue justice, workers are demanding solutions to ensure that the workplace standards they have won are enforced. Congress must override Epic Systems and restore the fundamental rights of working people to enforce their workplace rights. The Restoring
Justice for Workers Act would prohibit forced arbitration and class- and collective-action waivers in labor and employment disputes,  and the Forced Arbitration Repeal Act would eliminate forced arbitration clauses in employment, consumer, and civil rights cases. States can also take action; in states around the country, workers are campaigning to expand enforcement capacity through bold "whistleblower enforcement" policies. These federal and state policies empower workers to sue law-breaking employers on behalf of the state and all injured workers, including those covered by arbitration clauses. Through dynamic partnerships between workers, public agencies, and community and labor organizations, whistleblower enforcement collects penalties owed by lawbreaking employers to fully fund enforcement agencies and generate a culture of compliance with workplace protections. By enacting these federal and state policies, elected leaders can directly address the current crisis in corporate accountability and ensure that hard-won workplace victories meaningfully raise the quality of life for working people.