A State of Emergency in Missouri and Across the Country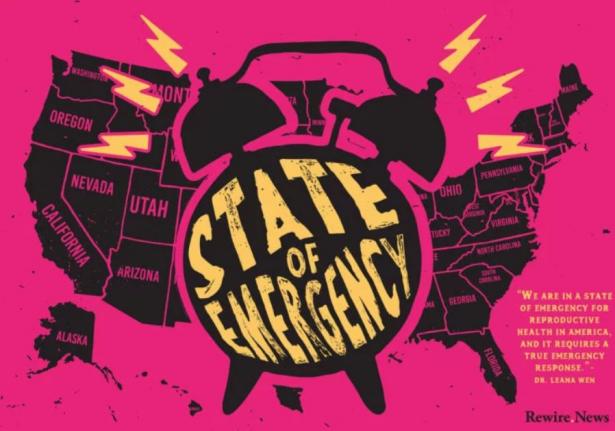 We are in a state of emergency for reproductive health in America, and it requires a true emergency response.,credit: Shutterstock // Rewire.News
Just hours before the last health center offering abortion care in Missouri was forced to halt that care, a state court jumped in to protect access to safe, legal abortion for at least a few more days. But this brief reprieve could end at any moment, and more than a million women of reproductive age in the state of Missouri could lose access to essential health care in their state—marking the very first time since Roe v. Wade that the state would not have a single health center offering abortion care.
This is just the latest case in the news, but if there was any doubt before, what we are seeing in Missouri and across the country is a public health crisis. We are in a state of emergency for reproductive health in America, and it requires a true emergency response.
Over the past few months, we've seen just how vulnerable access to safe, legal abortion is across the country. Anti-abortion politicians in states across the country have enacted extreme, dangerous, and unconstitutional abortion bans that will endanger lives. Alabama's ban would outlaw abortion at any point in pregnancy, others in Georgia and Ohio's before many even know they are pregnant. Some, like Alabama, Louisiana, and Missouri, don't include exceptions for rape or incest. And some would put doctors in jail for years—Alabama even has a maximum sentence of 99 years in prison—for doing their jobs. These laws don't just affect doctors; they would even open the door for miscarriages to be investigated.

The anti-abortion politicians passing these bans have not been coy about their intentions: They want to bring a direct challenge to Roe v. Wade at the Supreme Court, and make this the terrifying reality all across the country.
These are just the latest attacks on reproductive health care, and they are finally getting the attention these unprecedented attacks on our rights deserve. But what hasn't received as much attention is that these attacks come on top of a deepening crisis in public health—and on everyone who could become pregnant, whether you're a transgender man, nonbinary or gender nonconforming, or a cisgender woman—often in these exact states where politicians are rolling back access to health care.
Abortion restrictions always have the greatest impact on people who can't afford to travel hundreds of miles outside of the state for an abortion—these medically unnecessary rules require taking unpaid time off work, securing child care, or paying for gas and hotel rooms. And we know in this country, racism, sexism, homophobia, and transphobia have kept wages low for too many people of color and LGBTQ folks.
Today, maternal mortality is skyrocketing, and women in the United States are more likely to die in childbirth than our own mothers were. The United States is the only industrialized country where maternal mortality is rising and each year. Nearly 700 women in the country die from complications of pregnancy or delivery every year, according to the U.S. Centers for Disease Control and Prevention (CDC). This is a crisis, and an even more acute one for Black women, who are 3 to 4 times more likely to die in pregnancy and childbirth than white women. In Missouri, maternal mortality is 50 percent higher than the rest of the country. Georgia has the second-highest rate in the nation, and half of the counties in the state do not have a single OB-GYN.
Despite these alarming statistics, instead of expanding reproductive care, these states are restricting it.  
At the same time, sexually transmitted infections are exploding in communities across the country. In fact, congenital syphilis is at its highest rate in nearly two decades. In five counties in Missouri, we've seen a tenfold increase in congenital syphilis—a life-threatening infection in infants. This should come as no surprise to those of us paying attention. Politicians continue to attempt to cut funding for the CDC and put off critical investments in public health and public-health infrastructure.
Cervical cancer rates and mortality are also increasing in far too many parts of the country. Alabama has the highest rate of cervical cancer mortality in the United States. Yet, instead of expanding access to life-saving testing and screenings, the Trump administration recently finalized its domestic gag rule that would dismantle Title X— the nation's dedicated birth control and reproductive health care program—which helps ensure nearly 4 million people who struggle to make ends meet are able to access basic care like cervical cancer screenings.
Opioid overdose deaths have increased by almost six times over the past two decades, and the number of women with an opioid use disorder at labor and delivery quadrupled between 1999 to 2014. We know that addiction is a disease, treatment works, and recovery is possible. However, that requires a robust public health infrastructure and today only 1 in 10 people with addiction are able to receive treatment for it, according to a 2016 Surgeon General's report.  
These are just a few examples of the deepening crisis in public health. Sadly, there are many more.
Unlike a state of emergency that is called after natural disasters, this is a man-made disaster that is putting people's lives and health in danger. But just like a natural disaster, when we are facing an emergency like this, our response must be overwhelming. This is not a moment to sit back—it's a moment to stand up and fight however we can.
That is why Planned Parenthood filed a lawsuit to try to stop Missouri from blocking access to abortion care. That's why we sued along with the ACLU in Alabama and Ohio, challenging their abortion bans. We are challenging abortion bans across the country, in the courts and legislatures, and at the ballot box.
We are investing in expanding health care wherever we can, fighting the unconscionable and unethical attack on Title X, and working with partners on the ground to pass laws that protect the right to safe, legal abortion care in states like Maine, Vermont, Illinois, Nevada and more.
We are calling on our 13 million supporters to call their members of Congress to urge them to support Women's Health Protection Act, which would block medically unnecessary abortion restrictions, and the resolution to protect Roe v. Wade as law of the land.
And we are encouraging everyone to talk to their family, friends, and loved ones to let them know what's at stake in this state of emergency, and make sure they know that anyone who cares about access to abortion can no longer sit on the sidelines.
As an emergency physician, I don't use the words "emergency" lightly. But I know one when I see it, and there is no denying that the United States is facing a state of emergency that must be addressed.
[Dr. Leana Wen is the President of the Planned Parenthood Federation of America and the Planned Parenthood Action Fund. Before joining Planned Parenthood, Dr. Wen served as the Baltimore City Health Commissioner, where she oversaw two clinics that provide more than 18,000 patients with reproductive health services.
A board-certified emergency physician, Dr. Wen was a Rhodes Scholar, Clinical Fellow at Harvard, consultant with the World Health Organization, and professor at George Washington University. Dr. Wen is the recipient of the American Public Health Association's highest award for local public health work and has been named as one of the 50 most influential people in healthcare by Time Magazine.]
Copyright c 2019 Rewire.News. Reprinted with permission. May not be reprinted without permission.
Rewire.News is a nonprofit daily online publication. We seek to foster public knowledge and enlightenment through high-quality evidence-based news, analysis, commentary, and investigative reporting on issues of sexual and reproductive health, rights, and justice. Our staff is comprised of professional editors and journalists, as well as multimedia, social media, communications, development, technology and business managers.
 We believe journalism has an inherent role in promoting a healthy and just society. We therefore take seriously our responsibility to seek truth and report it; minimize harm to people and communities through accurate reporting; act independently; offer vigorous commentary, debate, and opinion based on fact and considered thinking; and be accountable and transparent to our readers.
Subscribe to Rewire here.
Support Rewire.News
We're a small non-profit, but we serve millions of readers. Support quality journalism to hold Trump accountable. Chip in whatever you can afford to Rewire.News today.