12 Ways the Progressive Takeover Is Transforming New York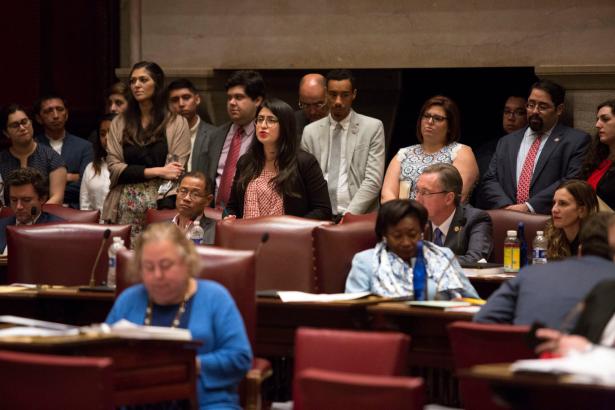 Senator Jessica Ramos, center, addresses the Senate on Wednesday, just before her colleagues approved some of the most robust anti-harassment laws in the country, Patrick Dodson for The New York Times
ALBANY — At 7:20 a.m., after an all-night marathon marked by the passage of dozens of bills and a rubber-band fight on the floor of the chamber, the Legislature on Friday finally ended a 2019 session that was nothing short of groundbreaking.
During the six-month session, lawmakers approved a raft of legislation, large and small. The Legislature and Gov. Andrew M. Cuomo, a Democrat, reached expansive agreements on rent regulation, climate change, criminal justice, congestion pricing, sexual harassment and gun control, to name just a few.
There were deals to ban various and sundry things, from cat declawing to floating billboards to bump stocks, the attachments that enable semiautomatic rifles to fire in sustained, rapid bursts.
With Democrats leading both chambers for the first time in nearly a decade, the agenda was undeniably liberal, often landmark, and for those in the majority, making up for lost time.
"This year our goals were finally within reach," said Carl E. Heastie, the Assembly speaker, to his groggy colleagues during a breakfast-time farewell on Friday. "Much of our bold and visionary agenda was finally realized."
Republicans had a different take, suggesting that Democratic leaders were ignoring the needs of middle-class taxpayers in favor of advancing a socialist agenda.
So what did you miss? Here's what the New York State government got done in the wee hours, and the six months before.
Rent and real estate
In terms of immediate impact on the most people, the recent deal on rent was the most striking: a wide-ranging agreement to extend rent regulation, stem the ability of landlords to raise rents, and a cap on rent hikes based on building improvements, among other overhauls.
The deal, which was struck by the Legislature with little input from Mr. Cuomo, was a blow to landlords and real estate interests, who had fared well with a Republican-led Senate, and a major win for the progressive Democrats who had ousted them.
Earlier in the year, developers had also been hit with a new transfer tax on high-value homes — known as a mansion tax — though they successfully fought off an annual pied-à-terre tax that they considered even more onerous.
Climate and environment
With the Trump administration rolling back emissions standardsand temperatures still rising, New York lawmakers positioned the state as a world leader in fighting global warming, passing an ambitious plan to try to all but eliminate its greenhouse gas emissions by 2050.
Under the plan, which had stalled for several years in the face of Republican opposition, the state will establish a 22-person climate action council, which will have two years to formulate a plan for how the state will go about meeting the emissions goals. After that, state agencies will be charged with implementing the plan, which environmentalists imagine could mean everything from banning gas-guzzling cars to planting new forests as carbon sinks.
The state also acted to ban plastic bags, an unsightly scourge in many locales, though paper bags were left less regulated.
Lawmakers fell short of passing a bill that would have banned long-term use of solitary confinement, disappointing groups like Vocal New York.CreditPatrick Dodson for The New York Times
Criminal justice
Perhaps the centerpiece of April's state budget deal was a slate of criminal justice agreements, which advocates hailed as transformational.
Cash bail was abolished for all but certain violent felonies, which could help 90 percent of people charged with a crime avoid pretrial incarceration.
Prosecutors are also required to reveal possibly exculpatory evidence to the defense far earlier in the discovery process. And speedy trials are now guaranteed.
In May, the Legislature also acted to legalize so-called gravity knives — small, easy-to-access blades, opened with a flick of the wrist — overturning a law had resulted in the arrest of tens of thousands of black and Latino New Yorkers.
But an effort to ban the long-term use of solitary confinement in jails and prisons failed, though Mr. Cuomo and legislative leaders announced a series of changes late Thursday, with promises to work toward a 30-day cap on stints in solitary.
Congestion pricing
Another budget highlight was a congestion pricing plan, to charge cars that enter the busiest parts of Manhattan, after more than a decade of foiled attempts by lawmakers.
Frustration with the city's deteriorating subway system, coupled with concerns about gridlock, helped usher through a proposal that had been around since Michael R. Bloomberg was mayor. The fees, which have yet to be set, will not go into effect until 2021.
Reproductive rights
The Reproductive Health Act was one of the first bills the Legislature tackled this year, codifying Roe v. Wade into state law and guaranteeing women's rights to an abortion to preserve their or a fetus's health.
The bill was central to many Democrats' campaign pledges, but it infuriated the Catholic Church, something Mr. Cuomo, a Catholic, said he was acutely aware of.
"That made the Catholic Church and many anti-abortion people very, very unhappy," he said in a radio interview this week. "So yes, there are political consequences, there's no doubt." Indeed, national Republicans, including President, Trump immediately seized onto New York's law, promising to make it a campaign issue.
Lawmakers passed a bill to allow undocumented immigrants to obtain driver's licenses, an effort that had failed in previous years when Republicans led the Senate.CreditPatrick Dodson for The New York Times
Immigration
Amid a federal crackdown on undocumented immigrants at the nation's southern border and across the country, New York this week offered a potential benefit to such residents: the opportunity to get a driver's license.
An estimated 265,000 people would directly benefit, and supporters said it would increase road safety and reduce insurance costs.
The issue was a heavy lift for Democrats, with the entirety of the party's six-person Long Island delegation voting no, fearful of electoral consequences in moderate suburban areas. A previous effort in 2007, under Gov. Eliot Spitzer, a Democrat, had collapsed in the face of negative public opinion.
In January, lawmakers also approved a bill to give undocumented college students access to state financial aid and scholarships.
L.G.B.T. rights
Gay and transgender rights groups were thrilled with several developments early in the session. They included a ban on so-called "conversion therapy" — the debunked practice of trying to change sexual orientation or gender identity — as well as the passage of the Gender Expression Nondiscrimination Act, or Genda, which prohibits discrimination based on "gender identity or expression" by employers and others.
On Wednesday, the Legislature banned so-called gay panic defenses, whereby defendants could argue that they had acted in a state of temporary insanity caused and justified by their victim's sexual orientation. But some were disappointed as a push to legalize gestational surrogacy fell short.
Assemblyman Daniel J. O'Donnell addressing the Assembly before passage of a bill banning the so-called gay panic defense for criminal defendants.Credit: Patrick Dodson for The New York Times
Elections and voting
The passage of early voting in January was a victory for voting rights advocates in New York, who had watched as dozens of other states had embraced some form of the system.
Another significant, if less heralded, electoral reform was banning the so-called L.L.C. loophole, which had allowed corporations to pour almost unlimited amounts of money into election races through multiple limited liability companies.
Gun control
Six years after the Sandy Hook massacre in Newtown, Conn., spurred Mr. Cuomo to shepherd through a major gun safety package, making New York the first state to act after the tragedy, lawmakers passed a set of additional restrictions.
The new laws ban bump stocks, prohibit teachers from carrying guns in schools and extend the waiting period for gun buyers who do not pass an instant background check.
Workers' rights
In the final days of the session, lawmakers granted collective bargaining rights to the state's farmworkers, who had been requesting stronger protections for more than two decades. The workers would be allowed overtime pay and guaranteed rest periods.
Sexual harassment
After years of appeals from women's and workers' rights groups, fueled especially by the #MeToo movement, the Legislature on Wednesday approved some of the most robust anti-harassment laws in the country.
The bills eliminated the "severe or pervasive" standard for proving harassment in court and restricted employers' ability to avoid liability. The statute of limitations for second-degree rape was also extended from 5 years to 30, and for third-degree rape to 10 years.
Marijuana
Unable to reach agreement on a deal to fully legalize marijuana, lawmakers on Thursday agreed on something of a half-measure, passing a bill that will further decriminalize possession of the drugand automatically expunge many low-level marijuana convictions across the state.
The measure would treat possession of up to two ounces of marijuana as a violation instead of a crime.
Still, given the nation's rapidly changing sentiment about marijuana, the failure to fully legalize was considered a defeat of sorts in Albany. More than a dozen states have decriminalized the drug.
Vivian Wang is a reporter for the Metro Desk, covering New York State politics in Albany. She was raised in Chicago and graduated from Yale University. @vwang3