Dispatches From the Culture Wars - June 25, 2019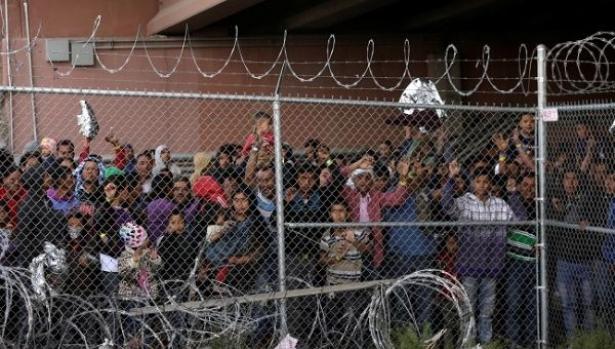 Central American migrants in dentention in El Paso,Photo: Reuters
Internment Survivors Say Never Again
By Amy Goodman
June 24, 2019
Democracy Now!

Five Japanese-American elders, survivors of U.S. internment camps, engaged in civil disobedience Saturday outside the Fort Sill Army post in Oklahoma, where the Trump administration plans to indefinitely detain 1,400 immigrant and refugee children starting next month. 
Reckoning With American Concentration Camps
By Masha Gessen
June 21. 2019
The New Yorker
The debate over Alexandria Ocasio-Cortez's use of the term "concentration camp" is not about language or facts. It is about how we perceive history, ourselves, and ourselves in history.
The Assange Case and the First Amendment
By Miriam Schneir
May 30, 2019
The Nation
Since 1917, the US government has used the Espionage Act to restrict freedom of speech, to imprison activists and whistle-blowers, and to dismantle progressive organizations.
By Shane Burley and Alexander Reid Ross
June 20, 2019
Political Research Associates
The Far Right, realizing they're unlikely to realize their vision through voting or appeals to the public, has instead targeted the Republican Party as a vessel for mainstreaming White nationalist ideas.
Christian Nationalists Target Minnesota
By Frederick Clarkson
June 24, 2019
Rewire.News
A remarkable episode in Minnesota this past state legislative session may be a harbinger of more profoundly theocratic politics on the horizon.
What To Call Far-Right Extremism
By Hannah Allam
June 23, 2019
National Public Radio
Federal authorities say far-right violence is the deadliest and most active form of domestic extremism. The labels researchers use to code attacks are part of a wider debate over what to call the far-right threat — and how politics plays into that debate.
By Tom Jacobs
June 21, 2018
Pacific Standard
Trump readily ridicules and chastises people. He readily pushes people aside if they're not worshiping him. We've all seen the videos of his aides praising him to high heaven. That's the kind of adulation cult leaders expect and demand.
By Odette Yousef
June 19, 2019
WBEZ Radio
Nora Flanagan, a teacher at Northside College Preparatory High School in Chicago, has developed a toolkit to help school communities recognize and confront white nationalism among students. Flanagan says the issue has become more pressing in recent years, as students have been targeted for recruitment into the movement online.
By Dean Obeidallah
June 13, 2019
CNN
This lawsuit was never about money. It was about sending a message to these vile white supremacists and their ilk that they will not silence me or members of the other groups they despise.
By Jane Lytvynenko
June 23, 2019
BuzzFeed News
Ravelry, a community website for knitters, crocheters, and other textile fans, has banned all content supporting President Trump and his administration in what it described as a stand against white supremacy.