food
José Andrés Serving Free Meals In The Bahamas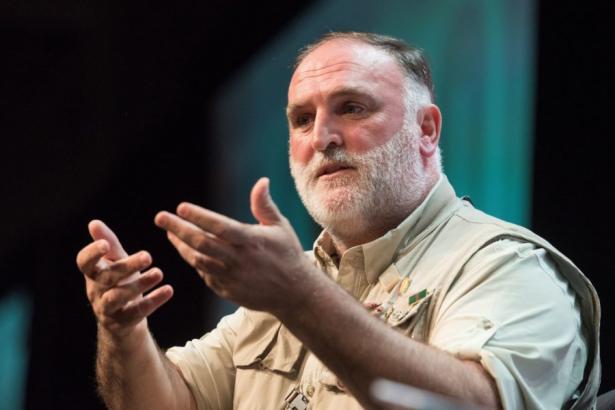 Chef and restaurant owner José Andrés spoke at the National Book Festival in D.C. last month about his humanitarian work., Cliff Owen / AP
Update: As of September 13 World Central Kitchen has served more than 200,000 free meals to people in the Bahamas.
A humanitarian relief nonprofit run by D.C.-based celebrity chef José Andrés has served more than 100,000 free meals in the Bahamas.
World Central Kitchen, which provides meals in areas hit by natural disasters, has been distributing food in the Carolinas, Florida and the Bahamas since Hurricane Dorian hit early last week. It announced its 100,000-meal landmark in a tweet on Monday evening with a photo of Andrés, who founded the organization in response to the 2010 earthquake that devastated Haiti.
A Nation In Need
The organization's relief efforts are currently focused on the Bahamas, where the death toll from the hurricane currently stands at 50 and continues to rise. Dorian is the most powerful hurricane on record to hit that country.
"We are cooking for the people, and plan on ramping that up even more and more," said Zomi Frankcom, the nonprofit's relief administration manager, in a video she posted from the Grand Bahama International Airport in Freeport on Tuesday. Behind her, the airport appeared in bad shape — hangars were "ripped open like sardine cans," as she put it. There were no other people in sight.
Andrés has been tweeting regularly from the islands over the past week and a half. He's called for additional support for World Central Kitchen's relief efforts, including the use of helicopters to deliver food from the U.S.
He's also using social media to highlight the scope of the destruction, criticize President Donald Trump's response and show the types of food chefs are preparing in mass quantities to hand out to hurricane survivors. Meals range from vats of tuna salad to steamed mixed vegetables, and even paella (a specialty in Andrés' home country of Spain).
'A Lot of Empathy'
Earlier this year, World Central Kitchen provided free meals closer to home, offering meals to furloughed federal workers in the Washington, D.C. region during the partial government shutdown. The nonprofit has also served people affected by Hurricane Harvey in Houston, Texas, Hurricane Maria in Puerto Rico, and the Camp Fire in California. Andrés earned a 2019 Nobel Peace Prize nomination from former Congressman John Delaney of Maryland for his efforts.
"We don't have any technique that is very difficult or very special," the chef told NPR's Steve Inskeep last week. "What we have is a lot of empathy."
Expanding Local Efforts
Meanwhile, a growing list of D.C. bars and restaurants have been raising money for victims in the Bahamas as part of the #dcdrinksforbahamas fundraiser. Participating businesses put a Caribbean-inspired drink on their menus through October 31st and commit to donating at least a dollar from each drink to organizations including Global Giving, Team Rubicon, and, of course, World Central Kitchen. You can find the full list of participating bars and restaurants here.
This story was corrected on September 11. Andrés is a Nobel Peace Prize nominee, not a recipient. It was updated on September 13 to reflect the current number of meals served in the Bahamas by World Central Kitchen.