labor
Canadian Unions and a Green New Deal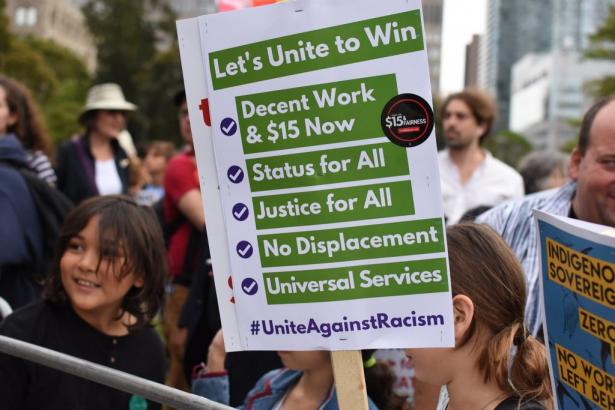 Alexis Fawn
On September 27, workers across the world went out on strike in the largest global climate strike in history, walking out of their classrooms and workplaces to protest government inaction on climate change. This comes following the September 20 'School Strike for Climate', which saw millions of young people and students in over 150 countries walk-out three days before the U.N.'s Climate Summit. 
Alberta's climate
Last Wednesday, the UN's Intergovernmental Panel on Climate Change (IPCC) released a major report on the state of the planet's oceans and ice. The report contains findings from thousands of scientific studies and outlines the damage climate change has done to oceans, sea levels, and marine life. The IPCC has reported that we only have 11 years to cut greenhouse gas emissions to hold global warming and avoid the catastrophic effects of climate crisis on our species. 
Since Premier Jason Kenney took office in April, the United Conservative Party government has eliminated the provincial carbon tax, cancelled renewable energy programs, and created a $30 million war room and launched an inquiry into the supposed "foreign funded meddling" in Alberta's energy sector. The $2.5 million inquiry will last a year, and a final report will be submitted to the government by July 2, 2020. A public report will not be available until September 30, 2020. 

Kenney has stated that he believes foreign funded special interests have spent millions of dollars with the purpose of land locking Alberta's energy sector. Additionally, as of October 15, the government will no longer have separate offices for climate change policy and environmental monitoring. Kenney, along with premiers in Ontario, Saskatchewan, Manitoba and New Brunswick all have plans to challenge the Federal Carbon tax in the Supreme Court and respective provincial court of appeals. Saskatchewan was the first to lose their case, and on June 28, Ontario lost their appeal with a 4-1 decision. While the decision by the Ontario courts may be seen as promising, a carbon tax that forces workers to pay the price for emissions rather than tax the corporations responsible for producing carbon emissions is ultimately not a solution to the climate crisis.
In Edmonton, thousands of students, workers, and community members marched to the legislature to call for state action on the climate crisis and a Green New Deal for Canada. In a 10-3 vote last month, Edmonton city council moved to declare a climate emergency through the creation of a 10-year action plan that meets the IPCC target of keeping the rise in temperature at 1.5 degrees. "Working class oil and gas workers are used as justification by politicians across the country as to why we can't push for a just transition. The reality is that the oil and gas industry has left people behind," said Batul Gulamhusein, an organizer with The Leap and the grassroots non-profit Climate Justice Edmonton (CJE). "We have a responsibility here in Alberta, but also to people in the global south who are already seeing the impacts of climate crisis in their lives." 
A Green New Deal 
The labour movement must be on the frontlines in calling for a Green New Deal and immediate action on the climate crisis. Working class communities are the ones that will be disproportionately impacted by climate crisis – the fight for environmental justice must be a fight for economic and social justice that prioritizes frontline communities and the most marginalized workers. Unionizing and expanding the renewable energy sector is one step of many to lead towards a future where Indigenous sovereignty is prioritized and workers are respected. 
"I want a Green New Deal because I know that there are limits to how long the oil and gas industry will last for," said Stephen Buhler, an oil and gas worker and organizer with Our Time, an electoral campaign that focuses on electing federal candidates that will take action on the climate emergency. "I know that if we don't have a plan in place Indigenous communities and workers will be left behind. I not only financially need it, but I morally need it."
As unions begin to recognize the precarity and unreliable boom and bust nature of the energy sector, they must become a key player in leading the fight for a Green New Deal. Having a climate strategy that ensures good unionized jobs, retraining programs for existing workers, and moves towards a just transition that reframes the way our economy is structured is a fight that unions must take on in a substantive way. 
One of the most tangible ways unionists can get involved in taking action on climate is 'bargaining for the common good' which uses union bargaining to service fights for community benefits. Given this, under a Green New Deal, bargaining forward can take a number of forms:
Working towards decolonization through challenging the extractive industries that violate indigenous consent
Returning the land to Indigenous land protectors
Supporting the protests and legal challenges attempting to stop the Trans Mountain pipeline expansion
Creating a federal jobs guarantee with new, low carbon jobs and providing retraining for oil and gas workers
Ending subsidies to the fossil fuel industry and investing in low-carbon jobs such as childcare and healthcare
Calling for education and campaigns that address the environmental racism faced by Indigenous, Black, people of colour
Demanding publicly owned affordable energy
Expanding public transit subsidies, high speed rail, and renewable energy vehicles
Delivering community power and supporting CUPW's call for postal banking
Training workers on emergency response to climate disaster
Divesting union members pensions from the fossil fuel industry
Demanding affordable housing in your communities
What labour can do? 
Unions should also be pushing these issues beyond the bargaining table. Beyond the federal election, labour must advocate that all political parties commit to a climate plan that works for workers. Energy democracy, water protection, and stopping pipelines that violate UNDRIP are issues unions must fight on all fronts. 
The absence of labour large-scale involvement climate strike was readily apparent. Labour has the immense opportunity to commit to organizing for a Green New Deal. If unions are to build capacity and mobilize thousands in the way that the climate strike was able to, labour leadership must activate their members to support the push for a Green New Deal in both their workplaces and community. From transit unions who can lobby for subsidies to transit, to healthcare unions who see the ill effects of climate change everyday, more can be done by labour to push for an economy that focuses on a future beyond oil and gas. 
The transition away from oil and gas is inevitable. If we are to have a livable planet, there is no choice but to ensure that the Indigenous voices leading the movement for climate justice are amplified by the union movement. The role of unions in building towards a just transition must fit the scale of the crisis. Labour has an incredible opportunity to use the platform of a Green New Deal to demand publicly owned services, organizing against regressive anti-worker taxation, and calling for large-scale job creation through the creation of one million climate jobs. The climate emergency is a labour issue, and it is the responsibility of labour to take action.