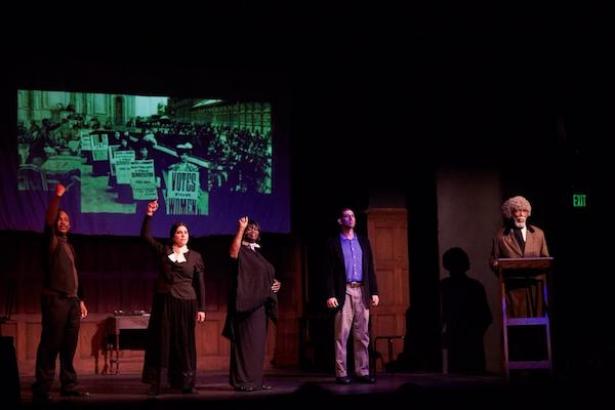 "The Moment Was Now" cast , Courtesy of Sean Scheidt
The year was 1869. Ruins of the Civil War are being swallowed in the swirl of Reconstruction. Federal troops protecting the union victory and the newly emancipated slaves have not yet withdrawn from the South. The promise of America in the dawn of the industrial era is tangible.
Our story opens in Baltimore with Frederick Douglass (LeCount R. Holmes Jr.) calling a meeting of key players to envision a new, free, democratic nation. Pioneering Black trade unionist Isaac Myers (Darryl! LC Moch), organizing Black shipyard workers in Baltimore and across the country, is joined by Irish-Catholic labor leader William Sylvis (Ariel Jacobson). He had a vision of taking on the barons and plantation owners on behalf of poor laborers in the north and south. Susan B. Anthony (Jenna Rose Stein), considered the "Mother of Suffrage" was included to inject her militant view of women's equality through voting rights.
Moments after Douglass leaves the three to their deliberations, an uninvited figure emerges from the dark. She mounts the stairs. Frances Ellen Watkins Harper (Julia Nixon) takes center stage. Acknowledging she was excluded, she affirms, "They need me to make this right."
For the next two hours, rights, wrongs, race and justice are fused into a foot-tapping, hand-clapping kaleidoscope of spoken word/rap, jazz, blues, gospel and musical theater, animated in a lyrical montage through the lens of history.
The story takes wings and soars.
The meeting in Baltimore was imagined. But the characters were real. Their expressions came from actual speeches of that era. The musical opened and closed with poetry from Langston Hughes' "Let America Be America Again."
A troupe of classically trained actors, set developers and musicians turned out 15 musical interventions with provocative themes complemented by 170 overhead slides flashing archival footnotes and images.
The performance enjoyed an air of authentically in the Emmanuel Episcopal Church (built in 1854) auditorium in downtown Baltimore. Seven performances, over two weekends Sept. 13-22, left most patrons wanting more.
Creator Gene Bruskin, a 73-year-old retired labor strategist, coined the show as "Theater for the 99 percent." Estimating the production took about two years from conception to staging, he says the themes festered within him for decades, inspired by the hopes and challenges of the Reconstruction era. This was crystallized by W.E.B. Du Bois' Black Reconstruction. It projected the possibilities and agency of that period that disintegrated into the plunder of white supremacy, labor exploitation, solidification of wealthy landowners and division among the have nots and their best interests.
"That was a moment when this nation had the chance to almost do the right thing," Bruskin said. "But like then, the moment is still now."
He insisted that 2019 is a perfect backdrop to revisit the possibilities. Many key events have catalyzed new awareness including the fomenting of White supremacy; heightened conversation about reparations; 400 years since the arrival of the first kidnapped Africans; 150 years since the 15th Amendment giving Black men voting rights and a century since passage of the 19th Amendment for women's voting rights.
"Moments come and moments pass. But you cannot freeze them if you do not seize them," recited Bruskin from his script.
The performance has generated requests for a touring show to labor conventions, civic groups, public schools and other venues where history and politics can find a marriage. A film stream is also being planned on www.TheMomentWasNow.com.
Created by Gene Bruskin in collaboration with artistic director Darryl! LC Moch, Musical Director Glenn Pearson and Assistant Musical Director Chester Burke
When Julia Meets Frances
When Broadway actress Julia Nixon met poet, abolitionist, suffragist Frances Ellen Watkins Harper, she felt certain she had unlocked a treasure box.
"My first thought was that this woman was a fictitious character," Nixon said. "My second thought, when I realized she actually existed, was OMG!"
From there, she would take a journey through poetry, history and the lived experience in the footsteps of a woman revered as "the Mother of Black American literature."
Nixon, a recording artist with a long-running stint at the popular D.C. supper club Mr. Henry's, recently completed a two-week run of the musical "The Moment Was Now." She confides that "living in Frances Harper's skin" gave her new inspiration about Black women's power then and now.
Staged in Baltimore at the historic Emmanuel Episcopal Church, "The Moment" takes us back to 1869. Harper was one of five historical characters featured in the show, which also included orator Frederick Douglass (LeCount R. Holmes Jr.) and suffrage leader Susan B. Anthony (Jenna Rose Stein).
The two-hour musical was a potent slice of American history, shining a light on hypocrisy, democracy and possibilities that confronted the country in the late 19th century. Reconstruction, women's voting rights, the industrial revolution, labor rights and true emancipation of Black people were on the table.
But the big story embedded in the play explores suffrage, race and power — a complex and intractable conundrum that haunts us today.
As the nation marks the 100th anniversary of the 19th Amendment giving women voting rights next August, the lessons of Frances Harper and a cadre of Black suffragists of the 19th and early 20th centuries are a reminder of the schism between White feminism and Black liberation.
Harper, like many of her contemporaries, was an ardent advocate of universal suffrage. It was inseparable from abolition of slavery and full emancipation of all people beyond the act of voting.
Through a rousing performance in "The Moment," Julia Nixon demonstrates Harper's connection with Anthony's cause ("I'm A Woman") and the split when Black suffragists throw down the gauntlet with Black men, granted voting rights through adoption of the 15th Amendment ("Not a Straw in the Way").
Harper (1825-1911) lived a full and productive life. The first known Black woman to publish a short story ("Two Offers," 1859), her poetry collections have been republished hundreds of times. Harper joined with other Black women including Harriet Tubman and Ida B. Wells to establish the National Association of Colored Women's Clubs in 1896. That organization, which rarely gets the recognition it deserves, was the forerunner of the NAACP.
Songstress Nixon, herself a poet and playwright, enjoyed a four-year run on Broadway after the departure of Jennifer Holiday, playing Effie in "Dreamgirls." Her four-octave range equips her with the acumen to traverse musical genres including jazz, gospel, blues urban funk and musical theater.
"This conversation takes me back to the late 1960s and early 1970 in Robinson County, North Carolina," Nixon reflects. "I was part of the first wave of Black children to integrate the all-white schools in our town. I knew racial hostility firsthand."
Acknowledging that her experience pales in comparison to the journey of the post-slavery period captured in "The Moment Was Now," Nixon said, "All I can say is thank you, Frances. You woke me up."