tv
How Amazon's Carnival Row Explores the Fear Around Immigration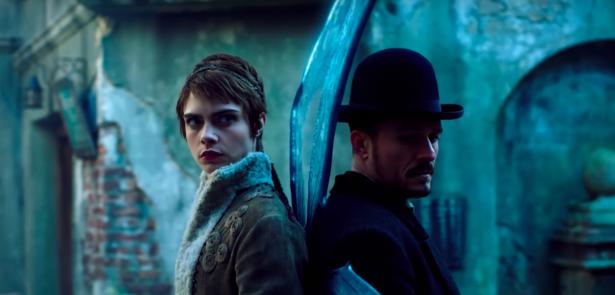 Orlando Bloom and Cara Delevingne are about to cross over from films to television, and they chose quite the series in which to do so. Carnival Row, created by René Echevarria and Travis Beacham, is a new fantasy series on Amazon that tells the tale of mythical creatures forced out of their homeland and gathering in the city, where tensions begin growing between the citizens and the ever-increasing immigrant population.
If that sounds awfully similar to America 2019, that is no accident. Beacham told the 2019 TCA Summer press tour that it has been about race and immigration since its inception — which was actually about 17 years ago.
"I think it's very interesting that Travis . . . wrote this 17 years ago, and those themes were present, but they are so relevant today," executive producer Marc Guggenheim said. "And it's both sad — it's a sad commentary that the plight of immigrants and migrants and refugees has gotten so much worse in the intervening 17 years. At the same time, one of the things we often say in the writers' room is that the immigrant story is a very long-time and important thread in the tapestry of human narrative. It's a very, very old story. So, we're not doing anything new. But we're very cognizant of the fact that we are holding a mirror up to what's going on in our world right now."

Star Delevingne said it is definitely a point of controversy because the mayor of San Diego had to skip Carnival Row's Comic-Con installation because of how political it was (a claim the mayor has denied), and star Bloom added that the show absolutely explores "the fear that people have."
"There's so much fear in the world today about the idea of refugees, migrants coming into society," Bloom said. "What are they gonna do to our society? How are they gonna take jobs, drugs, thieving, whatever the preconceived notion is?"
"It's like looking at this character from here, and this character from here and all these worlds and how they interconnect," Beacham added. "I thought that was such an interesting structure and really wanted to explore it in a fantasy context."
Guggenheim concluded by saying that perhaps the fantasy context creates a safer space in which to talk about such controversial issues.
"One of the nice things about a genre show is it gives people an opportunity to have those conversations in a quote-unquote safer space . . . if we were to start dialogues again, read new dialogues with each other, we could . . . unlock some of this tribalism that the whole world right now is gripped by," Guggenheim said.
Carnival Row drops on Amazon on Aug. 30. It has already been renewed for a second season.