Why Some Young Voters are Choosing Democratic Socialism over the Democratic Party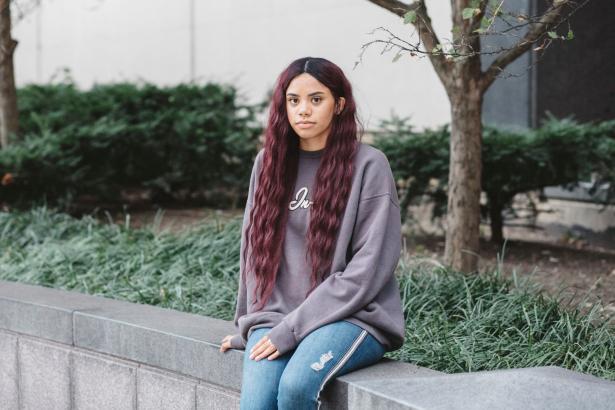 Daija Kidd, a junior, is co-chair of Ohio State University's chapter of the Young Democratic Socialists of America.,Andrew Spear for The New York Times
COLUMBUS, Ohio — As Tuesday night's Democratic debate approached, members of the Young Democratic Socialists of America chapter at Ohio State University tried to figure out where to focus their energy.
At a meeting on campus last week designed to set their goals for the year, they talked about labor organizing, volunteering for Morgan Harper's congressional campaign and hosting a town hall-style event focused on climate change.
"It's all related, even though they look like separate issues, " said Daija Kidd, an African-American studies and sociology double major and co-chair of the Y.D.S.A. chapter, as she tried to get the other members to think about new campaigns for the year."We have these very specific events that we go to, like the climate strike," she said. "But I want to do something that is ongoing, because that is the purpose of democratic socialists. I don't want us to finish doing one big thing and have that be it — I want to keep it chugging along."

The group's effort to take on an aggressive and expansive agenda reflects the enormous energy on the far left heading into the 2020 election, and part of the appeal of democratic socialism in this cycle: setting an array of big goals to help deepen a movement that goes beyond one-off protest events and marches.
For many young, progressive Americans, democratic socialism is a far better representation of their ambitions of far-reaching structural change across the economy and society than the agenda of the Democratic Party, which they see as overly influenced by corporate interests, big-money donors and moderate traditionalists.
The attempt at Ohio State to define objectives also comes as the Democratic presidential contenders are locked in a battle over what direction the party should take in order to win in 2020. That dynamic will be on display Tuesday night less than 15 miles from O.S.U., when the candidates gather for the fourth primary debate at Otterbein University in Westerville.
Two top candidates, Senators Elizabeth Warren and Bernie Sanders, have successfully pushed the primary conversation to the left. The D.S.A. saw drastic growth in its membership when Mr. Sanders, himself a democratic socialist, ran for president in 2016, and there are now nearly 60,000 members across the country. (Ms. Warren, who has pulled ahead of Mr. Sanders in polling and is a leading candidate for the nomination, backs many of the same progressive priorities as Mr. Sanders, but has also said she is "a capitalist to my bones.")
The national leaders of the Young Democratic Socialists of America have seized on Mr. Sanders's momentum with younger voters to expand their group's membership, too, growing from 25 registered chapters in 2016 to 84 in 2019, according to a Y.D.S.A organizer. Chapters have begun to spring up at high schools, as well.
The chapter at O.S.U. was small for the past two years, with only 10 or 11 active members. Still, the group managed to create a campus campaign around Fight for $15, an effort to raise the minimum wage of university staff members to $15 an hour. They won that battle in August.
Now, each meeting draws 40 to 50 members, each one with a different reason for joining and something unique to fight for.
For many of them, Mr. Sanders was their introduction to the left. They see the D.S.A. as more than just a vehicle to advance the rights of workers — it is also a home for progressive policies and issues that they don't see being addressed by the major political parties in a way they agree with.
"I don't think they're totally abandoning capitalism per se, but certainly they're more likely to embrace policies tied to what we characterize as socialism," said Melissa Deckman, chair of the political science department at Washington College in Chestertown, Md., who is working on a book about the political engagement of Generation Z. "They're interested in free college tuition or in expanding health care."
As they grew up in the wake of a recession and watched the effects of climate change unfold, the Black Lives Matter movement form and gay marriage be legalized, the students were often just a click away from finding the next progressive policy to support.
Nathan Webster, a second-year electrical engineering major at Ohio State, learned about the Democratic Socialists of America through protests in his hometown, Painesville, Ohio, aimed at abolishing Immigration and Customs Enforcement.
"I come from a largely Latino town — some of my friends lost their parents to Border Patrol," Mr. Webster said.
"Near the end of high school, I realized what politics were and where I fall on the political spectrum," he added. "Originally I told myself, 'O.K., I'm a Democrat,' because I didn't know any better. I didn't know that there was something that could be more left."
For Ricky Vehar, an environmental engineering major, coming out as gay and then coming out as trans moved her closer to the Young Democratic Socialists of America.
"From my background, you wouldn't really expect me to become super left. I grew up in a middle-class family, in a good suburb," she said, adding that watching "the discrimination that those communities face not just because they're gay or trans, but because the system incentivizes discrimination against them, moved me toward the left."
James Fisher, a second-year student and a co-chair of the O.S.U. chapter, joined the group for similar reasons: they support giving trans teenagers and adults better access to health care through Medicare for All.
"Medicare for All can benefit the trans community in their ability to get good health care, and that's something that a lot of trans people struggle with," Mx. Fisher said. "It's embedded in the language of Medicare for All, that there's no exclusionary measures to it."
Others joined the Y.D.S.A. because they saw the benefits of nationalized health care firsthand. During a yearlong program in England, Johnny Amundson got very sick and was hospitalized for a month. His program enrolled him in the National Health Service, and he ended up paying just $200 in medical fees, he said.
"I saw that there's a difference between being able to have insurance, which my family has, and being able to have health care," Mr. Amundson said. He is now a fourth-year journalism and Russian double major at Ohio State, and he was one of the first members of the university's Young Democratic Socialists of America chapter.
Nikki Velamakanni, a political science major, joined Y.D.S.A. when she realized that she didn't want to join the College Democrats chapter on campus because of the stigma around it.
"It's known to be more centrist, it's known to be more compromise-y," Ms. Velamakanni said. "Whereas the left is more, 'We stand for this and we're going to fight for it.'"
Dr. Deckman attributes the rise of the Y.D.S.A. to the changing perceptions that younger voters and soon-to-be voters have about government and democratic socialism, and the idea that younger people tend to be more liberal with each passing generation.
"They're more willing to have a bigger role for government to play in our lives," she said. "This younger generation is growing up seeing what deregulation is doing to the Earth, is doing to their ability to afford college, among other things. I think that's why they're finding democratic socialist ideas appealing."
Some of their parents were introduced to socialism during the Cold War, giving the word an entirely different meaning.
"Older Americans who lived during the Cold War, they link socialism strongly to communism. So there's this idea that if we raise socialism, our freedoms, especially religion, are going to be compromised," Dr. Deckman said. "And I don't think that sort of baggage matters to younger Americans."
For Evan Schmidt, a second-year economics major, "socialism is a word only. It doesn't necessarily have a direct correlation to any sort of regime or empire, which allows for that reconstruction around it."
He grew up in Manchester, Vt., where the idea of democratic socialism was less taboo thanks to Mr. Sanders. When he moved away, out of what he describes as a "sheltered neighborhood," he had his first experiences with people who grew up with less than he did.
It ignited his passion for democratizing the workplace and helping others to achieve the same class mobility his family enjoyed. He joined the Young Democratic Socialists of America, he said, because he thinks "it's what the Democratic Party should be."