labor
The G.M. Strike Was the Best and the Worst of the Labor Movement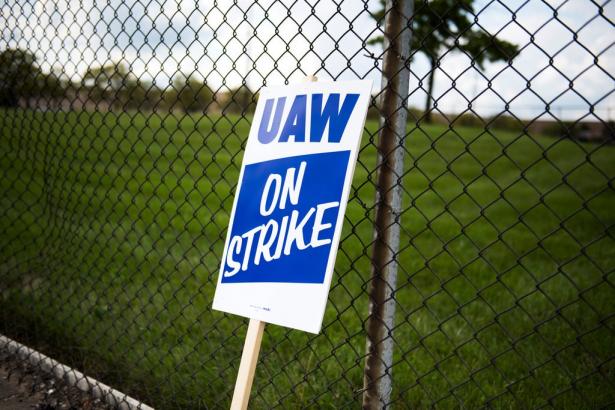 , Emily Rose Bennett for The New York Times
United Automobile Workers leaders voted Thursday on a tentative agreement to end a monthlong walkout by 50,000 workers at General Motors over wages, health insurance premiums and the use of temporary and "tiered" contracts. The accord includes raises and a large ratification bonus and gives temps a path to permanent status — but it also locks in the closing of a beloved factory in Lordstown, Ohio, and two others. Rank-and-file members across the country will now vote on whether to accept the deal and return to work.
The same day, 25,000 public-school educators with the Chicago Teachers Union began their own large-scale work stoppage, aspiring to repeat their successful strike in 2012. It is likely to draw more coverage in its first few days than the U.A.W.'s received altogether.
The disparity in interest is surprising, given the extent of national hand-wringing over the plight of forgotten blue-collar Americans. Those paying attention know that the G.M. strike was hugely significant. It was the largest American strike since the last, very brief work stoppage at G.M., in 2007, and the longest industry action in over two decades. It has represented both the best and the worst of the labor movement.

When the strike began in mid-September, some workers and industry watchers — and G.M. executives — accused the U.A.W. of calling the strike to distract from a scandal: The F.B.I. and federal prosecutors had recently indicted several current and former leaders of the U.A.W. on charges of embezzling funds or taking kickbacks and bribes. Though the sum total of their alleged crimes hardly compared to the nearly $22 million salary of Mary Barra, the chief executive of G.M., the corruption was shocking.
How could sworn union officers who'd once worked the factory and warehouse floor steal from members? "Walter Reuther is turning over in his grave," a G.M. worker told me this week, referring to the much-admired civil rights activist who was president of the U.A.W. from 1946 to 1970. (I'm a former member of two U.A.W. locals.)
The scandal became an easy talking point for G.M. and anti-union ideologues, who told the workers that the U.A.W. was rotten, that they'd be better off going to work and getting paid than holding up signs on a chilly sidewalk. Workers were rightly enraged by the union officers' self-dealing and theft, not to mention a general lack of accountability in the U.A.W. hierarchy. During the strike, many members complained of how little they were hearing from the bargaining table in Detroit.
Yet their real adversary was clearly the bosses at G.M. The corporation, which earned $8.1 billion in 2018 and was saved by a $50 billion taxpayer bailout during the Great Recession, found it preferable to lose an estimated $1.5 billion in a strike than compromise with the union.
On picket lines around the country, workers made the strike their own. From Wyoming, Mich., to Rochester, N.Y., and Langhorne, Pa., where I attended a "solidarity potluck" Sunday night with U.A.W. Local 2177, G.M. employees and their supporters honed their skills at basic organizing and mutual aid.
In Langhorne, the 85 workers at a G.M. auto parts warehouse, some of whom earn less than $20 per hour, picketed outdoors, day and night, in six-hour shifts. The physical ordeal of it (a month of cold, restless hands) echoed their financial sacrifice (a month of unpaid bills) and shrank various forms of distance.
Robert Tancredi, who was a commercial printer in Philadelphia before joining the G.M. warehouse, told me that before the strike, workers on different shifts hardly knew one another. Nor did they have the time, or motivation, to mull the larger context of their labor: temps and "permalancers," unjust tiers of pay and benefits, automation, overcompensated executives and the elusiveness of "middle class" life.
Mr. Tancredi and his co-workers in Local 2177 debated these ideas, and not only with one another. People from the surrounding community, including young activists with the Democratic Socialists of America, came to the strike line every day to offer moral support, pizza, firewood and groceries for hard-up families. Caravans of fellow unionists, from teachers to construction workers, came too, from as far away as New York, recognizing that the issues being negotiated at G.M. affect us all.
Beyond the final contract, a key measure of the strike's success will be the extent to which U.A.W. members build on the memory of this organizing — to demand more of G.M., to be sure, but also one another and the leaders of the union.
Workers once employed at the Lordstown plant vowed to fight the tentative agreement. Others, less sure, are meeting with their co-workers to go through the proposals carefully. "After five weeks, both sides are ready to end this," Dave Greenhalgh, the union benefits representative for Local 2177, told me.
While interviewing striking workers, I thought about how many of us in media and politics have rehearsed the same refrain since the election of 2016: that manufacturing jobs are the most wholesome, inviolable kind of work, a family-sustaining, career-making, nation-saving platonic ideal of labor.
But the employees on strike at G.M. haven't all had this experience. They operate robots and pick boxes off warehouse shelves. Some are temps and earn just above the minimum wage, while others, having joined the company decades ago, are entitled to someday collect pensions.
All of them know that their wages and benefits and the very fact of their jobs are subject to change. They are threatened by automation and constant offshoring, as well as a corporate structure that — without the union's counterbalance — would move money only upward into executive hands.
Their fight is one that all of us, regardless of the work we do, should claim as our own.