Chile Protests: What Prompted the Unrest?; Eyewitness Report: It's Not 30 pesos, It's 30 Years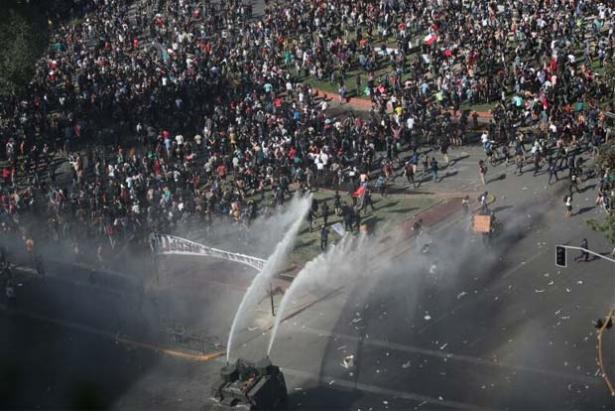 Thatsbharat (India),
Chile Protests: What Prompted the Unrest?
By Charis McGowan
October 23, 2019
Al Jazeera

Santiago - Chile has been gripped by a nationwide movement against high living costs and inequality. President Sebastian Pinera declared a state of emergency on Saturday, with curfews issued in some parts of the country.
The protests have at times turned violent, with clashes between police and protesters. Police have used tear gas, water cannon and rubber bullets.
Looting has also taken place and supermarkets and petrol stations have been set on fire.
So far, at least 18 civilians have been killed, according to officials.
It is the worst violence the country has witnessed since the end of the 17-year-long military dictatorship of Augusto Pinochet in 1990.
Despite the unrest, the majority of protests taking place across the country have seen civilians take to the streets, banging spoons against cooking pots - a form of protest known as cacerolazo - calling for the resignation of Pinera.
As protests continue, Al Jazeera examines the underlying reasons behind the protests in what is considered one of South America's most stable countries.
1. How did the protests start, and who was behind them?
The protests began as a student-led demonstration against transport fares.
In early October, the government announced that the metro rush hour prices would rise by 0.30 pesos ($0.04).
Responding to public outcry against the rising fare, Minister of Economy Juan Andres Fontaine announced that those upset with the price rise could wake up earlier and pay a lower rate.
"When the costs rise, there are not many options," he said at the time.
Outrage grew after the remarks, leading school children to conduct a mass fare evasion by jumping over the metro turnstiles, and, in some instances, destroying them.
"Evade, and not pay, is another way of fighting," they chanted at the time. 
 
According to Victor Villegas, a sociologist at Santiago's Alberto Hurtado University, "it's not a coincidence" that the movement began with high school students because "they have always driven Chilean social movements".
"Since the dictatorship, they have been involved in political movements, and this time again, they again took the baton and started the protests," he said.
As police attempted to stop the students at the stations with force, the protests spilled out into the streets last Friday. 
Metro stations, supermarkets, and petrol stations were burned throughout the night, leading the president to call a state of emergency on Saturday morning.
From then on, a nationwide movement began, seeing people occupy the streets and demanding the president's resignation.
2. Are the protests still about the metro prices?
Anger goes far beyond the cost of transport.
Chileans are also frustrated with the increasing cost of living, as well as low wages and pensions, a lack of education rights, a poor public health system and crippling inequality.
"The 30 cents [$0.04] were just the tip of the iceberg," said Jacinta Urivi, a 29-year-old publicist who has been taken part in the street protests since they began on Saturday.
"We don't have good public health, the salaries are low - there are so many things that act against the people, that they (the politicians) fill their pockets with. I am proud and happy that people are waking up," Urivi told Al Jazeera.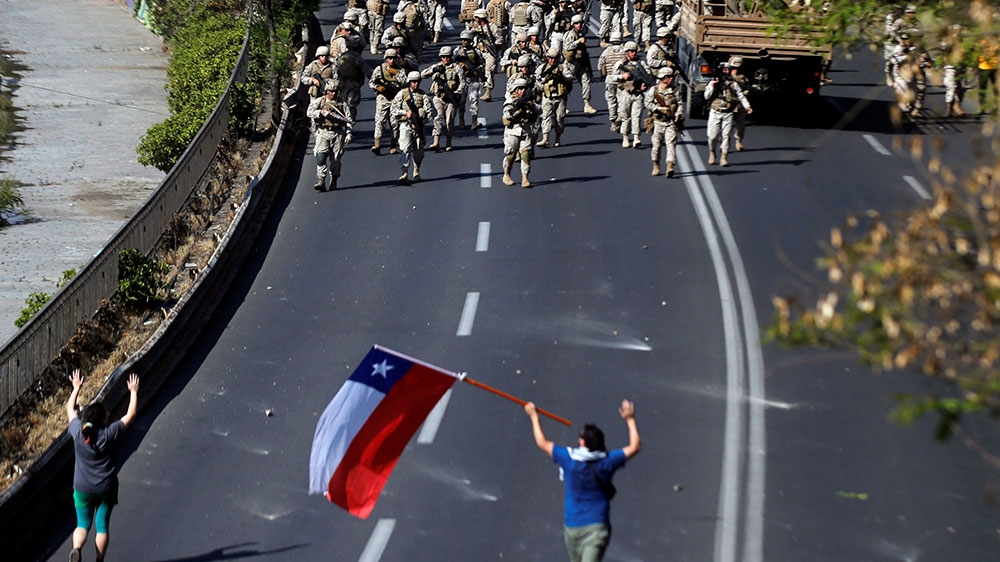 According to Jose Miguel Ahumada, a political economist and associate professor at the University of Chile, the country is "one of the most unequal countries in Latin America". 
"Highly unequal societies invest less in human capital, invest less in education, and produce more social problems," he said. 
On Wednesday, the country's largest union and a number of organisations launched a two-day general strike. 
"THE STRIKE IS ON! We say it loud and clear: enough of the increases and abuses," tweeted the Workers' United Center of Chile (CUT), late on Tuesday. 
The strike came despite Pinera announcing a package social reforms aimed at ending the unrest. 
3. What is the state of emergency?
The state of emergency allows the suspension of certain public liberties, such as allowing free movement and assembly. It is used with the purpose to maintain public order.
It has most commonly been applied in Chilean democracy during the aftermath of natural disasters - the last time was after the 2010 earthquake.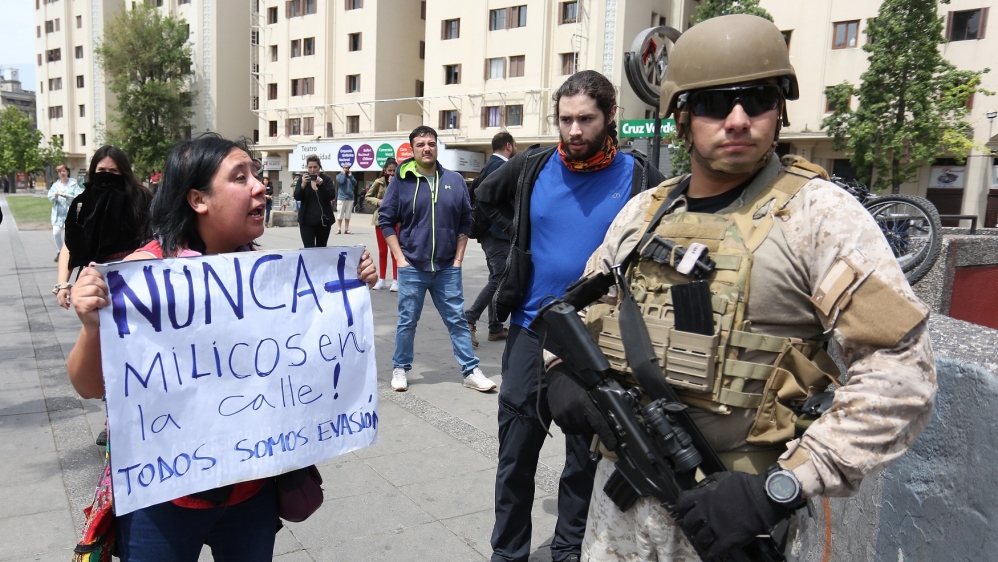 During this time, the military is employed to guard the streets, with generals appointed in every region where the state of emergency is valid.
The generals can make decisions on whether to impose curfews and decide on curfew hours.
Once issued, the state of emergency is valid for 15 days. It is currently operating in several regions of the country.
4. What has been Pinera's response?
Many criticised Pinera's decision to call a state of emergency so quickly, without addressing the public first.
In statements, he justified his decision to put the military on the streets, saying it was to maintain public order against vandals and crime.
On Sunday evening, he said the country was "at war against a powerful enemy, who is willing to use violence without any limits".
He has been accused of framing the situation as a public problem rather than a state one, without addressing the core problems of the unrest.
Late on Tuesday, he announced a package of reforms aimed at ending the unrest. Those reforms included a minimum wage, an increase in the state pension and the stabilisation of the costs of electricity. 
While some welcomed the reforms, others said they did not go far enough. 
5. How many people have died? How many have been arrested?
Official statistics remain questionable.
Videos have surfaced on social media showing the military hitting, shooting, and running over civilians on the street.
Officials have said that 18 people have been killed, including 11 who had died in arson attempts, looting and rioting and two who were killed by military officials.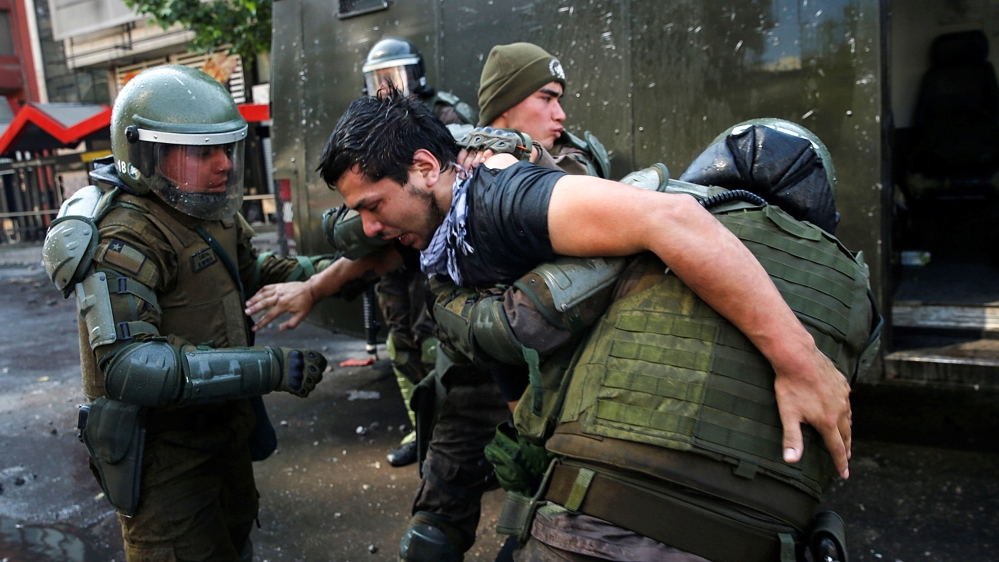 On Monday evening, the National Institute of Human Rights said more than 1,420 civilians had gone to hospital with injuries from the unrest. At least 84 of those had wounds caused by weapons, according to the institute. More than 2,500 had been reportedly detained since the unrest began. 
UN High Commissioner for Human RIghts Michelle Bachelet has called for an independent investigation into the deaths and "disturbing allegations" of excessive force used on protesters. 
On Tuesday, the general in charge of security in the capital Santiago said officials would investigate alleged instances of abuse.
"We are not going to hide anything," General Javier Iturriaga told reporters, according to the Reuters news agency.
6. Is there any sign of the unrest calming?
The government's stance is doing little to quell the unrest, principally blaming civilians for the disorder and justifying military violence.
Many of the protesters are demanding the president's resignation, which does not seem likely in the short term.
Greater reforms for social services will have to be introduced if the government hopes to ease any tensions going forward, according to analysts.
"Chileans feel like they are losing public participation" in political decision making, Villegas, the sociologist, said.
"That they are treated as subjects of consumerism more than people with rights."
[Charis McGowan is a British journalist living in Chile.]
CHILE October 2019 - It's Not 30 pesos, It's 30 Years!
By Daniel Morgan
October 22, 2019
Portside
Friday 18th October
After days of increasing mass fare evasion in the Metro there was a night of anarchistic arson and some looting. A 30 peso fare increase, from 800 to 830 (about US $1.14 to $1.17 - (1)) was the last straw after all the other abuses of this neoliberal economic and social model. The lid has blown off the pressure cooker of discontent. Only the political and economic elite could be surprised. We saw what happened in Ecuador – a social movement could produce change. On Facebook, Twitter etc everyone asked – if they can do it, what about Chile?
Saturday 19th
We've had enough! (Nos Cansamos) - written on burnt Metro stations: inadequate and dear public transport, underfunded public health and public education, miserable pensions, high prices of electricity, water, rents, etc. etc. while the rich get richer and a tax reform will mean they pay nothing or very little. Huge profits for supermarkets, pharmacies, super salaries for members of parliament, massive frauds by top officers in the police and armed forces.
We're tired of the INEQUALITY!
The Metro fare increase was just the trigger to unleash this social explosion.
The pots and pans protests (cacerolazos) last night, and today! There's so much pent-up anger at the system that the anarchists' burning of Metro stations (14) and buses (and Electricity company HQ), instead of braking the movement has only led to more and massive protests. State of Emergency declared, Army in charge of the streets for the first time since the dictatorship. Curfew announced for Santiago, 10pm to 7am. Metro system totally closed for weekend and buses withdrawn from midday in Santiago.
Sunday 20th
Big protests up and down Chile and also increasing looting of supermarkets and pharmacies, two of the big sources of wealth for the few. State of Emergency in five of the 13 regions. Government spokeswoman decrying the violence but saying of course there is the right to protest peacefully while many peaceful protests are broken up and tear gassed by the police and/or armed forces. Many supermarkets and pharmacies, sources of great wealth for the few, were looted by 'mobs'. This also shows the tremendous alienation in Chilean society, the sympathy for anarchistic actions. In fact many young people sympathize with anarchist ideas, and the almost synchronized firebombings of many Metro stations show the existence of many organized anarchist groups.
Monday 21st
More and more protests, hundreds of arrests for defying the curfews imposed in most large cities now.
Here in Villarrica, population 50 thousand in the whole 'comuna', over 500 in more than one demonstration, and this is repeated in even the smallest towns in the region.
Tuesday 22nd
Even bigger demonstrations, extending even to the richest area in Santiago, similar to Hampstead Garden Suburb, where less than 1% of the population live. Curfews imposed on most big cities.
Piñera invites leaders of some parties, not all and not social movements to a meeting. Several refuse to attend because of these omissions. Also, his promises are worthless – his track record is abysmal.
Political proposals start to emerge. The CUT, the principal trade union centre (Central Unitario de Trabajadores) convened a Social Unity Round Table (Mesa por el Diálogo) along with other union organizations, the movement against the pension system (totally private), feminists plus university and secondary students, and all opposition political parties. After these meetings the alliance of the Communist, Progressive and Regional Green parties (Unidad por el Cambio) has just released a programme of 8 points for immediate action, to be put to the people, along with the need for a new constitution.
Chile has changed – even the richest man in Chile, the mining magnate Andronico Luksic admits this in a leaked audio recording full of hatred and bile. He feels his privileges threatened. The people have woken up and their anger is also palpable. What will follow? Some immediate improvements for people's lives, at least seems sure. Great leadership will be needed for more long-term and fundamental change. That will be difficult, as the traditional parties are all discredited by political corruption, apart from the Communists, and anti-communism is still very strong. The newer parties and movements are still new, lack experience and theory and have not yet won popular confidence.
Meanwhile, there are more than 90 people with gunshot wounds so far, and close to 20 deaths, several due to military force. It is urgent to take the military off the streets.
Dan Morgan,
Chile, 22 October 2019.
(1) For a family of two adults and one secondary student, estimated monthly spend on public transport in Santiago for 25 days, is 93 thousand pesos (about 130 dollars). For socio-economic group C2, this is 7% of median earnings. For group C3 it's 10%, for group D 17% and group E 29%.