labor
President of Major U.S. Union Accused of Sexual Harassment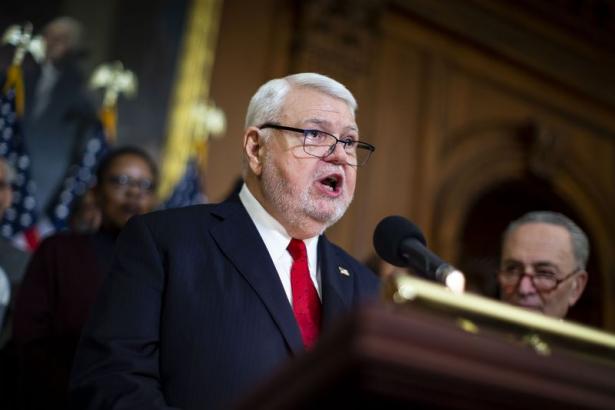 J. David Cox, national president of the American Federation of Government Employees (AFGE), speaking during a news conference on Jan. 9, 2019, about the partial government shutdown and furloughed federal workers., AL DRAGO/BLOOMBERG
In April 2017, Brett Copeland was weeks into a new role at the largest U.S. federal employee union when, he says, the head of the union, J. David Cox, repeatedly told him he loved him. Then he stuck his tongue in Copeland's ear.
The two were in Palm Springs, Calif., for a meeting, making their way back to their hotel after running into each other at a bar, when the 66-year-old president of the American Federation of Government Employees urged his newly promoted 31-year-old communications director to come have a drink in his room. Cox invited Copeland to check out his Jacuzzi. He declared his love again and again.
As they neared the hotel, Cox leaned in for a hug. That's when he licked Copeland's ear. "It was embarrassing, and it was disgusting, and it was kind of unbelievable that it happened," Copeland says. Cox's secretary, Rocky Kabir, was with them. He says he was too far away to see a lick, but saw the hug and earlier interactions, including Cox placing his hand on Copeland's shoulder while the communications director was urinating.

Copeland resigned the day after he got back to Washington. "I really love the union, I believe in the mission," he says. "But I cannot imagine ever having to work with him again."
Copeland is one of 10 men and women Bloomberg News talked to who describe witnessing or experiencing inappropriate conduct by Cox while working for AFGE, the union that represents 700,000 workers at dozens of federal and District of Columbia government agencies. Current and former employees say Cox made inappropriate comments about subordinates' bodies, invited a secretary to shower with him, and suggested he was aroused around colleagues. They say his behavior has driven away talented employees, violated labor's values, and undermined the union's mission.
Cox denies the allegations, AFGE said in a statement. He will take a leave of absence while the allegations are investigated, the union said. 
"It is my life's work to lift up my sisters and brothers in the workplace and I am truly sorry if I ever made anyone feel uncomfortable by my words or actions," Cox said in his own emailed statement. "That was never my intention." He added that he "cannot abide lies and scurrilous, politically-motivated attacks" and that he trusts the investigation to "sort the fact from fiction."
"AFGE takes these allegations very seriously," the union said in its statement. "These allegations, if true, are utterly contrary to AFGE's mission and values." The union said that "in light of the extent and seriousness of these allegations, AFGE has opened an investigation into each of them and will swiftly take whatever action may be appropriate upon that investigation's completion." According to AFGE, after the union received an inquiry from Bloomberg News, Cox ordered the investigation and simultaneously recused himself from it. To ensure that the investigation is "fair, impartial, free of bias and listens to the accusers," AFGE on Monday said a committee of the union's executive council "elected to refer the matter to an outside investigator," who will be chosen soon.
Cox informed the union's executive council Sunday of his leave of absence, which he said in his statement he's taking "so as not to serve as a distraction and to ensure there is no question about the integrity of the process." AFGE National Secretary-Treasurer Everett Kelley will perform Cox's duties while he's gone.
The allegations make Cox, who last year was elected to a third three-year term, the most prominent labor leader to be publicly accused of sexual misconduct in the last several years. In 2017 the AFL-CIO's chief budget officer resigned after Bloomberg News inquired about allegations that he pressured a secretary to have sex with him, and several Service Employees International Union staff were terminated or resigned amid an investigation into ethics violations, "abusive behavior," and sexual misconduct. Cox is a member of the AFL-CIO Executive Council and chairs the federation's professional employees department.
The AFL-CIO didn't provide comment in response to an inquiry about Cox. In a speech last year on sexual harassment, AFL-CIO President Richard Trumka noted that the federation adopted a comprehensive code of conduct in March 2017 that's now read aloud at all AFL-CIO events.
Unions, which champion worker rights and safety, have been slow to tackle harassment issues in their own ranks, says Ana Avendaño, a former associate general counsel at the AFL-CIO. "The culture of 'boys will be boys,' 'we have to protect our own,' 'we have to be loyal'—that remains the predominant culture," says Avendaño, who's now an independent consultant to organizations on anti-harassment policy. "If the labor movement isn't going to lead on this issue, who is?"
Kabir says that during the year and a half he worked as Cox's secretary, the AFGE president urged him to shower with him, told him he should be more open-minded about trying sex with men, and frequently touched or reached for Kabir's face. Copeland and someone else who worked under contract for AFGE both say they witnessed Cox being verbally abusive towards Kabir.
Kabir says he rebuffed Cox by cursing at him and focusing on his work, but the advances would resume within weeks. "Labor unions do a lot of good work; my beef is with Cox and his harassment," says Kabir, who resigned in 2018. "These are the times when people have got to understand that they can stand up for themselves. There's no reason to be quiet."
Staff say Cox's conduct was well-known within the union. "It was the worst-kept secret at AFGE," says Bre Andrews, a former political organizer there. In front of co-workers, Cox suggested that being photographed with his arms around two female staffers was a turn-on, according to former employees. He also allegedly asked male staffers whether they shaved their crotches. One of AFGE's former vice presidents, Jane Nygaard, says Cox commented on the size of her breasts in front of fellow AFGE officers. "Sometimes when people get in a position of power, they think they can do whatever they want," she says.
Attempts to raise the issue internally had little effect, current and former employees say. One recalls referencing concerns about Cox's behavior during a conversation with a union vice president, who responded by covering both ears to signal the discussion was over.
Some who've worked at AFGE say they hesitated to speak out, afraid of retaliation or hurting the union's reputation. AFGE has grappled with a series of challenges since President Trump took office, including a monthlong government shutdown that halted members' pay and new executive orders meant to hasten the process of firing federal employees and limit what they can bargain over.
Within days of resigning, Copeland shared his allegations with AFGE's deputy chief of staff, Cory Bythrow, and its general counsel, David Borer. The general counsel told Copeland that if he wanted a formal investigation, it would require notifying the union's executive council, according to notes Copeland took after twice meeting with Borer. Copeland says he didn't want to do that because it sounded "very public and intimidating." He also says he didn't want to hand ammunition to Republicans eager to discredit AFGE and other unions.
Borer didn't respond to emailed inquiries; Bythrow referred questions to AFGE.
AFGE said in a statement that in 2017, Borer conducted a "prompt investigation," during which he interviewed Copeland and Cox, who denied the allegations. Cox's then-secretary Kabir says he was never asked by Borer about what he witnessed in Palm Springs; AFGE says that's because he "was not close enough at the time to witness the events in question."
Copeland was "given the opportunity to file a formal complaint after raising his allegations, but he chose not to do so," AFGE said. Copeland says Borer promised him that nothing like what he experienced would happen again. "It felt like I was protecting the union by not pushing forward," Copeland says. "But in retrospect, it seems like I was protecting him—or that's how it turned out."
AFGE said its general counsel's office conducted a training for the union's executive council on topics including sexual harassment after Copeland initially shared his allegations in 2017. The union also said it has a "robust anti-discrimination and anti-harassment policy" that it shares with employees over email and that can be accessed by them any time online. Following the latest allegations, the union said it will communicate that policy to them again to "ensure each employee understands the policy and the avenues available to them to address such behavior."
While Copeland still sees AFGE's work as "critical," last year he moved back to Iowa where he grew up. He now works as the director of a nonprofit called the Veterans Healthcare Policy Institute and chairs his county Democratic Party chapter.
His experience with Cox shook his confidence, he says. "It's a lot of questioning: Was I chosen because I was a cute dude he wanted to feel up? Is every organization like this?" he says. "All of this work that I did, what does it matter?"