Media Bits and Bytes - December 3, 2019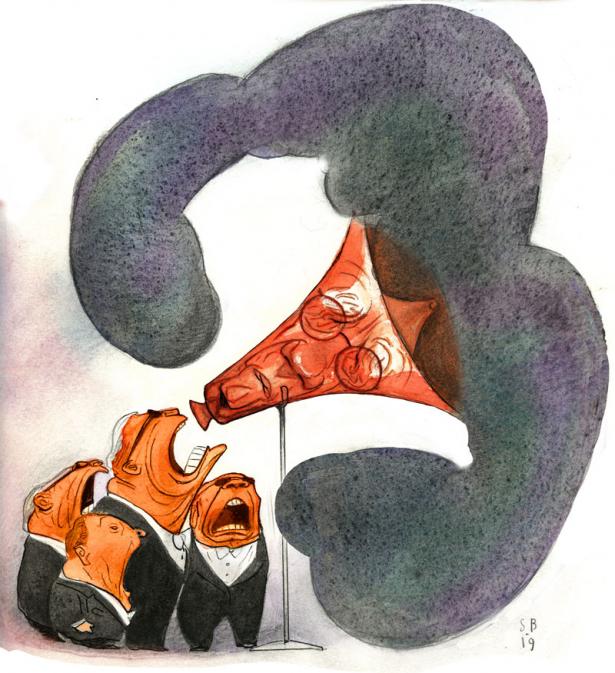 Rupert Murdoch by Steve Brodner,Columbia Journalism Review
When a Media Mogul Runs For President
By Matt Taibbi
November 25, 2019
Rolling Stone
Bloomberg News suffered a major disruption. The episode predicts the future of the news business, and the death of the news business. After Mike Bloomberg formally entered the race for the Democratic presidential nomination, Bloomberg agency Editor-in-Chief John Micklethwait told staff it would not "investigate" either his owner and boss, or any of his boss's Democratic opponents.
How UK Press Covers Tories vs. Labour
By Lizzy Buchan
December 3, 2019
The Independent
British newspapers' attacks on Labour have intensified while Tories continue to get positive coverage, a study finds. Jeremy Corbyn's party met with deepening hostility while Tories lose shine as the election campaign enters its end stages.
By Kate Cox
November 26, 2019
Ars Technica
Tensions between Google parent company Alphabet and its workers are again on the rise, as four employees at the forefront of an organization movement within Google have been fired. The firings came in the wake of an employee rally at Google's San Francisco office. 
By Pooya Stone
December 1, 2019
Iran Focus
Iranian authorities apparently began reconnecting much of the country's internet on Friday, one week after the outbreak of anti-government protests. 
By Lizzie O'Shea
December 1, 2019
Jacobin
As data-mining companies and government decision-making edge ever closer, it is not just our digital privacy that's at risk, but our very capacity to organize in solidarity.
By Allen St. John
November 26, 2019
Consumer Reports
The Consumer Online Privacy Rights Act, or COPRA, could expand individual rights when it comes to how all sorts of personal data is collected, shared, and used. It would require companies to collect as little information as possible about consumers, require explicit consent when sharing consumer data with third parties, and make companies responsible for correcting or deleting inaccurate information.
By Elliot Harmon
November 22, 2019
Electronic Frontier Foundation
The Public Interest Registry (PIR)—the organization that manages the .ORG top-level domain— is to be sold to private equity firm Ethos Capital. .ORG is extremely important to the non-governmental organization (NGO) community, and our community should have a voice in decisions affecting the future of .ORG.
By Daria Solovieva
December 2, 2019
Karma
China is moving to regulate deepfake video and audio content, applying a strong-armed approach to an increasingly pervasive issue that other countries have struggled to control.
Cartoon Gallery: The Disinfo Kings
By Sam Thielman
Fall 2019
Columbia Journalism Review
Steve Brodner illustrates some of the worst offenders in the disinformation world.