Reporters Face New Threats From the Governments They Cover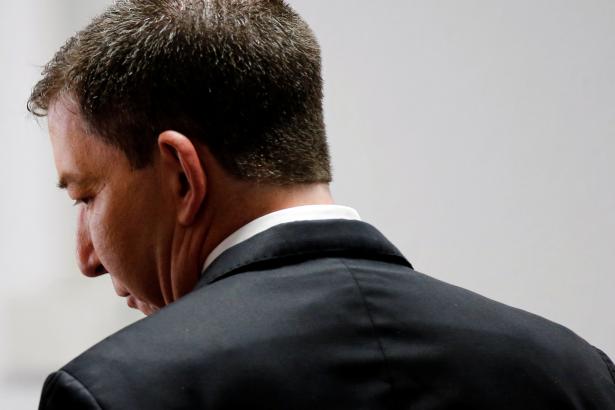 Glenn Greenwald is an American journalist working in Brazil.,Credit: Adriano Machado/Reuters // The New York Times
When Julian Assange, the WikiLeaks founder, was charged last year by the Trump administration in connection with the publication of secret United States government documents nearly a decade earlier, many journalists expressed deep concern about the dangerous precedent the case could set for investigative reporting in America.
But few seemed to consider that the case might also serve as a model for other nations eager to clamp down on press freedom.
On Tuesday, Glenn Greenwald, an American journalist living and working in Brazil, was charged, in a criminal complaint brought by Brazilian prosecutors, with cybercrimes in connection with his stories on private messages among Brazilian officials that revealed corruption and abuses at the highest levels of the government. Brazilian prosecutors asserted that Mr. Greenwald was part of a criminal organization that hacked the cellphones of government officials. He has denied the charges. (Full disclosure: Mr. Greenwald is a co-founder of The Intercept, where I work as a reporter; I also run the First Look Press Freedom Defense Fund, part of the nonprofit organization that includes The Intercept.)

The case against Mr. Greenwald is eerily similar to the Trump administration's case against Mr. Assange. Last April, the Justice Department charged Mr. Assange with aiding a source, the former Army intelligence analyst Chelsea Manning, to gain access to a United States military computer database. In May 2019, the charges against him were broadened, and he was indicted under the Espionage Act in connection with the publication of American military and diplomatic documents by WikiLeaks.
Both cases are based in part on a new prosecutorial concept — that journalism can be proved to be a crime through a focus on interactions between reporters and their sources. Prosecutors are now scrutinizing the processes by which sources obtain classified or private information and then provide it to journalists. Since those interactions today are largely electronic, prosecutors are seeking to criminalize journalism by turning to anti-hacking laws to implicate reporters in the purported criminal activity of their sources in gaining access to data on computers or cellphones without authorization.
This blunt approach gives the government enormous leverage over journalists and, in the United States, provides them with a detour around First Amendment concerns. If these cases become templates that prosecutors in the United States and other nations follow, virtually every investigative reporter will become vulnerable to criminal charges and imprisonment.
Both the Trump administration and the right-wing Brazilian government of President Jair Bolsonaro seem to have decided to experiment with such draconian anti-press tactics by trying them out first on aggressive and disagreeable figures.
In fact, by the time of his indictment last year, there was still an ongoing debate within the media about whether Mr. Assange should even be considered a journalist at all.
In 2010, when WikiLeaks began publishing the huge leaks of United States government documents it had obtained from Ms. Manning, Mr. Assange suddenly emerged as a strange new player in the modern journalistic landscape. Under his leadership, WikiLeaks both published the documents itself and also shared many of the leaked documents with other major news organizations, including The New York Times.
Mr. Assange was both a publisher and an intermediary between sources and reporters, which made it difficult to define his journalistic role. His later involvement in the Trump-Russia case — in 2016, WikiLeaks obtained and released emails and other documents from the Clinton presidential campaign and the Democratic National Committee from a hacker believed to be a front for Russian intelligence — transformed Mr. Assange into an even more incendiary character with little public support. (The federal charges against Mr. Assange are not related to his involvement in the 2016 campaign.)
Mr. Greenwald revels in his divisiveness and his disdain for the mainstream media, and he and I have publicly clashed over our differing views of the Trump-Russia case. But he is also a zealous journalist who came to prominence in 2013 for his Pulitzer Prize-winning coverage of a giant trove of documents from the National Security Agency that were leaked by the former N.S.A. contractor Edward Snowden.
Last year, Mr. Greenwald obtained another big leak, the private messages of Brazilian government officials concerning a major corruption case in Brazil that had led to the conviction of the former Brazilian president Luiz Inácio Lula da Silva.
Mr. Greenwald's reporting revealed that the investigation that led to Mr. da Silva's conviction was deeply politicized and corrupt. The stories were explosive in Brazil, and ultimately helped lead to Mr. da Silva's release from prison in November.
But Mr. Greenwald's reporting enraged President Bolsonaro, who had been leveling threats against the journalist for months before the complaint issued on Tuesday.
In an interview with me on Thursday, Mr. Greenwald agreed that there are parallels between his case and Mr. Assange's, and added that he doesn't believe that Mr. Bolsonaro would have taken action against an American journalist if he had thought President Trump would oppose it.
"Bolsonaro worships Trump, and the Bolsonaro government is taking the signal from Trump that this kind of behavior is acceptable," he said.
The State Department has not issued any statement of concern about Brazil's case against Mr. Greenwald, which in past administrations would have been common practice.
"This is all about targeting reporters who are publishing information that is embarrassing, and not like the 90 percent of the leaks coming out of Washington that are official leaks designed to support the people in power," said Joshua Dratel, a criminal defense attorney in New York who has represented prominent whistle blowers and who also represented WikiLeaks in a civil suit brought against it by the Democratic National Committee.
In fact, Mr. Trump's anti-press rhetoric and actions have encouraged authoritarian regimes around the world to prosecute and jail journalists, and to impose new anti-press laws and other measures designed to curtail negative coverage.
Joel Simon, the executive director of the Committee to Protect Journalists, said in an interview that one of the latest tactics spreading around the globe is the creation of vaguely worded "fake news" laws that criminalize news that government officials deem to be wrong. "Fake news" is, of course, a phrase that Mr. Trump has helped popularize.
"Qatar just promulgated a fake news law this week," Mr. Simon said, noting that Singapore also has one. "These fake news laws are absolutely correlated with the Trump administration."
The most tragic evidence that Mr. Trump is enabling a global crackdown on the press has been his failure to hold Saudi Arabia's leader, Crown Prince Mohammed bin Salman, accountable for the brutal 2018 murder of the Washington Post journalist Jamal Khashoggi. "The Trump administration is an accessory after the fact to the Khashoggi murder," Mr. Simon said.
While the Bush and Obama administrations were "inconsistent" on press issues, "they were still willing to discuss concerns about press freedom with another country in the framework of the bilateral relationship," he added. "That's gone now with Trump."
It will be tragic if journalists shrug off the attack on the contrarian Mr. Greenwald and don't see his case for what it truly signifies — that Trump-like attacks on the press are spreading like a virus around the globe.
[James Risen is the senior national security correspondent for The Intercept. As a reporter for The New York Times, he and another former Times reporter, Eric Lichtblau, received the 2006 Pulitzer Prize for national reporting on secret domestic eavesdropping by the federal government.]