labor
Pittsburgh AFL-CIO Opposes 1st Black Woman State Rep from Western PA for Re-Election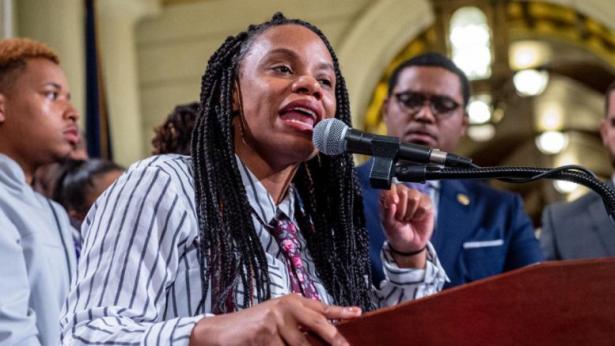 Summer Lee,photo courtesy of PA House Democrats
This weekend, the Pittsburgh-based Allegheny-Fayette Central Labor Council voted to oppose the re-election of PA State Representative Summer Lee, the first black woman elected to the State House from Western PA. 
Instead, they endorsed her primary opponent, Chris Roland, a white North Braddock councilman who supports fracking. 
Despite being a socialist and well-regarded champion of workers' rights who has garnered endorsements from SEIU and United Electrical Workers (UE), Lee is facing massive financial opposition from unions in a re-election bid, who see the 32-year-old Lee's organizing capabilities as a threat to labor's old guard. 

Lee is the only incumbent, who failed to gain the labor council's endorsement. 
Many see the opposition to Lee as another sign of racism that has long been prevalent within the white-male dominated leadership of construction and manufacturing unions in Western Pennsylvania. 
"Black women are suppose to be quiet and go along with the flow, don't rock the boat, and that's not the type that Summer is," says Lou Berry, a long-time African-American community activist. 
Organized labor in Western PA is spending unprecedented amounts to defeat her. 
Her opponent, pro-fracking North Braddock councilman Chris Roland, has already raised $77,635, with 87% of his donations coming from local unions. Steamfitters Local 449 and the Laborers have both given $20,000 to her opponent while the local IBEW and Plumbers locals each gave $10,000 each. 
Anticipating a likely challenge from pro-fossil fuels interests, Lee already has $55,789 on hand to fight off Roland's challenge. 
Lee has drawn the opposition from many of the old-guard conservative unions in the region in large part because of her outspoken calls for a Green New Deal and crackdown on illegal air emissions from steel mills.
As a result of repeated Clean Air Act violations by U.S. Steel, which the Steelworkers union have actively helped the company to cover up, Pittsburgh being ranked perennially as having the worst air quality on the East Coast. (See our story of one violate incident from last year "Steelworkers Heckle Black State Rep at Air Quality Crisis Hearing") 
Lee has also helped found a new political action organization, UNITE, which has successfully defeated several local labor-backed Democratic incumbents seen as friendly to the fossil fuel industry.
Most notably, UNITE helped to lead the effort to defeat Allegheny County Council President John DeFazio, who had been the pro-fracking long-time director of the Steelworkers in Pennsylvania. Instead, electing 30-year-old Bethany Hallam, an opponent of expanded fossil fuel production, who beat the leader of labor's old guard Defazio by a margin of 54%-46%. 
Lee has also vigorously fought against an effort to frack on U.S. Steel's property in Braddock, where she grew up and represents in the State House. 
"These neighborhoods are already plagued by decades of violative industry practices that have caused some of the highest childhood asthma rates in the country, according to numerous medical reports. Fracking would present an additional environmental stressor for these communities to deal with," wrote Lee in a letter opposing a fracking permit last year. 
While the population of Braddock is 66% African-American, very few of the construction workers employed in building the fracking well are likely to be African-American. Less than 10% of Pittsburgh's construction workers are African-Americans in a city that is 26% African-American. 
"They always wanna put this stuff down here, where all these poor and black people are," says Braddock native Lou Berry. "I think they look at us as a disposable population." 
The endorsement of Lee's opponent strains already tense relationships between the African-American community and the traditional conservative building trades and manufacturing unions in Pittsburgh, which have long underrepresented African-Americans in their ranks.
Allegheny-Fayette County Labor Council President Darrin Kelly did not respond to a request for comment on what his labor council's opposition to Lee's re-election says about environmental racism in Pittsburgh. 
Kelly has long been a conservative opponent of the Green New Deal, claiming it would take away fossil fuel jobs from Western PA. 
"When you have a situation where you are taking away from someone's ability to feed their family that is not going to be looked at favorably," Kelly said in an interview with Payday last April. "I am going to be against it; I'm going to be vocal against it and not welcome it in Western Pennsylvania."
Many political observers think it's unlikely that the labor-backed, pro-fracking Roland will be able to beat her given Lee's popularity in her district; In 2018, Lee beat a 20-year incumbent State Representative Paul Costa by a margin of 68-32%.
Instead, many say that it appears that organized labor is trying to keep Lee from fundraising more heavily for UNITE and getting more heavily involved in taking on other pro-fracking Democrats. 
Summer Lee doesn't appear to be sweating it, though. 
"Sustained attempts to center and build power in communities like mine have been difficult," says Lee. "If there was no tension with those who are currently comfortable in power, then I'd be concerned that we weren't moving in the right direction." 
A protege of the late William Greider, Mike Elk is a Sidney award winning labor reporter and the founder of Payday Report. He worked extensively as a correspondent for The Guardian. In 2016, he used his $70,000 NLRB settlement from being fired in the union drive at Politico to start the crowd-funded Payday Report while living in Chattanooga. He now lives in his hometown of Pittsburgh. Melk@PaydayReport.com
(Full Disclosure: My father Gene Elk is the elected Director of Organization of the United Electrical Workers (UE), which has endorsed Summer Lee's campaign. Representative Lee and I both attended Woodland Hills High School together, while it was still under federal desegregation orders in the early 2000s). 
---
Support our work! Become a dues-paying reader by pledging at least $3/month or $36/year here. Subscribe to our weekly Payday Lunch Pail newsletter, focused on labor in news deserts, here.