Global Left Midweek - International Women's Day 2020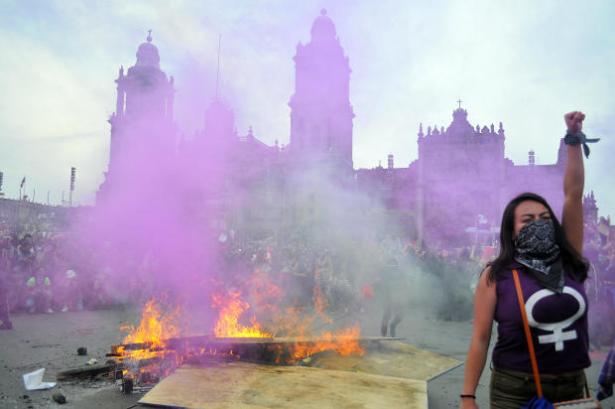 Women take part in a protest during the International Women's Day, in Mexico City, on March 8, 2020,credit: Getty Images
Women of Struggle, Women in Struggle
Tricontinental: Institute for Social Research (Northampton MA)

An introductory analysis of women's struggles in the Global South, identifying their key characteristics.
__________
International Women's Day 2020: Protests and Celebrations
Report   Almudena Calatrava and Debora Rey / AP (New York)
Photos  CBS News (New York)
__________
Mexico - Day of Absence
Emily Green / Vice (New York)
The strike was a historic show of force by women tired of what they say is a machismo culture that has for decades turned a blind eye to the violence they suffer simply for being a woman. It rested on a simple idea: Women could show their power by doing nothing.
__________
Sex Workers Strike
Frankie Miren / The I (London)
This International Women's Day, the International Committee on the Rights of Sex Workers in Europe (ICRSE) is launching a campaign in support of sex workers' grassroots activism across Europe – from Norway to Romania, Germany to Ukraine.
__________
South Africa: Domestic Workers Go To Court
Sumeya Gasa / Daily Maverick (Johannesburg)
The South African Domestic Service and Allied Workers Union and other activist organisations asked the Constitutional Court to confirm a High Court ruling which affirmed domestic workers' rights.
__________
Video - Chile/Canada: Un violador en tu camino / A Rapist In Your Path
Socialist Project (Toronto)
The poem/performance that is sweeping the world.
__________
Legacy - Rafael Cancel Miranda
Edmund H. Mahony / Hartford Courant
The last survivor among four radical, Puerto Rican Independentistas who shot up the U.S. Capitol in 1954, died at his home in the capital of San Juan earlier this week, a day short of the 66th anniversary of the attack intended to strike a blow for the island's independence.
___________
India: The Daily Resistance at Shaheen Bagh
Mustapha Quraishi and Appu Ajith / The Caravan (Delhi)
The Delhi neighbourhood of Shaheen Bagh has been the site of an ongoing women-led sit-in protest against the Citizenship (Amendment) Act since mid-December.
__________
Thailand: Students for a Democratic Society
Prachatai (Bangkok)
Student demonstrations have broken out in universities across the country since the dissolution of the Future Forward Party on February 21.