How Racist Is Trump's Republican Party?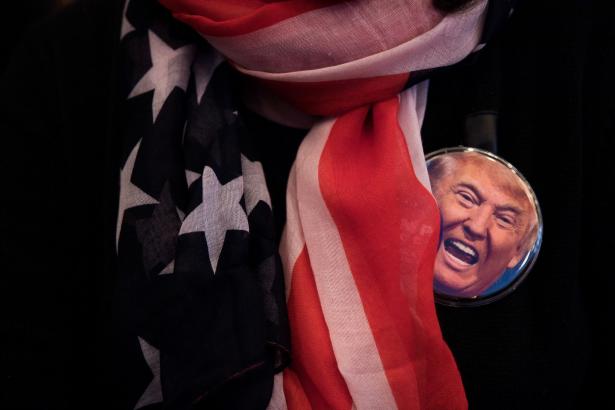 , Damon Winter/The New York Times
Is the modern Republican Party built on race prejudice, otherwise known as racism?
Has it become, as Stuart Stevens — a media consultant with an exceptionally high win-loss record who was a lead strategist for George W. Bush in 2000 and 2004 — puts it, the "white grievance party"?
Stevens has impeccable Republican credentials. In addition to Bush, his clients have included Mitt Romney and other current and former senators — Roger Wicker, Roy Blunt, Chuck Grassley, Rob Portman, Thad Cochran, Dick Lugar, Jon Kyl, Mel Martinez and Dan Coats — and current and former governors: Larry Hogan, Haley Barbour, Bill Weld, Tom Ridge and Bob Riley.
Nonetheless, Stevens's forthcoming book, "It Was All A Lie," makes the case that President Trump is the natural outcome of a long chain of events going back to the 1964 election when Barry Goldwater ran for president as an opponent of the Civil Right Act passed earlier that year.
"As much as I'd love to go to bed at night reassuring myself that Donald Trump was some freak product of the system — a 'black swan,'" Stevens writes, "I can't do it":
I can't keep lying to myself to ward off the depressing reality that I had been lying to myself for decades. There is nothing strange or unexpected about Donald Trump. He is the logical conclusion of what the Republican Party became over the last fifty or so years, a natural product of the seeds of race, self-deception, and anger that became the essence of the Republican Party. Trump isn't an aberration of the Republican Party; he is the Republican Party in a purified form.
"I have no one to blame but myself," he declares on the first page. "What I missed was one simple reality: it was all a lie."
What were the lies? That the Republican Party "espoused a core set of values: character counts, personal responsibility, strong on Russia, the national debt actually mattered, immigration made America great, a big-tent party."
And what is the truth? The Republican Party is "just a white grievance party."
Race, Stevens writes,
has defined the modern Republican Party. After Goldwater carried only southern states and received a record low of 7 percent of the black vote, the party faced a basic choice: do what was necessary to appeal to more nonwhite voters, or build a party to win with white voters. It chose the latter, and when most successfully executed, a race-based strategy was the foundation of many of the Republican Party's biggest victories, from Nixon to Trump.
In fact, Stevens told me, "race is the original sin of the modern Republican Party:"
With Trump, the Party has grown comfortable as a white grievance party. Is that racist? Yes, I think it is. Are 63 million plus people who supported Trump racist? No, absolutely not. But to support Trump is to make peace with white grievance and hate.
Stevens's comment demonstrates the difficulty many analysts have pinning down the meaning of racism and the distinction — if there is one — between being a racist and voting for a racist. To further examine this complexity, I questioned a range of experts.
Darren Davis is a political scientist at Notre Dame and a co-author, with David C. Wilson, a political scientist at the University of Delaware, of "Re-examining Racial Resentment: Conceptualization and Content" and "Racial Resentment and Targeted Anger at Barack Obama and the Federal Government." In 2017, Davis delivered a lecture at Washington University in St Louis, "The Continuing Significance of Old Fashioned Racism: Skin Color & Implicit Racial Attitudes Among Survey Interviewers."
In an email, Davis offered a succinct definition of racism and racist:
I define racism as an attitude or a belief that stems from hatred or anti-black affect. Therefore, a racist is a person who is motivated by hatred or beliefs about the inferiority of African Americans.
Chloe Thurston, a political scientist at Northwestern and the author of "Black Lives Matter, American political development, and the politics of visibility," wrote that
racism, very loosely defined, is an ideology whereby racial groups are organized according to a hierarchy, and members of these groups are often thought to have immutable traits based on their group membership.
Eric Kaufmann, a political scientist at the University of London and the author of "Whiteshift: Populism, Immigration, and the Future of White Majorities," voiced similar caution, noting in an email that racism must "be defined rigorously."
He suggested a fourfold definition:
"Attitudes or behavior that assert that one race is superior to another, or that is intended to promote fear, anger or hatred toward a racial group." "Favoritism that results in denial of equal treatment under the law to people with regard to race." "Race essentialism: the belief that races have biologically sharp boundaries; a belief in racial purity"; along with "structural racism: institutional practices put in place for racist reasons which have not been modified" and "where non-racist people behave in a racist way to fit into an institutional norm/peer pressure which applauds racism."
LaFleur Stephens-Dougan, a political scientist at Princeton and the author of "Race to the Bottom: How Racial Appeals Work in American Politics," wrote me in an email:
Most Americans have a distorted definition of racism. We think of racism as person-to-person acts of prejudice — like using a slur. Such behavior is racist, but racism is far more than that. We have baked racism into our political institutions and economic systems.
It is important, Stephens-Dougan argues, to ask people why they think black and Latino neighborhoods struggle with poor school and higher levels of crime. "If one's answer," she continued, "is that those neighborhoods are under-resourced because blacks and Latinos are less smart, less hardworking or less disciplined, etc., then that answer is racist."
Ryan Enos, a political scientist at Harvard, applies what he calls the " 'Golden Rule of Intergroup Relations' — which means that if you would be upset if somebody did something to or said something about your own group, then it is bigotry if you say it about or do it to another group."
Ashley Jardina, a political scientist at Duke and the author of "White Identity Politics," put it this way:
The use of these terms is complicated, messy, and without consensus. There are a number of important distinctions we can make. We think of 'racial prejudice' as an individual-level sense of hostility, animus, set of negative stereotypes, or other negative attitudes that one person has toward members of a group by way of their race. We refer to a person as racist when they have some degree of racial prejudice. For most Americans, this is generally what they think of when they hear the term racism or racist. A racist is a person who uses racial slurs directed at racial out-groups and thinks their own racial group is superior.
Let's turn back to Darren Davis of Notre Dame. I asked Davis and other scholars whether Asian-American protests in New York City against the potential elimination of entrance exams as the sole determinant of entry into selective high schools like Stuyvesant or Bronx Science were racist. Likewise, is the opposition of well off suburbanites to affordable housing in their neighborhoods racist? Is the number of African-Americans in prison evidence of racism? And is white opposition to the decarceration movement, or to the prison abolition movement, racist?
Davis stresses that, in his view, "not all racialized behavior and expressions stem from racial hatred or hating African Americans." He is cautious in his wording:
Ordinary citizens, without being racists themselves, may do and say things that are consistent with a racist ideology. It does not make the outcomes any less egregious or harmful. For instance, Asian-Americans protesting NYC school proposals is not necessarily racist in my opinion because I can see other motivations driving the support for higher standards — not just beliefs about the inferiority of others.
Davis argues that the debate has become clouded, that even though individual and group motives may not be racist, the outcomes achieved can be identical to the ones that racists would seek:
My overall point is that we have forgotten what racism means. In doing so, we have focused attention on bigots and white nationalists and not held ordinary citizens accountable for beliefs that achieve the same ends.
Chloe Thurston, in turn, cited as specific examples
President Trump's or Steve King's comments about certain types of immigrants being unassimilable or not sufficiently American and suggesting that other (e.g. white) immigrants do not have those characteristics.
While both Trump and King, an anti-immigrant congressman from Iowa, "balk at the label 'racist,' she continued, "it is descriptively accurate and necessary from the standpoint of keeping track of the role and uses of racism in American society and politics."
Like Davis, Thurston sought to address "the more difficult question" of "when it is legitimate to use that label for everyday behaviors."
Her answer:
People can participate in and perpetuate racist systems without necessarily subscribing to those beliefs. People can recognize something they participate in or contribute to as racist but decide it's not disqualifying. And people can design racist policies and systems. These are distinctive manifestations of racism but not all of them require us to know whether a person is expressly motivated by racism.
Cindy Kam — a political scientist at Vanderbilt, and a co-author with Camille Burge, a political scientist at Villanova, of "Uncovering Reactions to the Racial Resentment Scale Across the Racial Divide" — added another element to the discussion: wariness about how the word is used in political and policy debates:
As a social scientist, I would entertain the possibility that people's actions are guided by a variety of motivations, potentially including racial considerations but also values (i.e., a commitment to a free market; egalitarianism; moral conservatism); economic considerations; self-interest (concerns about my child's ability to get into a high school or my child's commute to a faraway school), or even factual beliefs.
Because of the wide variety of possible motivations, Kam wrote in her email, she "would hesitate to label an action as 'racist' — unless racial considerations seem to be the only or the massively determinative consideration at play, based upon statistical modeling or carefully calibrated experiments."
Kam notes that she worries "about excessive use of these labels" because describing someone or some action as racist "can easily escalate conflict beyond the point of return."
Eric Kaufmann voiced similar caution, noting that racism and racist are highly charged words, the deployment of which can in some cases prove damaging to liberals and the left. He cited the "unwillingness to talk about immigration for fear of being labeled racist," giving free rein to populists who do address immigration "and thus get elected. Trump's election is exhibit A."
In addition, according to Kaufmann, the
fear of being labeled racist may be pushing left parties toward immigration policies, or policies on affirmative action, reparations, etc., that make them unelectable. Finally, overuse of the word "racist" may lead to a "cry wolf" effect whereby real racists can hide due to exhaustion of public with norm over-policing.
None of the examples I cited, in Kaufmann's view, "are racist" unless it could be explicitly demonstrated "in a survey that those espousing the policies were mainly motivated by racism." If not, he said, the "principle of charity should apply."
LaFleur Stephens-Dougan does not share Kaufmann's view:
In all the examples you have provided, communities are marshaling their resources to exclude other Americans, who are disproportionately black and brown.
This is nothing new, she continued, arguing that
when avenues are created to improve access for previously excluded communities, communities that have amassed resources feel like they are losing.
Ashley Jardina wrote me that
the use of race by the Republican Party could precisely be described as Republicans capitalizing on white racism or white racial prejudice. They are using the hostility many whites have toward racial and ethnic minorities to their political/electoral advantage.
Jardina joined others in calling for caution in the use of the word racist because it
often has a backlash effect. One reason is that people disagree on what is racist, another is that people are offended when they are called racist because they do not believe their acts or behaviors or racist (even if they are).
In addition, she continued,
many whites see accusations of racism as disingenuous. They believe that Democrats in particular "play the race card" by calling people or beliefs racist as a political strategy, rather than as a sincere effort to combat racism.
There is, in fact, a huge partisan divide over what is considered racist and what is not.
Three Harvard political scientists — Meredith Dost, Enos and Jennifer L. Hochschild — conducted a survey in September 2017 that asked 2,296 American adults to rank, on a five point scale ranging from racist to not racist, 10 statements. These statements included "wanting to wave the Confederate flag," "saying immigrants commit too many crimes," "agreeing that welfare recipients should have to take a job to receive benefits," and "voting for Donald Trump."
The gulf between Democrats and Republicans was 20 percentage points or more on seven out of ten questions. At the extreme, 82 percent of "strong Republicans" said it was "not racist" to vote for Trump, compared with 22 percent of "strong Democrats." who said it was, a 60-point difference.
The powerful tendency of Democrats to perceive racism has a significant, if unintended, adverse effect on minority candidates seeking to be nominated in Democratic primaries, according to a new study, "Perceptions of Explicit Prejudice and Electability."
The authors, three social psychologists, Brett Mercier and Jared B. Celniker at the University of California-Irvine, and Azim F. Shariff of the University of British Columbia, write that Democrats underestimate "the percentage of Americans who say they would vote for presidential candidates from disadvantaged groups."
The result? Believing themselves to be realists, Democrats actually foreclose some outcomes they would favor:
Democrats who perceive high levels of explicit prejudice toward a group also believe presidential candidates from that group would be less electable.
Clearly, there is a large divide not only over the definition of racism, but also over the level of racism in the nation.
With the 2020 election approaching, one of the most relevant questions before the electorate is whether voters agree with Stuart Stevens on whether Donald Trump is a racist.
The answer to that question, according to a July 2019 Quinnipiac University national poll, is that 51 percent say Trump is a racist; 45 percent say he is not.
There are huge racial, partisan, gender and religious differences: whites say Trump is not racist 50-46; blacks say he is racist 80-11; Democrats 86-9 say yes, Republicans 91-8 say no; men 55-41 say no, women 59-36 say yes; white evangelicals say no 76-21, Catholics 50-48 say no; the unaffiliated say yes, 63-30.
What this boils down to is that racism is detected, determined and observed through partisan and ideological lenses. This is hardly shocking. Yet what is still quite striking is how much the perception of the importance of racism has changed in recent years. How else is it that the United States, a nation that declared 244 years ago that "all men are created equal," has a president seen as a racist by a majority of the electorate?
Thomas B. Edsall has been a contributor to The Times Opinion section since 2011. His column on strategic and demographic trends in American politics appears every Wednesday. He previously covered politics for The Washington Post.  @edsall