What's Super Popular? Voting by Mail.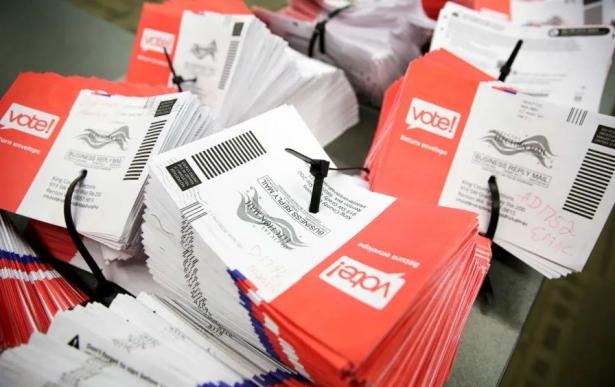 Empty envelopes of opened vote-by-mail ballots. ,Jason Redmond / AFP via Getty Images
President Trump and his hyper-partisan Republican allies have been attacking proposals to vote by mail in November. The reason has nothing to do with honest concerns about this system for voting, which has gotten high marks in the handful of states where it has already been implemented—and which offers an option for a safe, high-turnout national election even as the coronavirus pandemic lingers, or diminishes and returns in the fall. Trump, who lost the 2016 election by 2.9 million votes and prevailed only because of the antidemocratic Electoral College, fears a high-turnout election might not favor him.
But the American people understand that election procedures aren't supposed to be enacted to help or hinder particular politicians.
So it is that, for all of Trump's ranting about the supposed perils of voting by mail, the American people love the idea. Democrats need to recognize this reality. Instead of bending to the president, they can demand in coming stimulus negotiations that Trump and the Republicans bend—knowing that the numbers are on their side.

The latest Harvard-Harris survey, which was conducted April 14–16, asked 2,394 voters, "Currently three states (Oregon, Washington, and Colorado) conduct their elections completely by mail. Would you support a decision to conduct the 2020 Presidential election entirely by mail in all 50 states?"
Seventy-two percent of those who answered said "yes."
Just 28 percent said "no."
"Voting entirely by mail in all 50 states" is a more militant plan than voting rights advocates are proposing. The right fix must be more flexible, with support for early voting and, where possible, safe in-person voting, as well as no-excuses absentee balloting. (A number of states currently require voters requesting an absentee ballot to provide an excuse for why they won't be able to vote in person on Election Day.) There also has to be an understanding that states will have different approaches in a federal system. But planning for a massive increase in voting by mail, and paying for the change, is a necessary reform that has immense popular appeal.
The Harvard-Harris numbers are consistent with other surveys that have been done since Trump started trying to discredit voting by mail with outbursts like, "Mail ballots, they cheat. Mail ballots are very dangerous for this country because of cheaters. They go collect them. They are fraudulent in many cases. They have to vote. They should have voter ID, by the way." The president's Republican allies have tried to present more coherent critiques of voting by mail, but the polls suggest they are not getting far with what are broadly understood to be unproven and frankly outlandish claims.
A Democracy Corps poll of 2,000 people in 16 battleground states, which was conducted in early April on behalf of the nonpartisan Center for Voter Information, found that 73 percent of those surveyed favored no-excuse absentee voting—with 85 percent of Democrats, 70 percent of independents, and 59 percent of Republicans supporting the idea. Asked about the ambitious reform of having everyone in their state vote by mail, 68 percent responded favorably—with 83 of Democrats, 68 percent of independents, and 51 percent of Republicans expressing approval.
"We are witnessing a giant shift in American's perceptions towards absentee voting and voting by mail," Page Gardner, the founder and board chair of the Center for Voter Information, told Newsweek. "The pandemic has altered how people want to vote."
Democrats in Congress, and in the states, should forge their negotiating strategies based on this new thinking.
---
John Nichols, a pioneering political blogger, writes about politics for The Nation as its national-affairs correspondent. His posts have been circulated internationally, quoted in numerous books, and mentioned in debates on the floor of Congress. Nichols also hosts Next Left, The Nation's podcast featuring interviews with rising progressive politicians who explain how they plan to change our country for the better.
Nichols is a contributing writer for The Progressive and In These Times and the associate editor of the Capital Times, the daily newspaper in Madison, Wisconsin. His articles have appeared in The New York Times, Chicago Tribune, and dozens of other newspapers.
Nichols is a frequent guest on radio and television programs as a commentator on politics and media issues. He was featured in Robert Greenwald's documentary Outfoxed, and in Joan Sekler's Unprecedented, Matt Kohn's Call It Democracy, and Robert Pappas's Orwell Rolls in His Grave. The keynote speaker at the 2004 Congress of the International Federation of Journalists in Athens, Nichols has been a featured presenter at conventions, conferences, and public forums on media issues sponsored by the Federal Communications Commission, the Congressional Progressive Caucus, Consumers International, the Future of Music Coalition, the AFL-CIO, the Rainbow/PUSH Coalition, the Newspaper Guild [CWA], and dozens of other organizations.
Nichols is the author of Horsemen of the Trumpocalypse: A Field Guide to the Most Dangerous People in America (Nation Books) as well as The Genius of Impeachment (New Press); a critically acclaimed analysis of the Florida recount fight of 2000, Jews for Buchanan (New Press); and a best-selling biography of former vice president Dick Cheney, Dick: The Man Who is President (New Press), which was also published in French and Arabic. He edited Against the Beast: A Documentary History of American Opposition to Empire (Nation Books), of which historian Howard Zinn said: "At exactly the time when we need it most, John Nichols gives us a special gift—a collection of writings, speeches, poems, and songs from throughout American history—that reminds us that our revulsion to war and empire has a long and noble tradition in this country."
With Robert W. McChesney, Nichols has co-authored the books It's the Media, Stupid! (Seven Stories), Our Media, Not Theirs (Seven Stories), Tragedy and Farce: How the American Media Sell Wars, Spin Elections, and Destroy Democracy (The New Press), The Death and Life of American Journalism (Nation Books), Uprising: How Wisconsin Renewed the Politics of Protest, from Madison to Wall Street (Nation Books), and their latest, People Get Ready: The Fight Against a Jobless Economy and a Citizenless Democracy (Nation Books, March 2016). McChesney and Nichols are the co-founders of Free Press, a media-reform network, which organized the 2003 and 2005 National Conferences on Media Reform.
Of Nichols, author Gore Vidal says: "Of all the giant slayers now afoot in the great American desert, John Nichols's sword is the sharpest."
Copyright c 2020 The Nation. Reprinted with permission. May not be reprinted without permission. Distributed by PARS International Corp.
Please support  progressive journalism. Get a digital subscription to The Nation for just $9.50!