tv
Review: HBO's Perry Mason Examines Power and Faith Amid a Fog of Decay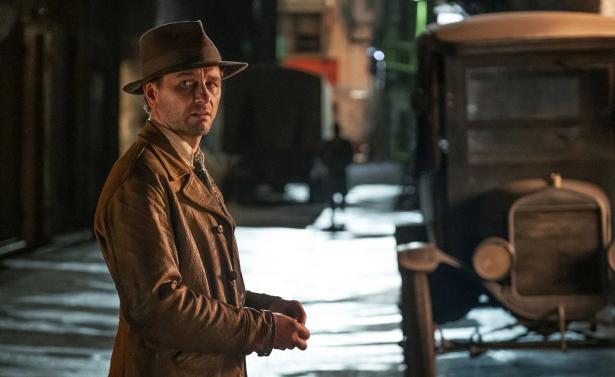 , Photo: HBO
A dead baby appears not five minutes into HBO's reboot of Perry Mason. Left on a rail car at Angels Flight in Los Angeles, the child's eyes are stitched open in hopes of fooling the frantic parents just long enough for the kidnappers to abscond with the ransom money. The grotesque image is certainly far from the show's last, but it functions as a statement of purpose: Creators Rolin Jones and Ron Fitzgerald intend to grit up the world of Erle Stanley Gardner's criminal defense lawyer, who was most famously depicted on the CBS television series starring Raymond Burr that aired from 1957 to 1966.
The new Perry Mason is set in 1932, and at the outset, the eponymous character is a private investigator, and hardly the respectable kind. Paired up with the sardonic Pete Strickland (Shea Whigham), he's not above taking illicit photos of a movie star at a studio's behest, hoping to prove a morals clause violation. Matthew Rhys brings a thick haze of disillusionment to his character, who wears a lot of stubble and an expression of perpetual weariness. Reconceived in the mold of reluctant prestige TV heroes, Mason is a man adrift, with few opportunities during the Great Depression, and so he tries (unsuccessfully) to squeeze his employers for more cash, though he still misses out on paying the child support he owes.
Mason's lawyer pal, E.B. Jonathan (John Lithgow), brings him in to work with E.B.'s associate, Della Street (Juliet Rylance), on the kidnapping case. The law jabs an accusatory finger at the grieving parents, Matthew and Emily Dodson (Nate Corddry and Gayle Rankin), leaving the defense to contend with dirty cops and cover-ups in addition to following a trail of money that loops through the local evangelical church. A lot of the story beats are the usual stuff of noir, with people you can't trust mixed up in systems you can trust even less, but the series uses its central case and characters to tug at the different threads of a rich societal tapestry, deftly posing questions about religion, race, sexuality, and gender roles as the world unravels.
Amid dramatic courtroom monologues from E.B. and various scenes of Mason probing crime scenes, the case quickly becomes a media circus. Reporters mob the courthouse steps alongside throngs of protestors howling for blood; the Dodson kidnapping captures the imagination of the public because, despite multiple scenes that show people gasping at others dropping profanities, their interests run toward the morbid and the salacious.
The spotlight throws marriage dynamics into sharp relief, with Emily Dodson vilified on the stand for displaying sexual agency or disinterest in a husband who keeps her in the dark about their finances. Any guilt or shame over their child's death on her part is framed as a confession in the eyes of the vicious, grandstanding district attorney (Stephen Root). Reactions from the main characters and the general public depict a wider culture of apathy, bigotry, and especially misogyny amid an economic downturn that stokes everyone's most desperate instincts for survival. The show's world is a richly rendered fog of decay and hopelessness; people who can make a living do so off secrets, as with E.B.'s questionable financial records or the compromising photos that Mason develops at his dead parents' desolate farm.
The public hungers for escape, and they get it from the movies, sensational newspaper stories, or from the sense of community provided by a religion that demands their money and devotion in return. They fixate on violence, on victims and victimizers as expressions of their own powerlessness, while others take whatever small power they can, under whatever label. Officially, Della Street is E.B.'s secretary, but it's immediately clear that the scatterbrained old-timer couldn't run the office without her, as she empathizes with and advocates for women like Emily in a way that the men often don't. Paul Drake (Chris Chalk), who goes on to be a frequent investigator in Mason's employ, is here reconceived as a black cop, an outsider in a system that wants little to do with him beyond what it can use. He becomes disillusioned with his place in that system, as the other characters similarly confront their own powerlessness.
Perry Mason's concern with power is most clearly seen in Sister Alice (Tatiana Maslany), who gets to stand on the evangelical church's stage and theatrically preach, her position as the church's mouthpiece sometimes clashing with the moneymen who run the place behind the scenes. The show's focus on religion can be strained at times, as the church subplots feel tangential to the main case, but its prominence clarifies Perry Mason as a series that's also about faith, religious and otherwise. Here, faith is eminently vulnerable, often taken advantage of by charlatans but also necessary to keep a person going—a faith in humanity to look beyond societal conditioning and the corruption snaking its way through every angle of civilization. Faith isn't always rewarded. The series is gory and dour with a bone-deep cynicism, but it's also optimistic in its own small way, an origin story that chronicles how its characters find a means to fight rather than serving as dejected, disgusted observers.
Cast: Matthew Rhys, Juliet Rylance, Chris Chalk, Shea Whigham, Tatiana Maslany, John Lithgow, Gayle Rankin, Stephen Root, Lili Taylor, Nate Corddry Network: HBO
We're committed to keeping our content free and accessible—meaning no paywalls or subscription fees—so if you like what we do, consider becoming a SLANT patron, or making a PayPal donation.