Media Bits and Bytes - August 11, 2020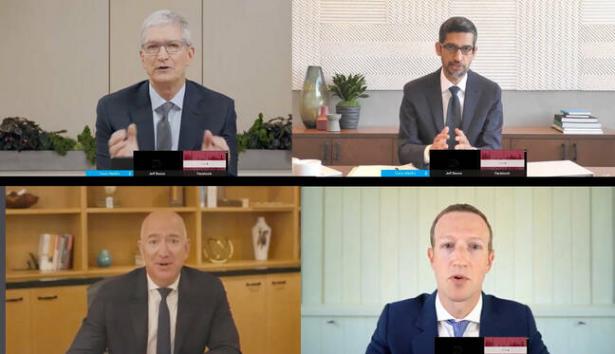 Clockwise from top left, Apple's Tim Cook, Google's Sundar Pichai, Facebook's Mark Zuckerberg, and Amazon's Jeff Bezos ,Source: US House of Reps' Judiciary Committee
Pink Slime: Local News Outlets in Election Mode
By Priyanjana Bengani
August 4, 2020
Columbia Journalism Review
An intricately linked network of 450 sites purporting to be local or business news publications posts stories that are algorithmically generated using publicly available data sets or by repurposing stories from legitimate sources. In the remaining stories that have an authentic byline there is often a conservative bent.
Facebook Foibles
Craig Silverman and Ryan Mac, BuzzFeed News: Facebook employees collected evidence showing the company is giving right-wing pages preferential treatment when it comes to misinformation.
Roger Sollenberger, Salon: Republicans paid huge, strange sums to Facebook and a mystery company for "list acquisition."
TikTok Troubles, WeChat Woes
Daniel Van Boom, CNet: Trump effectively banned TikTok and WeChat with executive orders.
Nitish Pahwa, Slate: What happened after India banned TikTok.
Anuj Bhatia, Indian Express: Banning WeChat will have long-term implications on consumers, US-China relations, and the future of the internet.
By Daniel Holloway
August 6, 2020
NBCUniversal, like its peers, is having to discard old ideas about troop placement in the age of the streaming wars.
By Scott Ikeda  
Amazon, Apple, Facebook and Google were called on the carpet for both anti-competitive behavior and the privacy issues inherent in their commercial data collection practices.
By Cira Pascual Marquina
August 6 2020
Venezuelanalysis
Alba TV, a communication initiative for the integration of the peoples of the global South, is broadcast in all of Venezuela, but also has ample presence in social media.
Protesters Make Their Own News
By James Yeh
August 5, 2020
Columbia Journalism Review
Protesters, organizers, and citizen-journalists tell how they've been staying informed and informing others, and whether this moment has changed their views on traditional media.