Dysfunction and Dissent: Inside L.A. County's Troubled Nursing Home Oversight Division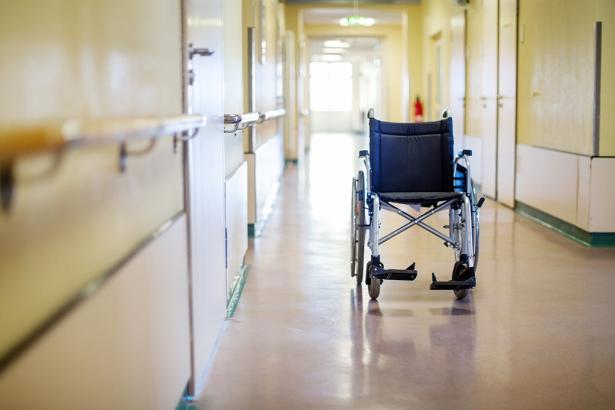 Capital & Main
The division of the Los Angeles County Public Health Department charged with regulating nursing homes is wracked by incompetent leadership and hampered by inadequate training, endangering the lives of vulnerable residents and undermining staff morale. These allegations, made by half a dozen nurses and other employees at the Health Facilities Inspection Division (HFID) in interviews with Capital & Main, come at a pivotal moment for nursing home oversight in the nation's most populous county.
HFID's performance is expected to figure prominently in a report from Max Huntsman, who has served since 2013 as L.A. County's inspector general. In late June of this year, in the midst of the lethal spread of COVID-19 at county nursing homes, Huntsman was assigned by the Board of Supervisors to investigate conditions at these facilities, and their regulation by public health officials. His initial findings could bring intense scrutiny to a relatively unknown government division with enormous authority, and a long track record of neglect.
 
HFID, which inspects all nursing homes in L.A. County and is responsible for enforcing federal, state and local regulations, is run by Nwamaka Oranusi. Selected as acting chief in 2014 after HFID was found to be prematurely closing investigations of skilled nursing facilities, Oranusi, a registered nurse, had spent much of her career in environmental health. Critics contend that Oranusi should not have been chosen for the position, and has been allowed to continue far too long.
"You have a head driver who has never driven the bus," said Adewole Adegoke, a recently retired health facilities evaluator and supervisor who worked for HFID for 28 years.

Oranusi declined an interview request for this story and referred all questions to the California Department of Public Health. The CDPH oversees all nursing homes in California except in L.A. County, which contracts with the state to regulate skilled nursing facilities.
HFID surveyors, a category which include nurses, environmental health specialists and others, are tasked with conducting detailed inspections of nursing homes. They look at everything from infection control to the dispensing of medication to food quality; interview staff and residents; and file reports with the county that can serve as the basis for citations and fines.
An HFID supervisor said that Oranusi was simply not qualified for the job, echoing the critique of other current HFID staff interviewed for this story, all of whom spoke on condition of anonymity, citing possible retaliation. "Nwamaka does not have the knowledge base about health facilities, she never did," said the supervisor.
Another HFID nurse put it this way: "How can you lead a department when you've never done any work your department does when it comes to nursing homes?"
 
---
The state of California is paying L.A. County more than a quarter billion dollars for a three-year contract to oversee nursing homes.
---
 
HFID inspectors said that Oranusi, who reports directly to L.A. County public health director Barbara Ferrer, is consumed by producing the numbers required by the state of California, which is paying the county more than a quarter billion dollars over the current three-year contract to oversee nursing homes.
"That is her sole drive. Nothing else matters," said a health facilities evaluator nurse.  "When nurses bring issues to her attention, she doesn't think like a nurse or health care professional, or care whether [nursing home residents] get sick or die."
Another nurse, speaking about the county's contract with the state, said of HFID leadership, "They want to be able to show that they were able to do this many surveys in this amount of time, and we were able to complete this many complaint investigations in this amount of time. So the quicker that they can kind of push you in and out and get you to move forward to the next one, it allows them to say it's complete, even though maybe something that was put at a low level should've been higher. As long as it's done it allows them to keep their contracts because they met the quota."
Discontent with Oranusi was so pervasive this summer that a letter, written by an HFID staff member, was circulated and signed by more than 50 division employees. Sent to Oranusi and her leadership team, as well as Ferrer and the Board of Supervisors, the letter asks Oranusi to address a host of serious complaints affecting both staff morale and the well-being of residents at nursing homes and other facilities the division oversees.
In a July 16 email to HFID staff that signed the letter, Oranusi wrote, "I got your email. We will look into it and get back to you." Those interviewed for this story told Capital & Main that there has not been any substantive response from Oranusi, nor from Ferrer or the Board of Supervisors.
"All of us that have been reaching out for help are saying this same thing," an HFID nurse wrote in an email. "It is a shame – we have an important mission, regardless of COVID. Many SNF [skilled nursing facility] residents are and will continue to suffer and die without HFID repairs."
*  *  *
L.A. County public health officials have long been the focus of withering criticism for lax oversight of nursing homes. In 2014, reports emerged that the public health department had been closing cases involving health and safety complaints without fully investigating them, under a program known as the Complaint Cleanup Project. The agency was ordered by the state to discontinue the practice.
 
---
In 2015, the LAC DPH was found to be the slowest agency in California to complete investigations of nursing home patient mistreatment or substandard care.
---
 
In 2015, L.A. County's Department of Public Health was found to complete investigations of nursing home patient mistreatment or substandard care more slowly than any other agency in California. That same year, L.A. County secured a new contract with the state, providing an additional $15 million annually for inspections and investigations of nursing homes and other health facilities.
In 2018, however, critics asserted that not much had changed. "Despite the vast increase in funding and surveyor positions, the backlog of open complaints and entity reported incidents in Los Angeles County is near an all-time high," wrote Patricia McGinnis, executive director of California Advocates for Nursing Home Reform, in a letter to state Sen. Richard Pan, who was conducting hearings into the state's contract with L.A. County. "The County has a long history of ignoring reports of abuse and mistreatment, coddling neglectful nursing home operators, and treating complainants with contempt. It is long past time to end this contract."
Molly Davies, who administers L.A. County's Long Term Care Ombudsman Program, told Capital & Main in July that the Centers for Medicare and Medicaid Services (CMS) "continues to highlight Los Angeles as being a hotbed of poor regulatory enforcement, which equates to very substandard living conditions for residents in these skilled nursing facilities." Asked about Oranusi, Davies said, "I don't think that there's strong leadership."
The deadly spread of COVID-19 at L.A. County nursing homes regulated by HFID has added a tragic chapter to a troubled history. The sheer numbers – 11,081 cases and 2,234 deaths as of September 29, accounting for more than 14 percent of California's COVID-19 fatalities – stirred public anger, and prompted the Board of Supervisors to tap Huntsman to investigate the county's regulation of nursing homes.
 
---
Deaths at L.A. County nursing homes account for more than 14 percent of California's COVID-19 fatalities.
---
 
That outrage was shared by HFID staff, who described a chaotic response by the division in the early months of the pandemic. "Initially [Nwamaka] was putting people into the field with no PPE," said one nurse. "Then people started testing positive for COVID. Then they obtained PPE and there was a big rush to get everyone fit tested."
In a statement to Capital & Main, the California Public Health Department wrote, "The Department has worked regularly throughout this pandemic to provide adequate PPE to all its surveyors. Staff have been required since early March to wear appropriate PPE when visiting any facility, and masks have been required at all CDPH offices since early April."
HFID staff interviewed by Capital & Main dispute these assertions, saying that nursing home inspectors were not provided with adequate PPE and that the county did not require employees to wear masks at division offices until recently.
Several nurses who work for the division told Capital & Main that nurses charged with inspecting nursing homes had not been fit tested for respirators, nor had they undergone training to prepare for an infectious disease outbreak on the scale of COVID-19.
"Nwamaka saw these things as another waste to her production time," said an HFID nurse. "She did not want her nurses getting CPR training competencies or mask fittings. When the pandemic blew up, nurses didn't have masks that fit. If she was doing what she was supposed to, her nurses would have been ready."
In response, CDPH said in its statement, "LAC has provided fit testing for HFID surveyors that work on site regularly during the pandemic."
One nurse, clearly shaken by the county's failure to stop the spread of COVID-19 among nursing home residents in the spring, said, "We were hired to protect them and make sure they receive the quality of care they deserve. And we feel that they failed them."
Several nurses also allege that Oranusi ignored a late March directive from the CMS to put most routine work on hold and focus on controlling the spread of COVID-19. "The attitude within the office was, you have work to do. You have a pile of complaints on your desk, go do them," said one nurse, who shared emails with Capital & Main indicating that she was assigned to routine duties despite the CMS order. "She was clearly in violation of [the CMS directive]."
Another nurse, interviewed in July and asked how she would grade the response of the public health department and HFID to the pandemic, said, "When someone like myself, who is passionate about caring for people, you sit me down and you give me business as usual tasks, and don't allow me to help in a pandemic where these people are losing their lives, you get a D minus."
Some observers defend Oranusi and HFID. A former senior director at LAC DPH said that the primary responsibility for any failures to protect nursing home residents during the pandemic falls on public health director Ferrer, not the inspection division. This is because during emergencies an incident command structure supersedes the normal lines of authority at agencies with first responder duties, including LAC DPH, with the top leader calling the shots.
 
---
A former senior director at LAC DPH maintained that HFID had shed the problems of the past and become a "very successful regulatory program."
---
 
The former director also maintained that, under Oranusi, HFID had shed the problems of the past and become a "very successful regulatory program." Another former L.A. county public health manager agrees, saying, "Nwamaka has done a great job at trying to do what she does."
HFID staff and advocates for nursing home residents reject these claims. "I would challenge that person to let me pick a nursing home," said Davies. "You live in that nursing home for three days and you tell me that those conditions are better. The conditions are not better."
According to Michael Connors of California Advocates for Nursing Home Reform, HFID, far from turning things around, has "done a terrible job" in the last several years. "Our primary concern is its failure to prevent the horrific conditions that exist in so many L.A. County nursing homes. Residents of L.A. County nursing homes have never been less safe."
HFID staff interviewed for this story insist that nothing will change as long as Oranusi remains in her position. They are hopeful that the inspector general's report will prompt an evaluation of her leadership, and set the stage for an overhaul of how the county handles its oversight of nursing homes.
"Sooner or later, it should all come out. I just hope they DO something with it," one nurse stated in an email. "Nwamaka is unquestionably the linchpin for HFID dysfunction. Yes, she inherited a division that did not make its numbers, but she has destroyed it. It will take a lot of time and heavy lifting to rebuild it."
Copyright 2020 Capital & Main   Reprinted with permission.